Nabanna scholarship 2020 is given to the needy and meritorious students of West Bengal under the Chief Minister's relief fund. One who has fulfilled all the eligibility criteria of Nabanna scholarship 2020 scheme can apply for it offline.
here we have provided all the details of Nabanna scholarship application form 2020 fill up the process, last date of submission, eligibility criteria for Madhyamik pass, Higher Secondary pass, and graduation pass students.
so check the details below to understand about the latest Nabanna scholarship scheme, it's status, and link of downloading the Nobanno application form.
Latest Update- This article will soon inform you when the application for Nabanna Scholarship will start to be submitted and to what date this application will be submitted.
Check here Aikyashree Scholarship Scheme 2020.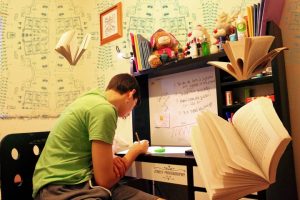 WB CM's Relief Fund Nabanna Scholarship 2020 for Education Assistance | Online Nabanna Scholarship Application Form
| | |
| --- | --- |
| Name of Scholarship | WB Chief Minister Relief Fund (Nabanna) Scholarship |
| State | West Bengal |
| Qualification Required | Madhyamik/ Higher Secondary/ Graduation |
| Application form fill up process | Offline |
| Last date for submission for form | No last date |
| Official website | www.wbcmo.gov.in |
| Email | [email protected] |
| Phone Number/Helpline | 033 2214 5555 / 2214 3101 |
Students who satisfy all the eligibility criteria of the scheme may enroll for Chief Minister Relief Fund Nabanna Scholarship 2020. This is for education assistance from the Chief Minister's Relief Fund.
One can apply for Post Graduate level (passed graduation), Graduation label (passed higher secondary) and for Higher Secondary (passed Madhyamik) education Nabanna Scholarship 2020.
Before the last date, you should submit the offline application form with all the attached certificates and documents.
Check here Rupashree Prakalpa (রূপশ্রী প্রকল্প) Form 2020.
Nabanna Scheme 2020 Eligibility Criteria
Not all the students are not eligible for নবান্ন স্কলারশিপ স্কিম. Students will submit the application form by the given method will be assessed whether they possess the required eligibility criteria or not.
If the authority found you eligible for the Nabanna Scholarship 2020 scheme then you will be conferred with the Nabanna Scholarship 2020. For that, you must know what are the eligibility criteria. Note down all the details and then submit the application form.
1. Only those students will be given Nabanna Scholarship 2020 if they possess the following requirements –
2. One should be a permanent resident of West Bengal.
3. You should be studying in any institutions of the State after passing out the State Board /Council of Secondary Education or a State-aided University in West Bengal.
Check Also- Oasis Scholarship 2020
4. Minimum Marks Requirement
65% marks in aggregate in Madhyamik Examination [for H.S. level].
60% in aggregate in H.S. Examination [ for U.G. level].
55% Marks in the Honours Subject [for P.G. level].
5. You should not have been entitled to any other governmental(central/state) Nabanna Scholarship 2020 or stipend for the same course or stage of study during the last year.
6. Annual family income should be less than Rs Sixty Thousand.
Check here WBSCVT ITI Admission 2020.
Documents Required to be submitted with the Nabanna Scholarship Application form 2020
Along with the application form, you must submit attested copies of the following documents –
1st Page Application Form-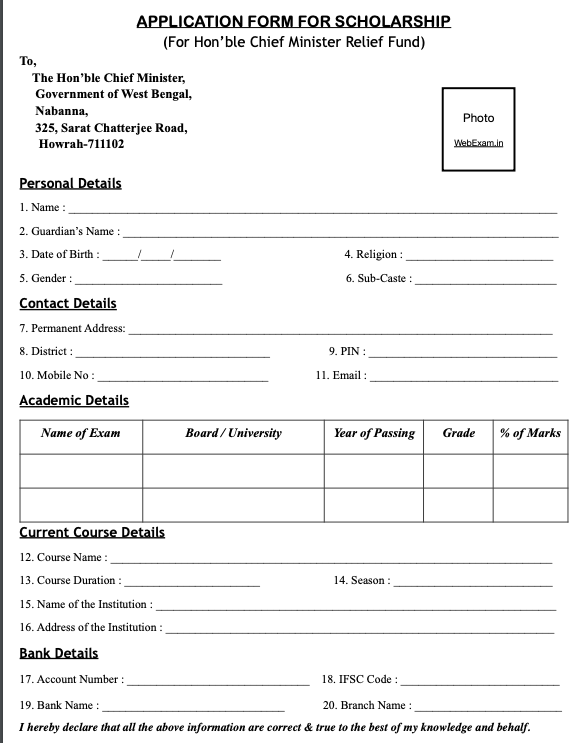 2nd Page-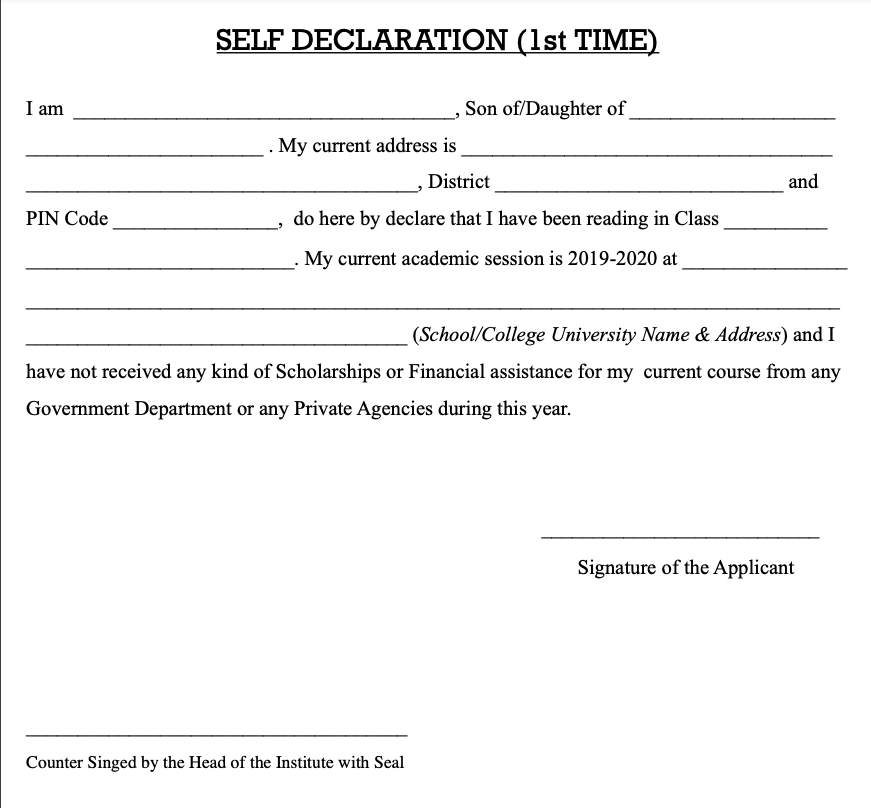 3rd Page-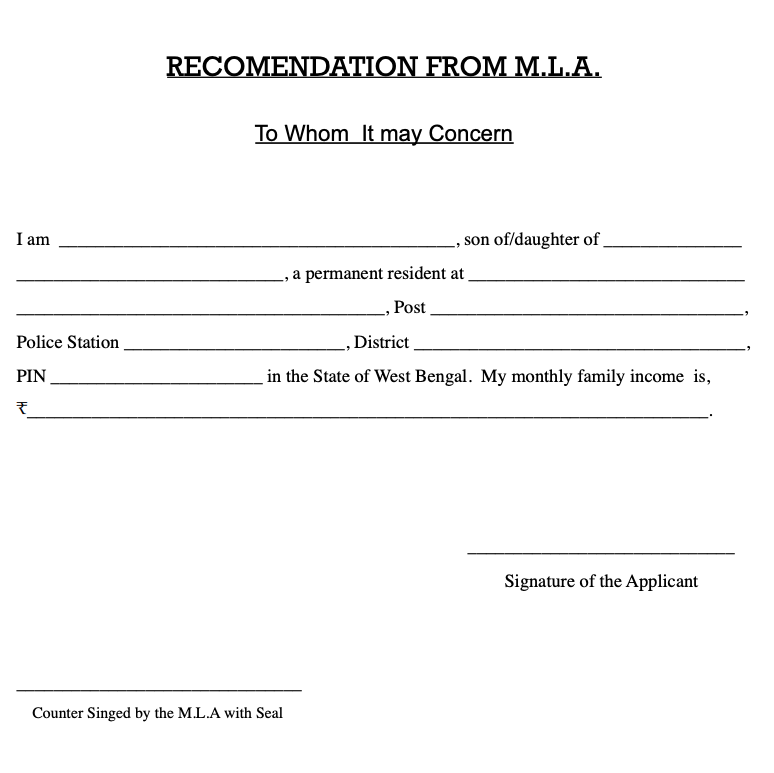 Mark Sheets of all previous examinations passed.
Rank Card & Allotment letter of Selection Committee (only for JEE or Equivalent Examination).
Monthly Family Income Certificate from anyone mentioned within the bracket – (DM/ SDO/ BDO / Group-A Govt. Officer not below the rank of Joint B.D.O./ Executive Officer in case of Municipality / Deputy Commissioner of Corporation).
Copy of Recommendation from MP/MLA to the Hon'ble Chief Minister stating monthly family income of the student.
Self-declaration of the student under his/her signature regarding Nabanna Scholarship 2020 the present course of study mentioning year/semester and receipt of any scholarship/aid/assistance, duly countersigned by the head of the Present institution with seal.
Self Bank Account details (IFSC Code, Branch Code, Branch Name, Account Number, Bank Name) with a photocopy of Bank Pass Book.
Photo Copy of tuition/admission fees book.
Contact Details with self Mobile No.
Only Group-A Govt Officer should attest the photocopies.
Nabanna Scholarship 2020 Selection Process
All the students who are meritorious will be selected for the Nabanna Scholarship 2020.However, students must be financially weak as soon as they become talented.Students who wish to receive the Nabanna Scholarship 2020 must fill out and submit the form within a specified time. You will later receive circle information from the WBCS Relief Fund via email or SMS.
Extensive funds will be transferred to the bank accounts of the students who will be selected for the Nabanna Scholarship 2020. Scholarships will be awarded to selected students within three to four months of applying.Students will get one thousand rupees for Nabanna Scholarship 2020. However, Nabanna Scholarship 2020 vary for different courses.
Nabanna Scholarship 2020 in Bengali
পশ্চিমবঙ্গের মুখ্যমন্ত্রী মমতা ব্যানার্জি প্রত্যেক বছর ছাত্র-ছাত্রীর ভবিষ্যতের কথা ভেবে স্কলারশিপের চিন্তাভাবনা করেছেন তার বিভিন্ন স্কলারশিপ এর মধ্যে সবচেয়ে অন্যতম স্কলারশিপ হল Nabanna Scholarship 2020।এই বছরও নবান্ন স্কলারশিপ এর জন্য ছাত্র-ছাত্রীদের নির্বাচিত করা হয়েছে। যে সমস্ত ছাত্র-ছাত্রী মাধ্যমিক উচ্চমাধ্যমিক অথবা কলেজের পরীক্ষায় পাশ করে পরবর্তী ক্লাসের জন্য এডমিশন নিতে চাচ্ছেন তারা কিন্তু এই স্কলারশিপের জন্য আবেদন পত্র জমা করতে পারবে।
যে কোন স্কলারশিপ পেতে হলে বেশ কিছু শর্তের মুখোমুখি হতে হয়। নবান্ন কলারশিপ এর ক্ষেত্রে বেশ কিছু শর্ত রয়েছে।তাহলে সেই সমস্ত শর্ত গুলি সম্পর্কে জেনে নেওয়া যাক.
প্রথমত, যে সমস্ত ছাত্র-ছাত্রী মাধ্যমিকে ৬5% নাম্বার নিয়ে উচ্চ মাধ্যমিক কোর্সের জন্য ভর্তি হয়েছে এবং উচ্চ মাধ্যমিকে 60% নিয়ে যে সমস্ত শিক্ষার্থীরা কলেজে এডমিশন নিয়েছে অথবা কলেজে ৫৫% নাম্বার নিয়ে যেসমস্ত ছাত্রছাত্রীরা ইউনিভার্সিটি এডমিশন নিয়েছি তারা কিন্তু স্কলারশিপের জন্য আবেদন পত্র জমা করতে পারবে।
দ্বিতীয়তঃ, আবেদনকারীর বার্ষিক আয় 60 হাজার টাকার কম হতে হবে আমরা প্রথমেই বলেছি মেধাবী দুস্থ শিক্ষার্থীদের উজ্জ্বল ভবিষ্যতের কথা চিন্তা করেই মাননীয় মুখ্যমন্ত্রী মমতা ব্যানার্জি নবান্ন স্কলারশিপের আয়োজন করেছে।
তৃতীয়ত, আবেদনকারীকে অবশ্যই পশ্চিমবঙ্গের একজন স্থায়ী বাসিন্দা হতে হবে শিক্ষার্থীদের পরিবার কোনভাবেই যেন সরকারি কিংবা বেসরকারি স্কলারশিপ না পেয়ে থাকে সরকারি কোনরকম সাহায্য পেলে সেই শিক্ষার্থীর কিন্তু নবান্ন স্কলারশিপের জন্য আবেদন পত্র জমা করতে পারবেন না.
What is the Stipend Amount of Nabanna Scholarship
Students who are eligible will get Rs 10,000 Per year. In order to know more about the Nabanna Scholarship 2020 Stipend and how much money is paid, you need to follow the official website.
Application Form Download Link/How to Apply for Nabanna Scholarship 2020
The application process is totally offline. You need to apply in a plain paper with all the required documents and send it to the address of the Nabanna Office mentioned in www.wbcmo.gov.in.
Address to send the application form –
The Assistant Secretary, Chief Minister's Office, 'Nabanna', 325, Sarat Chatterjee Road, Howrah – 711102.
Helpline Number – 033 2214555/22143101
Fax – 033 2214 3528
Email– [email protected]
Who are eligible for Nabanna Scholarship?
10th, 12th Pass Students are eligible for applying to the Chief Minister Relief Fund Nabanna Scholarship. You must have taken admission into higher courses.
What is the Minimum Marks to Apply for CM Relief Fund Scholarship?
You must have got 65% marks in Madhyamik (for H.S. level), 60% in H.S. Exam (for U.G. level), 55% Marks in the Honours Subject (for P.G. level).
Can I Check Nabanna Scholarship application Status online?
No, you can not check Nabanna Scholarship Application Status online.
For more Nabanna Scholarship 2020 details in West Bengal, keep visiting www.jobsandhan.com.
আপনারা যদি Nabanna Scholarship 2020 সম্পর্কে জানতে চান তাহলে আমাদের কমেন্ট বক্সে মাধ্যমে জানান আপনাদের সমস্যা আমরা দ্রুত সমাধান করার চেষ্টা করব.