Yuvasree Prakalpa Scheme in West Bengal: Employment Bank, the Job Search Portal has been initiated by the Government of West Bengal to help the unemployed candidates by providing jobs. To get help with this initiative, candidates need to register Yuvasree Prakalpa themselves on this website to get regular information about jobs and candidates can get job on the basis of their educational qualification.
West Bengal Employment Bank 2024 – Latest UPDATES.
Recent News on Yuvasree Prakalpa Annexure III Status 2024 – New List Download

Yuvashree Prakalpa Annexure III Form fill up on WB Employment Bank Website is from 16th January to 5th February 2024. Read the official notice: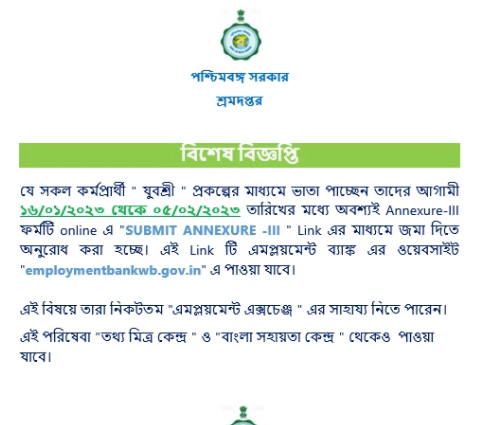 Yuvasree Prakalpa 2024; Scheme info in a Nutshell
Yuvasree Prakalpa 2024 is a West Bengal government initiative offering financial assistance to unemployed youths aged 18-45. Beneficiaries receive a monthly stipend for skill development and self-employment projects, fostering entrepreneurship Yuvasree Prakalpa and livelihood opportunities. The scheme aims to empower and uplift youth by enhancing their employability and encouraging self-reliance, contributing to socio-economic growth in the region.
| | |
| --- | --- |
| Name of the Scheme | Yuvashree Prakalpa |
| State | West Bengal |
| Launched by | CM Mamata Banerjee |
| Targeted for | Unemployed Youths of West Bengal |
| Mode of Registration | Online |
| Eligibility | Unemployed Male / Female aged between 18 to 45 Years |
| Benefits | Rs. 1500 Per month Stipend |
| Article Category | Govt Scheme |
| Official Website | www.employmentbankwb.gov.in |
The West Bengal Government also providing Stipend to the registered candidates. This scheme is known as Yuvasree Prakalpa. Registered Candidates will get RS 1500/- per month under this Yuvasree Prakalpa. To know more about the scheme, its eligibility criteria, and how to apply etc read the article below.
Yuvashree Prakalpa Eligibility Criteria
To apply for Yuvasree Prakalpa online, applicants must know the eligibility criteria of in detail. To help the applicants the Eligibility Criteria for Yuvasree Prakalpa is mentioned below –
All the applicants should be the unemployed permanent resident of West Bengal.
Candidates who have already registered themselves with Employment Bank, need to log in into the website and can apply for Yuvasree Prakalpa.
Applicants must have minimum qualification of class 8th pass to apply for the scheme.
Candidates who receive any kind of financial help or have any kind of loan from state or central Government are not eligible to apply for the Yuvashree Scheme.
Applicants must be between 18 years to 45 years to be eligible.
Only one unemployed person of a family can apply for this scheme.
How to apply for Yuvashree Prakalpa Online?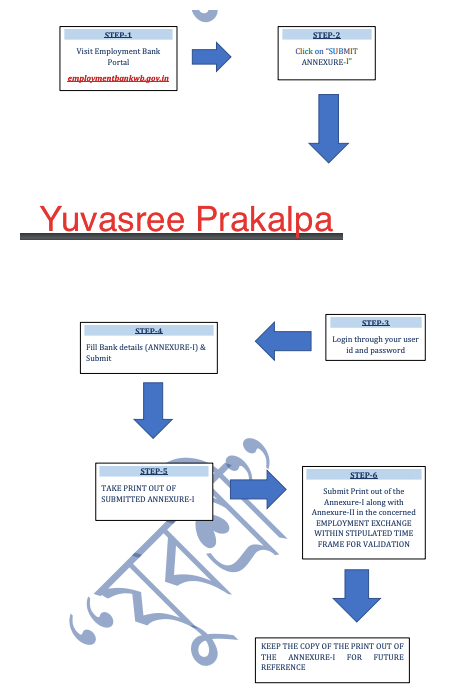 Follow the below steps to register yourself for Yuvashree Prakalpa and employment bank.
First go to the official website of Employment Bank, empoymentbankwb.gov.in. to get registered.
Then find the link "New Enrolment Job Seeker" on the website and click on that link. After clicking the link a new window will open consisting the "Terms and Conditions". Go through the conditions carefully then click the "accept and continue" button.
Applicants will now get a "New Enrolment" form.
Applicants have to provide all the details asked in the form and click on the "submit" button.
After clicking the Submit button applicants will now receive some details on their registered mobile number.
Applicants now need to visit their nearest Employment Exchange office with all the details including Employment bank Registration Number to activate their profile.
The Employment Exchange officials will verify all your documents and after successful verification they will activate your Employment Bank profile.
Now candidates will receive regular notification and update about jobs.
Now when applicants are registered with Employment Bank they can apply for Yuvasree Scheme.
Important Documents to attach with Yuvasree Prakalpa Application Form
Along with the application form, attach the following documents:
Adhar card
Voter ID
PAN Card
Income Certificate
Bank account
Madhyamik & HS Marksheet etc.
How the Yuvashree Prakalpa Application List will be prepared?
Download application form for unemployed assistance (Annexure-1) and also download the Unemployment Certificate format by Group-A officer.
WB Gov. will prepare a list on the basis of the registered candidates on Employment bank. They will verify if the registered candidates are eligible for the Yuvasree Prakalpa or not. The list will be published online on the official website.
| | |
| --- | --- |
| Scheme of Yuva Utsaha Prakalpa (YUP)-2013 | Click Here |
| Rename of the Scheme Yuva Utsaha Prakalpa (YUP)-2013 as "YUVASREE" | Click Here |
| Application Form for Unemployment Assistance (Annexure-I) | Click Here |
| Format for Unemployment Certificate by Group-A Officer (Annexure-II) | Click Here |
| Format for Self Declaration by the beneficiary (Annexure-III) | Click Here |
| YUVASREE Ammendment | Click Here |
How the candidates will be selected for Yuvashree Prakalapa Scheme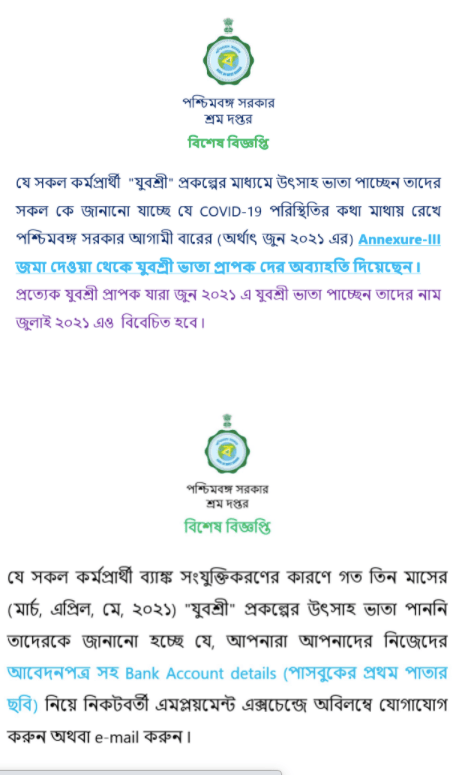 The WB Gov. will verify applicant's educational qualifications, financial conditions etc to provide them stipend of RS 1500/- month directly to their bank accounts. Almost 1 Lakh applicants will get this stipend. And if the registered candidates get job from Employment Bank or from any source then they have to withdraw their names from Yuvasree Prakalpa, unless they will face problems in near future.
Yuvashree Prakalpa Waiting List
WB GV. Will publish 1st list of eligible applicants, on the basis of first come first serve, consisting approx 9000 names. If your name is waiting list then you have to submit Annexurew-1 from online and then take a print out of the form and then submit Annexure-2 from at your nearest Employment Exchange office.
তোমরা যারা যুবশ্রী প্রকল্পের জন্য আবেদনপত্র জমা করতে চাচ্ছ তাদের সবার আগে যোগ্যতা দেখে নেওয়া উচিত, না হলে পরবর্তীতে তোমাদের আবেদনপত্র Cancel করে দেওয়া হবে.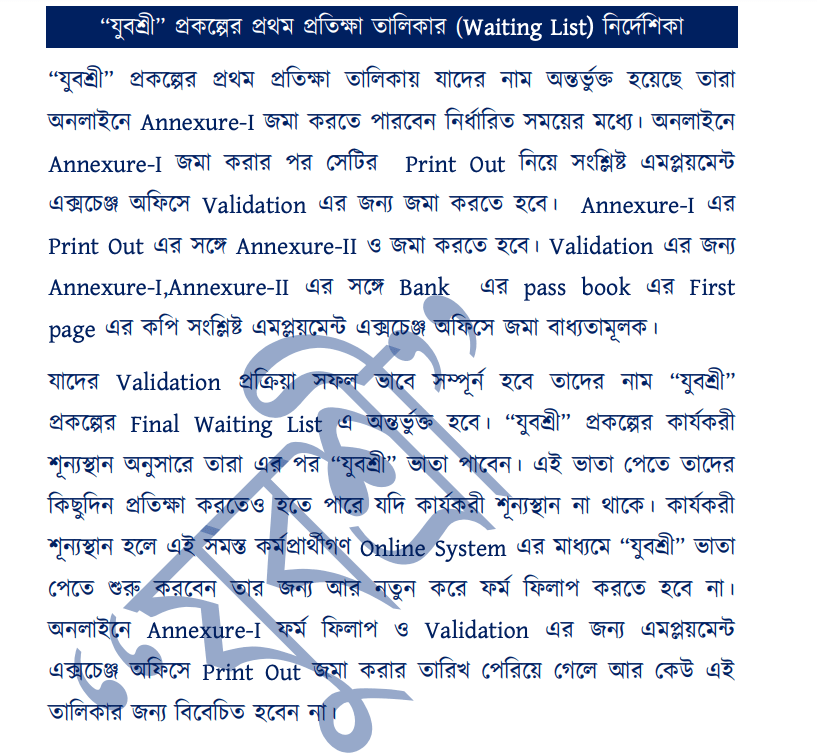 Yuvashree Annexure III Form
Annexure 3 form must be filled up time to time by the employment exchange card holders. Those who are getting Yuvashree Prakalpa Scholarship, can submit offline form / online application at employmentbankwb.gov.in website.
| | |
| --- | --- |
| Annexure 3 Form – Online Submit | Login to Submit |
| Download Yuvashree Annexure 3 Form | Click Here for PDF |
Although the Yuvashree Annexure 3 submission is done through online now-a-days, we are providing here the Annexure 3 Offline Form for your knowledge: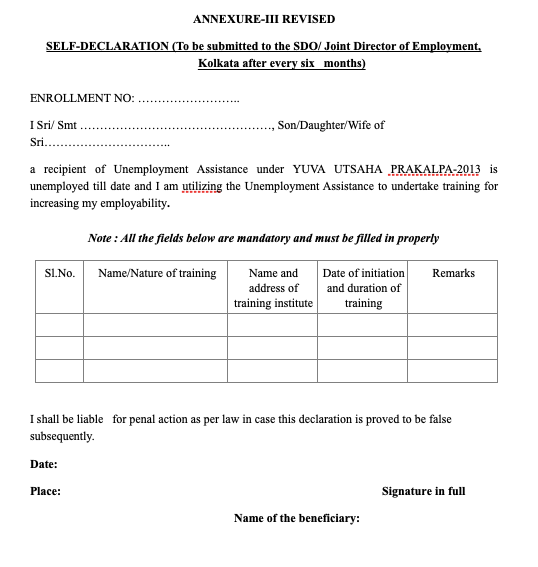 Helpline Number
If you have any questions or doubts about the Yuvasree Prakalpa, you can contact the nearest Employment Exchange office. Also call the helpline number if you want more information or help.
Toll Free No of WB Employment Bank: 033-22376300
Contact Information:
Employment Bank
67 Bentinck Street (4th Floor),
Kolkata -700069
e mail – employment_bank_wb@wb.gov.in, feedbackempbank@wb.gov.in (for Employers only)
আপনারা যারা Yuvasree Prakalpa সম্পর্কে কিছু তথ্য পাননি তারা কিন্তু আর্টিকেলটি ভালো করে পড়তে পারে যদি কোন সমস্যা থাকে আমরা হেল্পলাইন নাম্বার দিয়ে দিয়েছি সেখানে যোগাযোগ করতে পারে।!!