Aikyashree Scholarship 2020 Application Form check & apply online from link attached here. ঐক্যশ্রী স্কলারশিপ Scheme has been started by the West Bengal Minorities' Department & Finance Corporation (WBMDFC) in West Bengal.
The program aims to improve socio-economic and educational activities by offering financial support. The project promotes talented students from the minority backgrounds.
Under this WBMDFC Aikyashree Scheme, students from Class 1 to Ph. D from minority communities can register for a number of West Bengal Government Aikyashree Scholarship 2020 Programs.
পশ্চিমবঙ্গের সংখ্যালঘু সম্প্রদায়ের ছাত্র-ছাত্রীদের জন্য স্কলারশিপ পোর্টাল ঐক্যশ্রী পশ্চিমবঙ্গের সংখ্যালঘু সম্প্রদায়ের (বৌদ্ধ খ্রিষ্টান যৌন মুসলিম পারসি) মেধাবী ও দরিদ্র ছাত্রছাত্রীদের জন্য স্কলারশিপ।
Also Check, Nabanna Scholarship 2020.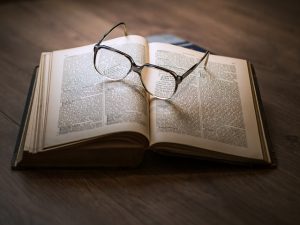 What is Aikyashree Scholarship Scheme? ঐক্যশ্রী স্কলারশিপ কি?
The WBMDFC is hoping that the students belonging Aikyashree Scholarship 2020 to the Minority Community will be influenced by this scheme. The primary goal of the WBMDFC Aikyashree scheme is to promote the sending of kids to school and discourage dropouts.
Latest Update- Aikyashree Scholarship 2020 Stated very Soon.
The program enables learners to proceed their higher study. Students are able to enroll to several minority Aikyashree Scholarship 2020 programs via Aikyashree Online Portal. Find out the key facts about the Aikyashree Scheme –
| | |
| --- | --- |
| Name of Scheme | Aikyashree Scholarship |
| State | West Bengal |
| Targeted Group | Minority (Buddhist, Sikh, Jain, Muslim, Parsi & Christian) |
| Scholarship Authority | West Bengal Minorities' Development & Finance Corporation |
| Ministry Name | Minority Affairs and Madrasah Education Department Govt. Of West Bengal |
| Official Website | www.wbmdfcscholarship.gov.in |
| Mode of Applying | Online |
| Helpline Number | 1800-120-2130 |

(IMAGE CREDIT: Taken from www.wbmdfcscholarship.gov.in)
Aikyashree Scholarship 2020 Apply- Click here
Types of Aikyashree Scholarship
The following Aikyashree Scholarship 2020 are offered in the Aikyashree Scholarship Scheme 2020 by the WBMDFC –
Pre Matric Scholarship
Post Matric Scholarship
Merit cum Means Scholarship
Talent Support Scholarship
Swami Vivekananda Merit cum Means Scholarship (SVMCM)
WBMDFC Pre Matric Scholarship 2020
Online application will be submitted for WBMDFC Pre Matric Scholarship by meritorious applicants from class I to class X. The application process will be done on the official webportal of WBMDFC.
(i) আবেদনকারীকে অবশ্যই পশ্চিমবঙ্গের আবাসভূমি হতে হবে।
(ii) রাজ্য / কেন্দ্র সরকারের কোন শিক্ষাবোর্ড / কাউন্সিল / বিশ্ববিদ্যালয় কর্তৃক স্বীকৃত কোনও স্কুল / ইনস্টিটিউশনে অধ্যয়ন করতে হবে।
(iii) পূর্ববর্তী চূড়ান্ত পরীক্ষায় 50% এর কম নম্বর বা সমমানের গ্রেড প্রাপ্ত থাকতে হবে না।
(iv) বার্ষিক পারিবারিক উপার্জন ২ লক্ষ রুপি ছাড়াই উচিত নয়।
(v) পশ্চিমবঙ্গের বাইরের ইনস্টিটিউটে অধ্যয়নরত শিক্ষার্থীরা প্রি-ম্যাট্রিক বা পোস্ট-ম্যাট্রিক বৃত্তির জন্য যোগ্য হবে না।
Eligibility Criteria:
To apply for the Aikyashree Scholarship 2020, the candidate need to be a permanent citizen of West Bengal and received a minimum of 50 percent of marks in the previous examination.
WB minority Post Matric Scholarship 2020
The WBMDFC Post Matric Scholarship may be submitted by minority students who are from Class XI to Ph.D.
(i) আবেদনকারীকে অবশ্যই পশ্চিমবঙ্গের আবাসভূমি হতে হবে।
(ii) রাজ্য / কেন্দ্র সরকারের কোন শিক্ষাবোর্ড / কাউন্সিল / বিশ্ববিদ্যালয় কর্তৃক স্বীকৃত কোনও স্কুল / ইনস্টিটিউশনে অধ্যয়ন করতে হবে।
(iii) পূর্ববর্তী চূড়ান্ত পরীক্ষায় 50% এর কম নম্বর বা সমমানের গ্রেড প্রাপ্ত থাকতে হবে না।
(iv) বার্ষিক পারিবারিক উপার্জন ২ লক্ষ রুপি ছাড়াই উচিত নয়।
(v) পশ্চিমবঙ্গের বাইরের ইনস্টিটিউটে অধ্যয়নরত শিক্ষার্থীরা প্রি-ম্যাট্রিক বা পোস্ট-ম্যাট্রিক বৃত্তির জন্য যোগ্য হবে না।
Eligibility Criteria:
In the earlier examination, the applicant should have obtained minimum 50% of marks.
Family income should not exceed 2 lakhs to get the Aikyashree Scholarship 2020.
WB Merit cum Means Scholarship
The WBMDFC Merit Cum Means Scholarship is applicable for the students who are in Technical / Professional (engineering, medical, management, law, CA, etc).
Eligibility Criteria:
An individual should secure at least 50 percent marks in the Higher Secondary / Graduation Examination.
The annual revenue of the student should not exceed 2.5 lakh.
West Bengal Talent Support Programme (TSP)
The above mentioned Aikyashree Scholarship 2020 is for those who have completed the previous exam with a minimum mark of 50% and are studying in between Class XI to Ph.D.
প্রতিভা সমর্থন উপবৃত্তি এমএ ও এমই বিভাগ, সরকার অধীনে একটি রাজ্য সরকার স্পনসরিত প্রোগ্রাম। পশ্চিমবঙ্গের। ডাব্লুবিএমডিএফসি টিএসপি প্রোগ্রামের নোডাল অফিস হিসাবে কাজ করছে।
পশ্চিমবঙ্গ সংখ্যালঘু উন্নয়ন ও ফিনান্স কর্পোরেশন আইন, ১৯৯৫-এর পশ্চিমবঙ্গ আইন ১৯৯৯ অনুসারে ১৯৯৯ সালে ডাব্লুবিএমডিএফসি প্রতিষ্ঠিত হয়েছিল। কর্পোরেশনের কাজগুলি সাধারণত সংখ্যালঘুদের অর্থনৈতিক কল্যাণের কাজ করা।
ডাব্লুবিএমডিএফসি শুরু থেকেই অর্থনৈতিক কল্যাণ, বৃত্তি, বৃত্তিমূলক প্রশিক্ষণ, জনসচেতনতা এবং কর্মজীবনের পরামর্শের জন্য বিভিন্ন প্রকল্প গ্রহণ করে আসছে।
Eligibility Criteria:
The student needs to be a permanent inhabitant in West Bengal and a maximum of 2 lakh annual family income.
Swami Vivekananda Merit cum Means Scholarship
Swami Vivekananda Merit cum Means Minority Scholarship is awarded to well-deserved minority students. This scholarship is for those who are in Class XI to Postgraduate in Regular Course.
পশ্চিমবঙ্গের মেধাবী শিক্ষার্থীদের উচ্চতর পড়াশোনা চালিয়ে যাওয়ার জন্য "স্বামী ভিভেনন্দা মেরিট কিউম মাইনস স্কুলেশিপ স্কাইম মাইনরিটিস" এর অধীনে ২০২০ সালের জন্য সংখ্যালঘু শিক্ষার্থীদের কাছ থেকে বৃত্তির জন্য আবেদন করা হয়। পোস্ট মধ্যমিক স্তরের সংখ্যালঘু শিক্ষার্থীরা এবং এরপরে পলিটেকনিক কোর্স সহ নিয়মিত কোর্সে, যারা পশ্চিমবঙ্গে বাসিন্দা এবং রাজ্য বোর্ড / মাধ্যমিক / উচ্চ মাধ্যমিক এবং মাদ্রাসা শিক্ষা কাউন্সিল থেকে চলতি বছরে পাস করার পরে এই রাজ্যের শিক্ষাপ্রতিষ্ঠানে পড়াশোনা করে নীচে বর্ণিত অন্যান্য যোগ্যতার মানদণ্ডের সাপেক্ষে এই স্কলারশিপের (সংখ্যালঘুদের জন্য এসভিএমসিএম) জন্য আবেদন করতে পারে
Eligibility Criteria:
The candidate shall be a permanent citizen of West Bengal and total earnings from household shall be 2.5 lakh.
Aikyashree Scholarship Money Stipend Amount? ঐক্যশ্রী স্কলারশিপ থেকে কত টাকা পাওয়া যাবে?
The rates of Stipend of WBMDFC Aikyashree Scholarship 2020 for different categories will be different. The stipend rates are provided below –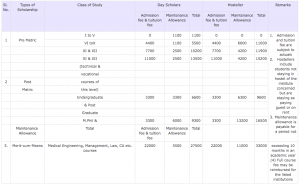 How to Apply Online for Aikyashree Scholarship 2020 wbmdfcscholarship.gov.in
Through this portal, Minority students from Class I to Ph. D may apply to government Aikyashree Scholarship 2020. The entire Aikyashree Scholarship 2020 registration procedure Aikyashree Scholarship 2020 is available online.
Scroll down to learn the full WBMDFC 2020 Aikyashree Scholarship Online application process. The full procedure is provided below –

Go to the official website www.wbmdfcscholarship.gov.in.
On the above of the portal, go to the New Registration Section or Click here.
Choose the name of your district and enter all details to register.
After successful fill up of Aikyashree Scholarship Application Form 2020, submit and print the form.
Then you can go to the "Students Login" section or click here.
After that, login with your user name and password and track your Aikyashree Scholarship application status.
Necessary documents
Passport size photograph
Cast Certificate
Income certificate
Voter ID
Adhar Card
Mark sheet of Madhyamik
Mark sheet of HS
Bank account details
Residential Certificate
Last Date of WBMDFC Scholarship Application Form Fill up
Candidates must submit online application form before the last date. As the application form fill up process is completely online, after that last date, the online portal for Aikyashree Scholarship 2020 submission of WBMDFC Online Application Form 2020 fill up will be closed.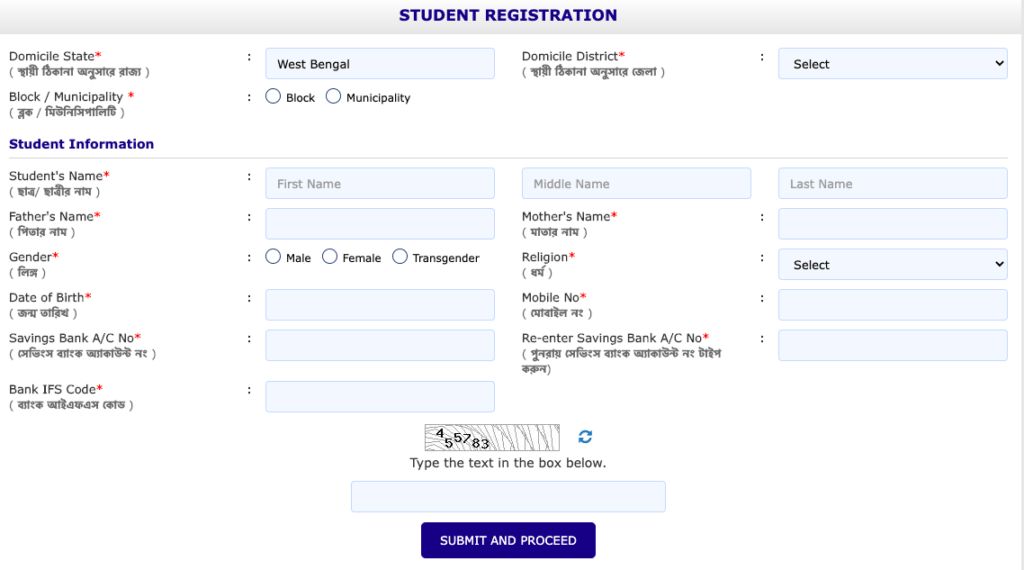 | | |
| --- | --- |
| Last Date of Aikyashree Scholarship Application Form Fill up | 15 September 2020 |
Selection Process of Aikyashree Scholarship?স্কলারশিপের জন্য কিভাবে প্রার্থী বাছাই করা হবে
The candidates will be selected depending on the following measures –
The Aikyashree Scholarship 2020 are given to qualified students on the basis of merit.
Based on the the candidate's household earnings also, they will be selected.
If the candidate has acquired a 50 percent mark in his previous exam, he or she will be qualified to apply for the renewal.
Important Links:
FAQS
Who can apply for Aikyashree Scholarship in West Bengal?
Students from minority communities will be able to submit applications for the Oikyasree Scholarship.
When will the Aikyashree Scholarship application be submitted?
If you would like to apply for the Oikyasree Scholarship, you need to visit our website regularly.
How can a student apply for Aikyashree Scholarship?
For this you need to read our article carefully and then click on the link of the official website. The official website is www.wbmdfcscholarship.in.
What are the documents required for submission of Aikyashree Scholarship Application?
Read the article carefully to know what documents need to be submitted.
How do I correct a mistake I made while submitting an application?
Students can mail us at WhatsApp 8017071714 or [email protected]
How do we check application status?
For this you have to go to the official website.
Will students of any stream be able to submit application for Aikyashree Scholarship?
Of course you can.
What is the full form of WBMDFC iCashree Scholarship?
West Bengal Minorities Development Finance Corporation Aikyashree scholarship.
What is the eligibility criteria for Aikyashee scholarship?
Students who are residents of West Bengal but can submit application for this scholarship. Only meritorious poor students can get this scholarship.
Those who want to get Aikyashree Scholarship must read this article carefully, but you will find out if you want to stay under the Aikyashree Scholarship 2020, you have to abide by all the government restrictions.
In the below comment section, you can write your question about the WBMDFC Aikyashree Scholarship 2020. We will provide updates on wbmdfcscholarship.gov.in Aikyashree Scholarship Scheme 2020, once we get official information.
Contact Us-
Technical Helpdesk: 6290875550
Toll-free number: 1800-120-2130
Scholarship Helpline Number: 8017071714, 033-4047468
Good Luck!! Have A Good Day!!