WB GNM Admission 2022 – WBJEE ANM & GNM Entrance Exam Application Form @ wbjeeb.nic.in & wbheath.gov.in: West Bengal GNM Nursing Admission Form 2022 has been released by WB Joint Entrance Examination Board (WBJEEB). This year, WB Health Department will not release Notice for Admission in GNM Courses. There will be entrance examination for the Selection of suitable candidates for GNM & ANM (R) Course Admission in Government Nursing Training Centers. WB Health GNM Application form need to be submitted online within the last date.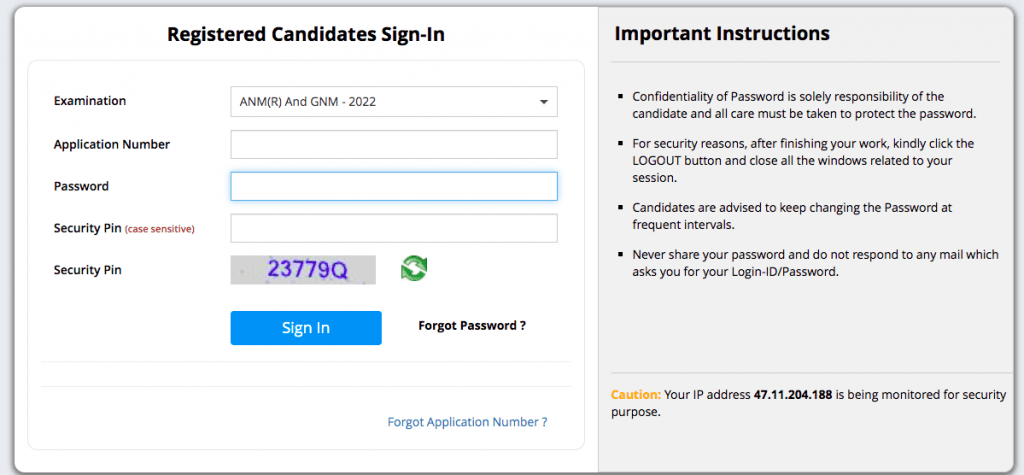 Check Here – WBJEE GNM ANM Entrance Exam Syllabus 2022 in Details | Download PDF বাংলায়.
Read the post carefully to get detailed eligibility criteria for WB Health GNM Nursing Admission, Number of Seats, Application Form Download link (PDF) and other important information regarding admission in West Bengal General Nursing & Midwifery Course.
Click Here to Read How to Apply online & Get Official Website link.
নার্সিং ট্রেনিং এর যোগ্যতা কি কি, কিভাবে অ্যাপ্লিকেশন ফর্ম ফিলাপ করতে হবে, কত বছর বয়স অবধি WBJEE GNM Admission অ্যাপ্লিকেশন ফর্ম ফিলাপ করা যেতে পারে, মেডিকেল সার্টিফিকেট, রেসিডেন্সিয়াল সার্টিফিকেট কিভাবে ফিলাপ করতে হবে এবং কোথায় জমা দিতে হবে, কোথায় কোথায় আবেদন করতে পারবেন – বাংলায় জানতে নিচে লিংক এ ক্লিক করুন.
WBJEE GNM Admit Card & Exam Date Updated News.
WBJEE GNM Nursing Admission Important Dates 2022
| | |
| --- | --- |
| Starting of Application Form Submission | 11 January 2022 |
| Last Date WB GNM Admission 2022 Form Submission | 28 January 2022 |
| Starting of Form Editing | 29 January 2022 |
| Last date of application form editing | 31 January 2022 |
| Exam Date | 11 & 12 June 2022 |
| Provisional Merit list Publishing Date (Combined & Category Wise) | To be notified later |
| Open Window for Correction | July 2022 |
| Name List & Venue of Provisional Verification & Format for Medical Check upAvailable Soon | July 2022 |
| Date of Verification & Medical Check up | July 2022 |
| Final Rank List | July 2022 |
| 1st Round Seat Allotment Publishing Date | July 2022 |
| Seat Matrix for 2nd Round Counselling | August 2022 |
| 2nd Round Seat Allotment List | August 2022 |
| 2nd Round WB GNM Admission Date | August 2022 |
| Mop up Round Counselling Seat Matrix | August 2022 |
| Mop Up Counselling & Allotment of Seat from Swasthya Bhawan | August 2022 |
| Mop Up Admission Round Publishing Date | August 2022 |
| Reporting by Admitted candidate to respective institutional authority | August 2022 |
WB GNM Admission 2022 Details ক্লিক করুন – বাংলায় পড়ুন.
WB Health GNM Nursing Course 2022: Admission Form, Eligibility, Seats Information www.wbhealth.gov.in
The West Bengal Health Department on their official website www.wbhealth.gov.in issue official notification regarding the WB Joint Entrance Examination Board GNM Admission 2022-23 session. Take a brief look at the key information stipulated in the notification. 3 years nursing training including 6 months internship in nursing training schools under govt of West Bengal is provided for the admitted male / female candidates.
Also Check WB Health ANM Course 2 Years Admission 2022.
Discussion on WB GNM Merit List 2022 Preparation Process & Result Releasing Date.
| | |
| --- | --- |
| Course Name | General Nursing & Midwifery |
| Session | October 2022 to September 2025 |
| Course Duration | 3 years. |
| Number of seats (Vacancy) | 2692 Female & 125 Male |
| Eligibility Criteria | 12th pass (Higher Secondary) |
| Application Form Submission Mode | Online |
Check here West Bengal Primary TET Exam Date 2022.
Seats / Vacancy for GNM Nursing Course in 202

2
| | |
| --- | --- |
| Gender | Seats |
| Female | 2692 |
| Male | 125 |
However vacancy may change anytime as per WBHealth website.
District Wise Seat Matrix for WB GNM Course 2022
Number of seats district wise for GNM nursing trainees and detailed distribution for male & female posts is given below along with reservation of seats for SC, OBC, ST, General and others –
District Nursing School Wise Vacancy/Seats for GNM Course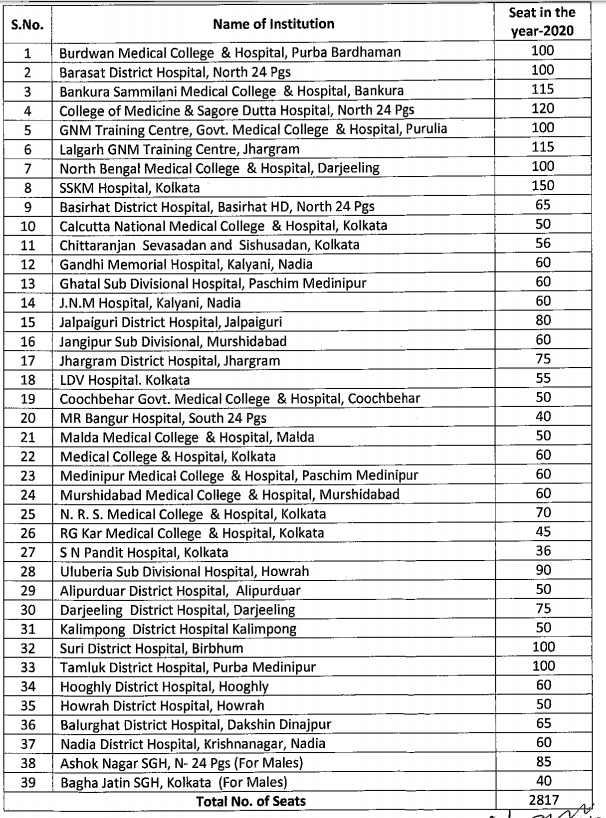 Reservation Criteria of Seats-
| | |
| --- | --- |
| Category | Percentage of Reservation |
| SC | 22% |
| ST | 6% |
| OBC A | 10% |
| OBC B | 7% |
| Female Candidates belonging to Orphanages and Inmates of Destitute Homes | 2% |
| Lady Civil Defence Volunteers under Home Dept | 2.5% |
WB Health GNM Nursing Eligibility Criteria
| | |
| --- | --- |
| Age | Minimum Age – 17 Years, Maximum Age – 27 Year, Age Cut Off Date 1-01-2022. |
| Educational Eligibility Criteria | 12th Pass in any stream (Science, Arts, Commerce, Bio Science) with Minimum 40 % Marks. |
| Language | Able to read, write and speak in Bengal / Nepali. |
| Residence | Citizen of India & Permanent resident of the District of West Bengal (from where he/she is applying) uninterruptedly for at least five years. |
How to Apply for WB Health GNM Course 202

2?
At first check your eligibility criteria and read other details directly from the official notification.

Apply Online for the WBJEE GNM Application Form 2022.
Fill up the application form carefully.
Choose the nursing training school you want to apply.
Documents required for WB Health GNM Nursing Verification/Counselling
12th Class Marksheet (Attested Photo Copy).

Admit Card or Certificate of 10th Exam (Attested Photo Copy).

Residential Certificate (Original Copy).

Category Certificate (SC / ST etc). (Attested Photo Copy)

Passport size photograph to be affixed on application form.

One self addressed envelope with requisite postal stamp of Rs 5 paster on proper place.
You may also be interested in WB DElEd Admission 2022 in West Bengal.
WB GNM Application Form Correction / Editing Notice
Have you made any mistake while filling up West Bengal Health Department Nursing Training Application Form? The students can edit their Mistakes in columns like Total/Aggregate Marks, Name, Address etc. by logging in with their user id and password.
Download the Application Form Editing Notice from Official Website wbhealth.gov.in – Click here (Old).
Helpline/How to Contact WB Health Regarding Admission Queries:
You can contact the following persons (phone number provided) for any questions/information related to WB GNM Admission 2022 from 10.15 AM and 5.15 PM –
DDHS(Nursing): 033-23330237,
Jaya Mondal (Nursing Superintendant): 033-23330354,
Sabita Maity, Supervisor Gr.1 Typist: 9836621849,
Netai Chandra Manna, Gr1 Typist: 9123764782.
Important Links & WB GNM Application Form Download 2022
যারা পশ্চিমবঙ্গ হেলথ নার্সিং ট্রেনিং এন্ট্রান্স এক্সামের প্রস্তুতি নিয়েছো এবং অ্যাপ্লিকেশন ফর্ম ফিলাপ করেছে তাদের অবশ্যই জেনে রাখা দরকার পূর্ববর্তী বছর যেভাবে মেধা তালিকা প্রকাশিত করেছে এ বছর কিন্তু সেভাবে মেধাতালিকা প্রকাশ করা হবে না। পশ্চিমবঙ্গ জয়েন্ট এন্ট্রান্স এক্সাম এর মাধ্যমে মেধা তালিকা প্রকাশিত করা হবে। তোমাদের যদি কোনো সমস্যা থেকে থাকে তাহলে কমেন্ট বক্স এর মাধ্যমে আমাদের জানাতে পারো তোমাদের সমস্যার কথা।
FAQ
When will West Bengal GNM Admission Form be provided online?
The WB GNM Nursing Admission Form fill up has started from 11 January 2022.
Can West Bengal GNM Admission Form be submitted online only?
Yes, The official authority has provided an online portal for submission of online application form for the admission of GNM Course.
What is the selection procedure for West Bengal GNM?
Selection of the GNM Posts will be based on the number of Higher Secondary that is 10+2 Exam.
How do we submit West Bengal GNM Admission Form online?
For this you have to read the article given by us carefully. There we have given you how to submit the application form of West Bengal GNM online.
Can we know the name of the official website of West Bengal GNM?
The GNM Admission is done through WBJEE and their official website is www.wbjeeb.nic.in.
Good Luck!!