WB Madhyamik Pariksha PPS PPR Result 2023 Date, পোস্ট পাবলিকেশন রিভিউ (পিপিআর) ও পোস্ট পাবলিকেশন স্ক্রুটিনি: West Bengal Board of Secondary Education (WBBSE) will release the Madhyamik PPS / PPR Result shortly after the Madhyamik Pariksha Result is out after 20th July 2023. Students who have applied online for Review or Scrutiny of the answer paper of the WB Madhyamik 2023 Exam, can now check their exam result of the PPS / PPR online. Read the information about the Result & checking process of the WB Madhyamik PPS Result 2023.
Latest Update on 28th May 2023 – এবছর যেসমস্ত ছাত্রছাত্রীরা মাধ্যমিক পরীক্ষা দিয়েছে তাদের মধ্যে অনেকেই খাতা স্কুটিনি এবং পিপিআর করতে দিয়েছে। ফলাফল কবে প্রকাশিত হবে সে নিয়ে ডিপার্টমেন্ট এখনো পর্যন্ত বিস্তারিত তথ্য জানায়নি তবে তারা জানিয়েছে জুলাই মাসের শেষে তারা রিভিউ এবং স্ক্রুটিনি ফলাফল প্রকাশিত করবে।
Official notice regarding Madhyamik PPR PPS Scrutiny: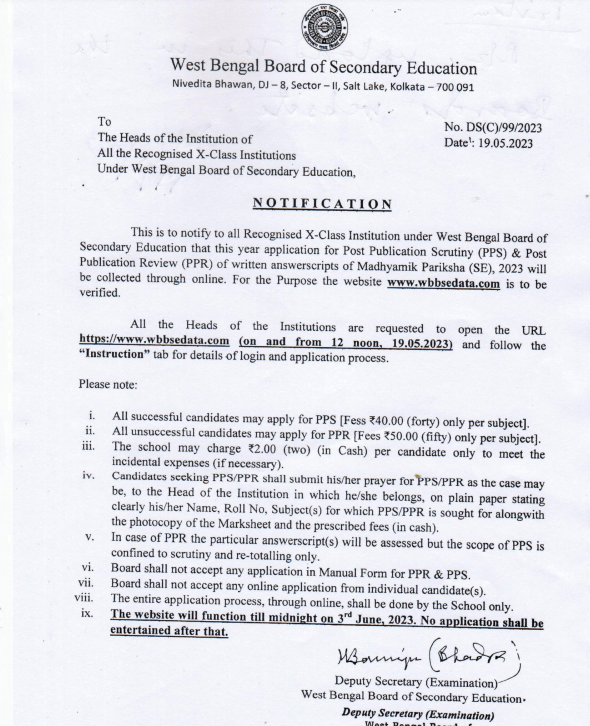 Madhyamik PPS PPR Result 2023-Overview
| | |
| --- | --- |
| Name of the Examination | Madhyamik Exam |
| Board Name | West Bengal Board of Secondary Education |
| Application For | PPR & PPS |
| Application Timeline | 20 days after result published |
| Application Mode | Online |
| Application Fees per Paper | Rs. 40/- (for Scrutiny) Rs. 50/- (for Review) |
| PPR PPR Result Date | September 2023 |
| Website | www.wbbse.org |
Check Here the Release Date of WB Madhyamik Pariksha Exam.
List of official websites where the Madhyamik PPS PPR Result will be published –
www.exametc.com,
wb10.abplive.com,
www.results.amarujala.com,
www.IndiaResults.com,
www.results.shiksha.
How to check WB Madhyamik Exam PPR PPS Result Online?
Many candidates dont know how to check the Madhyamik Scrutiny Exam Result online. Here we have provided easy steps to check the result of the WBBSE Review Exam Results –

| | |
| --- | --- |
| Step 1 | At first, go to ant of the above listed website. |
| Step 2 | Then Open the Madhyamik PPS PPR Result Link. |
| Step 3 | Enter your Roll Number, |
| Step 4 | After that, put your captcha code. |
| Step 5 | Finally, click on the submit button to check your result. |
| Step 6 | Then you will be able to see the marks obtained after the Scrutiny of the answer sheet. |
Also Check – WB HS PPR PPS Result 2023.
If you have any doubt or question related to the WBBSE Madhyamik 2023 PPS PPR Exam Result checking process, then comment below.
Important Links:
Download the Official Notice Regarding the PPR PPS Result of West Bengal 10th Class Exam – Click Here.
For more updates on WB Madhyamik PPR / PPS Result 2023, keep visiting www.jobsandhan.com.