NBU Exam Fees 2023 :The University of North Bengal (NBU) is a beacon of academic excellence offering Undergraduate (UG) courses with applications accepted online. As part of the Choice-Based Credit System (CBCS) and Annual System, NBU conducts exams for the 2nd, 4th, and 6th semesters. Nestled in the picturesque North Bengal region, NBU's official website, nbu.ac.in, serves as a gateway to educational opportunities. NBU is dedicated to providing students with a quality education and nurturing their academic growth, making it a prominent name in the realm of higher education.
Read here – Kukke Subramanya Temple Online Booking 2023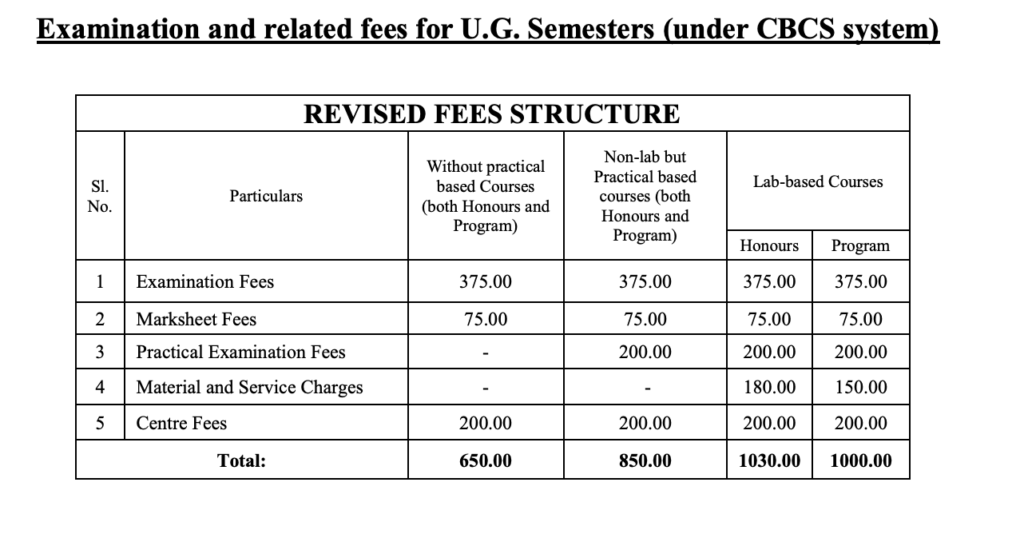 NBU Exam Fees Highlight 2023
| | |
| --- | --- |
| Name Of The University | University of North Bengal |
| Course Name | UG |
| Application Mode | Online |
| Category | Exam Fees |
| Semester | 2nd Sem, 4th Sem & 6th Sem |
| Scheme Name | CBCS & Annual System |
| Location | North Bengal |
| Official Website | nbu.ac.in |
Step For NBU Exam Fees
Visit NBU's official website.
Navigate to the "Student Services" or "Examination" section.
Select "NBU Exam Fees Payment" or a similar option.
Enter your details, including registration number and course.
Choose the semester you wish to pay NBU Exam Fees for.
Follow the prompts to make the payment securely online.
NBU Exam Payment
Paying exam fees at the University of North Bengal (NBU) is a streamlined process, ensuring convenience for students. Visit the official NBU website, locate the "NBU Exam Fee Payment" section, provide your registration details and course information. Choose the relevant semester, and complete the secure online payment. NBU prioritizes a hassle-free experience, making it easier for students to focus on their academic journey without the complexities of NBU Exam Fees payments.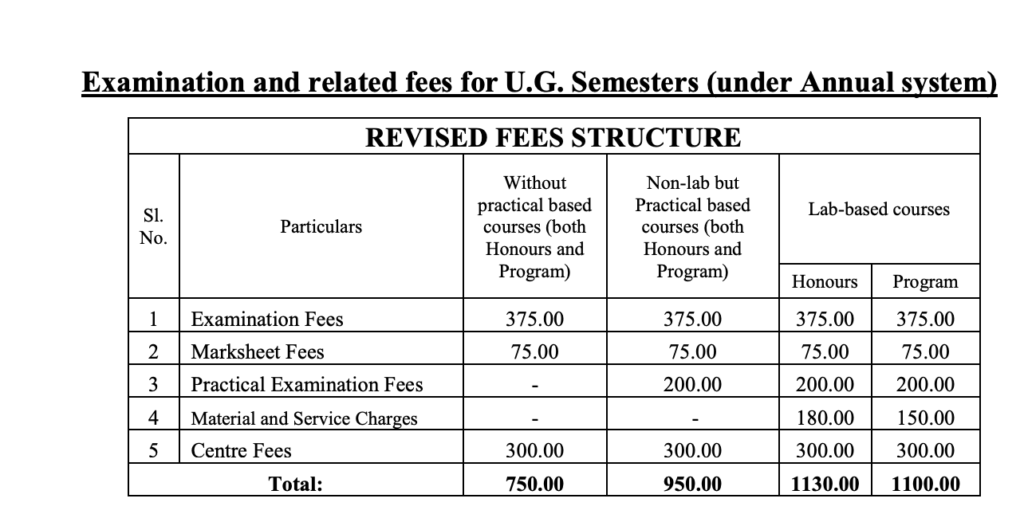 UG Semester (under CBCS system) Exam Fee
REVISEDFEESSTRUCTURE
Sl. No.
Particulars
WithoutpracticalbasedCourses(bothHonoursandProgram)
Non-labbutPracticalbasedcourses(bothHonoursandProgram)
Lab-basedCourses
Honours
Program
1
Examination Fees
375.00
375.00
375.00
375.00
2
MarksheetFees
75.00
75.00
75.00
75.00
3
PracticalExaminationFees
–
200.00
200.00
200.00
4
MaterialandService Charges
–
–
180.00
150.00
5
CentreFees
200.00
200.00
200.00
200.00
Total:
650.00
850.00
1030.00
1000.00
UG Semester Exam Fee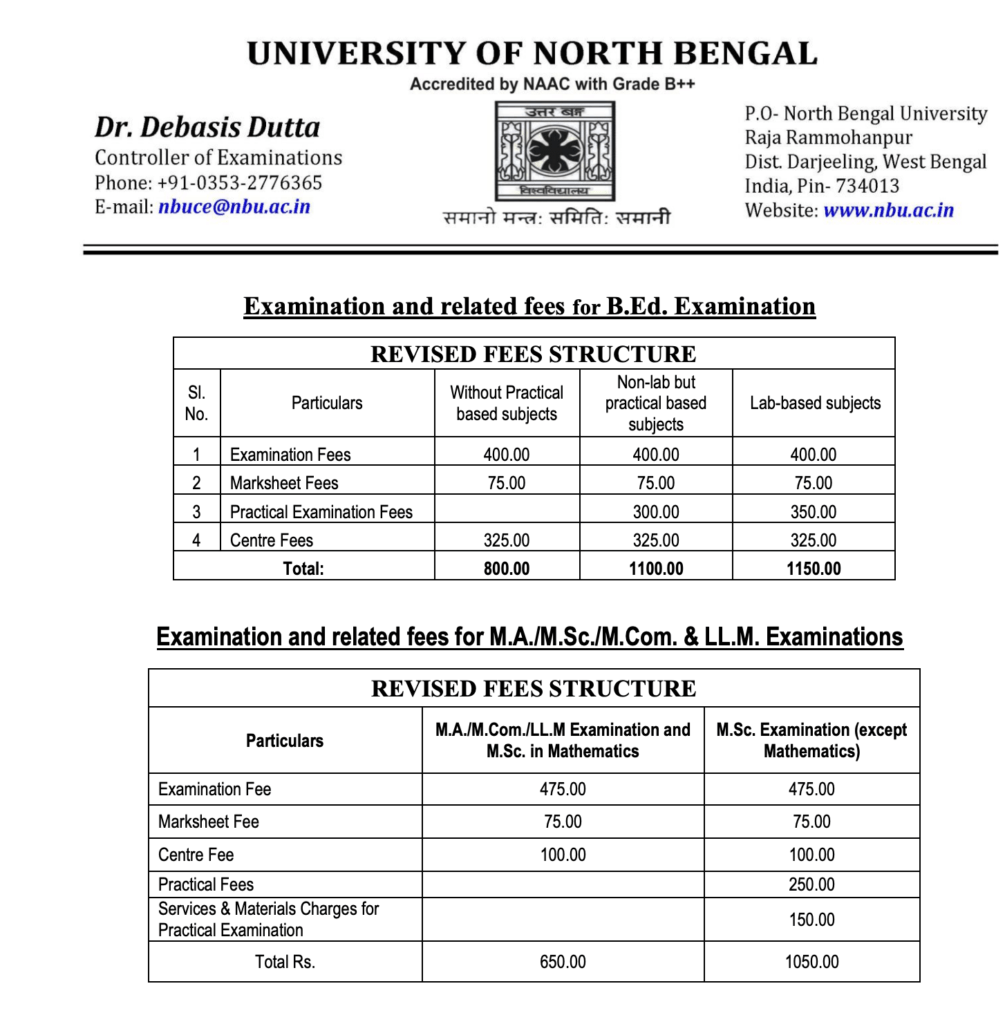 REVISEDFEESSTRUCTURE
Sl. No.
Particulars
Without practicalbased courses (both Honours and Program)
Non-lab but Practicalbased courses (both Honours and Program)
Lab-basedcourses
Honours
Program
1
ExaminationFees
375.00
375.00
375.00
375.00
2
MarksheetFees
75.00
75.00
75.00
75.00
3
PracticalExaminationFees
–
200.00
200.00
200.00
4
MaterialandService Charges
–
–
180.00
150.00
5
CentreFees
300.00
300.00
300.00
300.00
Total:
750.00
950.00
1130.00
1100.00
PG Semester Exam Fee
REVISEDFEESSTRUCTURE
Particulars
M.A./M.Com./LL.M Examination and M.Sc.inMathematics
M.Sc. Examination (except Mathematics)
ExaminationFee
475.00
475.00
MarksheetFee
75.00
75.00
CentreFee
100.00
100.00
PracticalFees
250.00
Services&MaterialsChargesfor Practical Examination
150.00
TotalRs.
650.00
1050.00
MBA Examination Fee
REVISEDFEES STRUCTURE
Particulars
Fees
Examination Fee
625.00
Marksheet Fee
75.00
Centre Fee
100.00
TotalRs.
800.00
NBU Exam Fees Links