Loyola College Admission 2023 : Loyola College is a prestigious educational institution known for its excellence in academics and holistic development. The Loyola College Admission process for 2023 is highly competitive, with a focus on academic achievements, extracurricular activities, and personal qualities. Prospective students must submit their applications along with required documents and undergo a thorough evaluation. Loyola College values diversity and seeks individuals who demonstrate leadership Loyola College Admission potential, a passion for learning, and a commitment to social responsibility. Admitted students will have access to a vibrant campus life, world-class faculty, and a wide range of academic programs. Prepare for a transformative educational journey at Loyola College in 2023.
latest Update On 27th September 2023 : Loyola College, Chennai admits Arts, Science, Commerce, Engineering, Management, and Vocational Students. The Loyola College admissions webpage accepts UG and PG courses but not MBA. Candidates for Loyola College UG and PG programmes can verify and apply online.
Loyola College Admission 2023 – Apply Link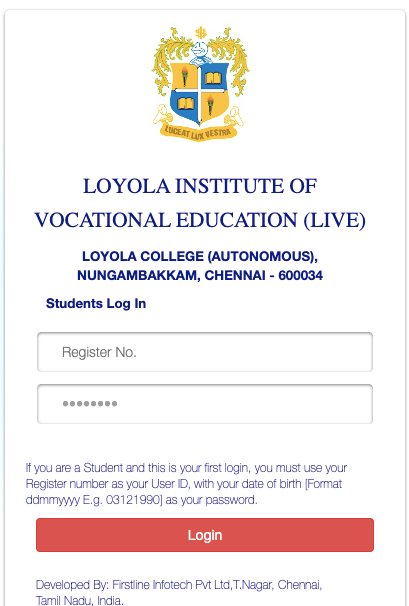 Loyola College Admission Links
Navigating the path to academic success? Look no further than Loyola College! As admission season kicks off, access the latest updates and application forms via the official website. With its legacy of excellence in education and a wide array of courses, Loyola College is a prime choice for aspiring students. Don't miss the chance to be a part of this prestigious institution – visit the admission links, explore your options, and take the first step towards a brighter future.
Loyola College Admission 2023 Overview
| | |
| --- | --- |
| Name Of The College | Loyola College |
| Course Name | UG, PG |
| Admission Process | UG Courses- Merti Based, PG Courses- Entrance Based |
| Application Mode | Online |
| Category | Admission |
| College Type | Public |
| Official Website | www.loyolacollege.edu |
Loyola College Admission Dates
| | |
| --- | --- |
| Notification Released | 1st May 2023 |
| Application Staring Date | 1st May 2023 |
| Application Last Date | 17th May 2023 |
| PG Entrance Exam Date | 27th May 2023 |
Loyola College Application Form
The Loyola College application form serves as a crucial component of the Loyola College Admission process. It is a comprehensive document that captures essential information about the applicant. The form consists of various sections, including personal details, educational background, extracurricular activities, and essay prompts. Through these sections, applicants can showcase their qualifications, achievements, and aspirations, providing the Loyola College Admission committee with a holistic view of their profile.
UG
Arts
B.A. (Economics)
B.A. (English)
B.A. (History)
B.A. (Sociology)
B.A. (Tamil)
Commerce
Science
B.Sc.(Advanced Zoology & Biotechnology)
B.Sc.(Chemistry)
B.Sc.(Mathematics)
B.Sc.(Physics)
B.Sc.(Plant Biology & Plant Biotechnology)
B.Sc.(Statistics)
B.Sc.(Visual Communication)
PG
Arts
M.A. (Economics), M.A. (English),
M.A. (Social Work)
Specialisations:
– Community Development
– Human Resource Management
– Medical and Psychiatric
– Welfare of the Disadvantaged Sections
– Human Rights
Commerce
Science
M.Sc.(Chemistry)
M.Sc.(Mathematics)
M.Sc.(Physics)
M.Sc.(Statistics)
M.Sc.(Zoology)
Also cHeck- WBSEDCL Office Executive Admit Card 2023 New Exam Date
Loyola College Admission Process
To download the Loyola College admission form, follow these steps:
Visit the official website of Loyola College.
Navigate to the "Loyola College Admission 2023" section on the website.
Look for the Loyola College Admission form or application link.
Click on the link to download the form.
Save the form to your computer or mobile device.
Open the downloaded form using a PDF reader.
Fill in the required details accurately.
Save the filled-in form.
Submit the form as per the instructions provided on the website.
Keep a copy of the submitted form for future reference.
Loyola College Admission Document Required
Aadhar Card
Residential Certificate
Transfer Certificate
Domicile Certificate
Recent Passport size Photo
Date of Birth Certificate
Caste Certificate
Migration (For Board Changes)
Previous Year Marksheet
Eligibility Criteria
As for the eligibility criteria, Loyola College has certain guidelines that applicants must meet to be considered for Loyola College Admission 2023. The eligibility criteria may vary depending on the course or program applied for. Generally, candidates Loyola College Admission must have completed their higher secondary education or its equivalent from a recognized board or institution. Additionally, they must meet the minimum percentage requirement specified by the college for the respective program. It is essential for candidates to review the specific eligibility criteria for their desired course before applying.
Loyola College Entrance Exam
Loyola College also conducts entrance exams for certain programs to assess the aptitude and subject-specific knowledge of applicants. These exams play a vital role in the selection process. Candidates must prepare diligently for these entrance exams by familiarizing themselves with the syllabus, practicing previous years' question papers, and seeking guidance if required. Loyola College Admission are granted based on the combined performance in the entrance exam, academic record, and other criteria specified by the college.
Loyola College Admission Fees
| | |
| --- | --- |
| Course | Fees |
| BBA | 75,000 |
| BCA | 86,910 |
| BA | 13,841 |
In conclusion, Loyola College offers a transformative educational experience, and gaining Loyola College Admission to this esteemed institution is a highly coveted achievement. The Loyola College application form serves as the gateway for prospective students to showcase their qualifications and aspirations, while the eligibility criteria and entrance exams ensure a fair and competitive Loyola College Admission selection process. Aspiring applicants should carefully follow the steps to download the Loyola College Application form, understand the eligibility criteria, and prepare diligently for the entrance exams to enhance their chances of securing a place at Loyola College – a place where academic excellence and personal growth go hand in hand.
Faqs On www.loyolacollege.edu Admission
Is an entrance exam necessary for Loyola College admission?
Programmes vary. Some programmes don't require entrance exams. Programme prerequisites are on the website or in the admission office.
How can I apply for Loyola College admission?
Fill up the college's application form, submit documentation, and pay the price. Visit the website or call the admission office for details.
Are there reservation quotas for Loyola College admission?
Loyola College may have reservation quotas, but specifics vary. Contact the admission office or check the official website for information on reservation policies.