JNVU B.Ed Exam Form 2023 : The Jai Narain Vyas University BEd Exam Form is a crucial step for aspiring educators. To apply, visit the official website, where you'll find the online application form. Fill in your details accurately, upload required documents, and pay the prescribed fee. Ensure you meet the eligibility criteria and adhere to the deadlines. This JNVU BEd Exam Form opens the door to a career in education, making it a significant milestone for those looking to become teachers. Take this opportunity seriously, and you can pave the way to a rewarding and fulfilling profession in the field of education.
The online application process commences on November 4, 2023, and concludes on January 30, 2024. The exams are scheduled for March/April, providing ample time for candidates to prepare. To apply and access essential details, visit the official website www.jnvu.co.in. JNVU continues its tradition of fostering quality education and facilitating academic growth in the culturally rich landscape of Rajasthan.
Read Here – Dibrugarh University Online Exam Form 2023
JNVU B.Ed Exam Form Overview
| | |
| --- | --- |
| Name Of The University | Jai Narain Vyas University, Jodhpur |
| Course Name | B.Ed |
| Apply Mode | Online |
| Category | Exam Form |
| Exam Name | Annual Exam |
| Form Fill Up Staring Date | 4th November 2023 |
| Last Date To Apply | 30th January 2024 |
| Exam Date | March /April |
| Location | Rajasthan |
| Official Website | www.jnvu.co.in |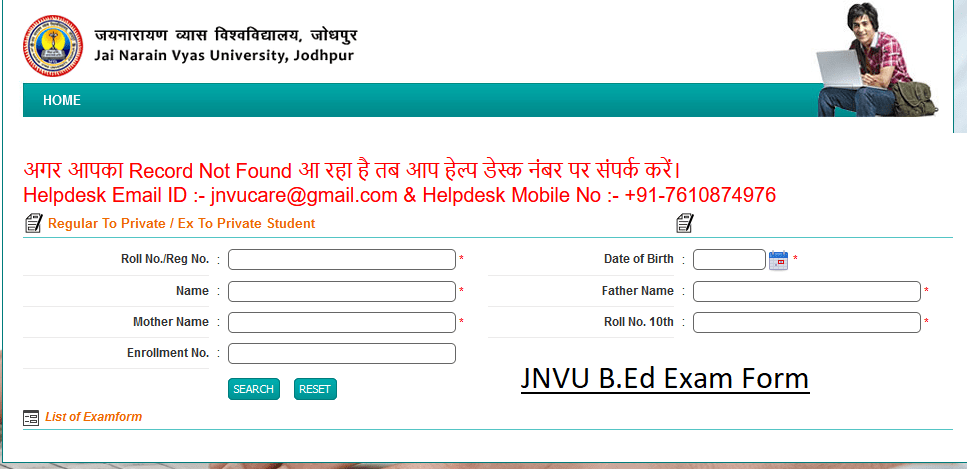 How To Apply JNVU BEd Exam Form ?
Visit Jai Narain Vyas University's official website at www.jnvu.co.in.
Look for the "Examination" or "JNVU BEd Exam Form" section.
Find the B.Ed Annual Exam Form.
Click on the link to download the form.
Fill out the JNVU BEd Exam Form with accurate details.
Submit the JNVU BEd Exam Form as per the provided instructions and deadlines.
JNVU BEd Exam Form Data Mentioned
University Name
Course Name
Subject Name
Subject Code
Exam Form
JNVU BEd Exam Form Link