HPSC HDO Result 2023 : The Haryana Public Service Commission (HPSC) recently released the results for the Horticulture Development Officer (HDO) examination. The eagerly awaited results have brought joy and relief to the aspirants who had appeared for the competitive exam. The HPSC HDO Result reflects the hard work and dedication put in by candidates, and successful candidates can now look forward to pursuing a career in horticulture development in the state of Haryana. The announcement of these HPSC HDO Result marks a significant milestone in the journey of these individuals and highlights the transparency and efficiency of the HPSC's examination process.
Read Here – Kreeda Gyan Pariksha Result 2023
HPSC HDO Result 2023 Overview
| | |
| --- | --- |
| Name Of The Organization | Haryana Public Service Commission (HPSC) |
| Post Name | Horticulture Development Officer (HDO) |
| Total Vacancies | 63 |
| Application Mode | Online |
| Advertisement Number | 12/2023 |
| Age Limit | 18 to 42 years |
| Selection Process | Written Exam, Interview, Document Verification, Medical Test |
| Official Website | hpsc.gov.in |
Haryana PSC HDO Result 2023
The pursuit of success in competitive examinations is a journey that demands unwavering dedication and determination. The Haryana Public Service Commission HDO Result 2023 signifies the culmination of the quest for candidates aspiring to become Horticulture Development Officers (HDOs) in Haryana. It's not just an outcome; it's a testimony to the aspirants' hard work and perseverance. The HPSC HDO Result conducts this esteemed examination to choose candidates for the role of Horticulture Development Officer, attracting individuals from diverse backgrounds and regions, all driven by a common goal of enhancing Haryana's horticultural sector.
HPSC Horticulture Development Officer Result 2023 Date
| | |
| --- | --- |
| Registration Starting Date | 24 Feb 2023 |
| Registration Last Date | 16 Mar 2023 |
| Admit Card Published date | third week of October 2023 |
| Exam Date | 29 Oct 2023 |
| Result Date | Available Soon |
HPSC HDO Result Portal
The HPSC (Haryana Public Service Commission) HDO (Horticulture Development Officer) Result Portal is a vital resource for candidates who have appeared for the HDO exam. It provides quick and convenient access to exam HPSC HDO Result, allowing candidates to check their performance and see if they've qualified for further stages of the selection process. The portal is regularly updated with the latest HPSC HDO Result, ensuring transparency and efficiency in the recruitment process.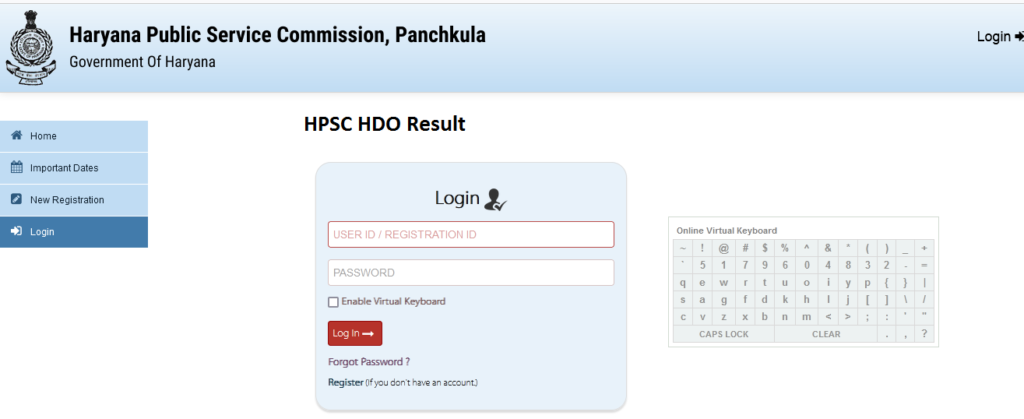 HPSC HDO Cut Off Marks
The HPSC HDO Cut Off Marks play a pivotal role in the competitive journey of aspirants vying for the position of Horticulture Development Officer in Haryana. These marks serve as the threshold that candidates must surpass to qualify for further stages of the examination process. They are determined based on various factors, including the difficulty of the paper, the number of vacancies, and the performance of the candidates. The HPSC HDO Cut Off Marks are a crucial yardstick that separates successful candidates from the rest.
| | |
| --- | --- |
| Category | Marks |
| ST | 45% |
| SC | 48% |
| OBC | 52% |
| GEN | 55% |
Data Mentioned On HPSC HDO Result
Applicant Name
Roll No
Registration No
Exam Name
DOB
Applicant's Gender
Category
Examination Centre Name
Examination Center Cod
Date and Reporting time of the Examination
HPSC HDO Merit List
The HPSC HDO Merit List is the culmination of rigorous evaluation and determination in the pursuit of becoming a Horticulture Development Officer in Haryana. It comprises the names of successful candidates who have exceeded the cut-off marks and excelled in the examination. The Merit List is a testament to their hard work, knowledge, and dedication, serving as a ticket to a fulfilling career in horticulture development.
Name of Post: District Horticulture Officer
Merit wise Marks List of All Selected candidates
Sr. No.
Roll No
Candidates Name
Category Filled by candidates
Final Category
50% of Marks obtained in Recruitment Test (Total Marks 50)
Marks Awarded- Personal Achievement Out of 37.5 marks
Marks Awarded- Interview Out of 12.5 marks
Total (6+7+8)
1
2
3
4
5
6
7
8
9
1
60524
ANURADHA
General
General
42.93
30
8
80.93
2
60429
NIDHI SEHGAL
General
General
43.435
29
6.625
79.06
3
60007
KULDEEP SINGH
General
General
41.415
29
8.25
78.665
4
60772
PUSHPENDRA SINGH
General
General
39.395
31
7.625
78.02
5
60060
TRIBHUWAN SINGH NEGI
General
General
40.405
31
5.7
77.105
6
60360
NEHA YADAV
BCB
General
40.91
28
8
76.91
7
60542
VIVEK
General
General
37.88
31
8
76.88
8
60393
HITESH AGARWAL
General
General
39.395
29
8.25
76.645
9
60240
JYOTI SINGH
General
General
42.93
28
5.5
76.43
10
60191
BHAWANA BHATT
General
General
37.88
31
7.37
76.25
11
60276
SHIVENDU PRATAP SINGH SOLANKI
General
General
38.385
31
6.75
76.135
How To Dowmload HPSC HDO Result
To download the HPSC HDO (Horticulture Development Officer) exam result, follow these steps:
Visit the official website of the Haryana Public Service Commission (HPSC).
Look for the 'HPSC HDO Result' or 'Examinations' section on the website.
Find the Haryana PSC HDO result link.
Click on the HPSC HDO Result link.
You may need to enter your registration number or roll number to access the result.
Once entered, the HPSC HDO Result will be displayed; you can download and save it for future reference.
HPSC HDO Result Link