Download Previous Years Work Education Question Paper PDF WB School Service Commission (WBSSC) Book List Suggestions MCQ


WBSSC Work Education Assistant Teachers Pass (Upper Primary) Question Paper Syllabus Download link has been given below. You can download syllabus free in PDF format from the link given below. Model sample questions answers need to be practiced before the written exam which is going to be held on 4th June 2018. Earlier WBSSC had invited application form online for the posts of Assistant teacher (UP) on their official website which is www.westbengalssc.com. Admit cards for the written test has been uploaded to the official website and candidates need to download it ASAP. Work Education Previous Years Question Model Paper may not be available this time because this will be 1st SLST or State Level Selection Test.
Last years paper for WBSSC Regional tests may be available for download from the official website if the official authority uploads it. Candidates should solved more and more practice mock sets to perform better in the written test of Work Education 1st SLST WBSSC. Vacancy for the posts of Work Education has been declared as 1019 posts in total. You can read the standard booklist / recommended books for the written exam in Bengali Language / English Language as suggestion of MCQ Questions in the upcoming 2018 Work education exam.
WBSSC Work Education & Physical Education – Admit Card Released – Download Now !!! 

Work Education Model Sample Question Paper:
Work Education Written test will be of 1 hour exam. If you have not downloaded the syllabus of the written test, you must do it by now so that it can give you a guideline about the questions which will be asked. The exam pattern follows 4 groups from which questions will be asked as follows –
Those who have Graduation in Visual Arts, need to answer Group A & C.
Candidates graduated in performing arts need to answer Group A & D.
Candidates having Graduation in Other subjects (MCA BCA Btech Mtech etc) need to answer Group A & B only.
Model MCQ Questions Answers for Computer Application:
In Group B of the question paper syllabus, candidates have to answer questions from Computer Application which consists of the chapter of – a) computer fundamental, b) Word Processing, c) Spreadsheet, d) Computer Networking, e) Presentation package. Model Sample Practice Multiple Choice Questions (MCQ) objective type are given below –
1) Firewall is used in PC for
a) Security
b) Authentication
c)Data transmission
d) All of the above
Ans – A.
2) Which of the following is not a special program in MS Office?
a) Office Art
b) Clip Art
c) Word Art
d) Paint Art
Ans – D.
More Work Education & Computer Application Model MCQ Questions – Click here (PDF Format)

Work Education Previous Years Question Paper Download PDF:
Work Education Previous Years Question Model Paper is very important to get idea about the standard of questions which are asked in the referred exam. After the written test is over, candidates have to appear in the interview process for 1st SLST WBSSC Work education Assistant teacher posts for Upper Primary govt schools. We have given the link of official portal of West Bengal School Service Commission where the question paper may be uploaded.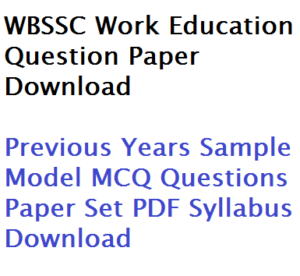 Official Website –
Click here.
All the Best for Exam!!