WBSSC SLST Physical Education Question paper Download PDF: Here we have given the detailed information related to West Bengal SSC Physical Education Previous Years Question Paper for the exam that was conducted few years ago.
READ – WBSSC SLST New Notification 2023.
Download WBSSC Physical Education Syllabus Previous Years Model Question Paper Sample MCQ Set Suggestion Mock Test Book List


WB School Service Commission (WBSSC) Physical Education Previous Years Model Sample Question paper has been discussed below. You can also download syllabus free PDF format. Physical Education Question Paper are important for this year's WBSSC 1st SLST Physical Education written exam which is going to be held on 4th June 2018. Written exam will be held for the recruitment of Assistant teacher (AT) in Govt schools in West Bengal for Upper Primary Schools. Sample model questions should be practiced in adequate quantity so that candidates can perform well in the written test. Objective type questions will be asked from the syllabus given by WBSSC for Physical Education. Earlier the recruitment notification was published on the official website which is www.westbengalssc.com. You can read any recommended books or follow standard book list for physical education. Suggestions for MCQ Question may be discussed in the comments section.
WBSSC Physical Education Model Question Paper PDF:
Multiple choice questions will come from the following syllabus which has been taken from the official website of West Bengal school service commission (WBSSC).
Fundamentals of Physical Education
Historical Aspects
Psychological Aspects
Social Aspects
Anatomical & Physiological Aspects
Health and Health Education
Teaching Methodology
Management Aspects
Recreation and Outdoor Education
Aspects of Sports Training
Developmental, corrective and therapeutic exercises
Test & Measurement
Special Physical Education
In Bengali and English language the questions will be asked. Sample model questions should be also practiced in PDF format.
Duration of the written test will be 1 hour. The written exam will start from 12.00pm and will be conducted up to 1pm.
Physical & Work Education 1st SLST – Admit Card Released Download Now

Syllabus of Physical Education Written Test WestBengalSSC:
Below is the syllabus of WBSSC 1st SLST Education Written test from which MCQ Questions will be asked in the upcoming exam in 1st SLST 2023. You can download the syllabus in PDF format free.
Total 55 MCQ Questions will be asked. Each question will carry 1 mark. You can understand the exam pattern from the syllabus as given below – Click Here to Download.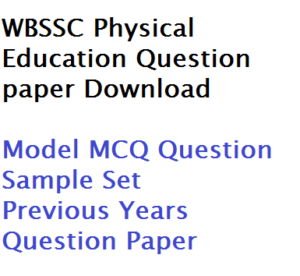 Physical Education Previous Years Question Paper:
Previous Years old question paper should be practiced to know about the standard of questions asked in the written exam. Physical Education Question Paper may be available for Assistant teacher (AT) UP for Physical Education on the official website if the official authority uploads the same on the official portal for candidates. We have given the link of the official website – Click here.