Sample Solved Model Question Download Previous Years Exam Paper WB School Service Commission WBSSC Non-teaching Clerk Group C D written test
West Bengal School Service Commission (WBSSC) non-teaching staff clerk Group C D (Gr D) Previous years question paper download / model question paper solved with answer key in PDF format. Download link for the question paper or sample paper has been given in PDF format which you can download from the link given at the very last. Study material link for this post is also given here where you can find subject wise MCQ (objective) questions for the written test. Non-teaching group D posts exam paper practice set or mock test or model paper can be downloaded completely for free. This may be helpful for the upcoming exam in 2016. Those who are interested in appearing the exam are requested to solve the last 10 years previous years question bank with answer or fully solved which can be downloaded from the official website www.westbengalssc.com.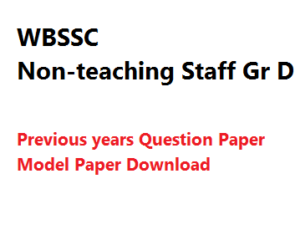 Click to see WBSSC Non-teaching Staff Exam Pattern Syllabus Recruitment Process.
Below is the question paper given as a probable or model set of question paper for West Bengal School Service Commission or WBSSC non-teaching group D posts. You can also download the model question paper from link given. Previous years question paper (fully solved) is given in PDF format for Group D Clerk non-teaching staff written exam.
Click to see WBSSC Non-teaching staff Group D Eligibility Criteria, age limit, Vacancy list full advertisement.
Download Model Question Paper PDF format:
You can download the question practice paper / sample question answer sheet in PDF format from – Here (PDF)

.
Download Study Material for WBSSC Non-teaching Staff Clerk Group D:
Subject wise study materials and important practice questions for WestBengalSSC is given below. School Service Commission's clerk recruitment written exam study materials and objective practice questions are useful for the upcoming test. You can also buy some recommended books from the syllabus.
Study Material for Basic General Knowledge [15 marks]. 

Study Material for General English [15 marks].

Study Material for Arithmetic [15 marks].

These are important for Clerk and Group D posts in WB School Service Commission.
Solved Model Question Paper – West Begal SSC non-teaching staff:
1) The world's most active volcano
a) Fujiyama b) Cotopaxi c) kilaueu d) vesuvius.
2) Which of the following started the newspaper 'Bande Mataram'?
a) Barindra kumar ghosh b)bipin chandra pal c)devendra nath tagore d)surendra nath bannerjee.
3) Who is the author of the book 'Glimpses of World history'?
a) abul kalam azad b) Jawaharlal neheru c) S Gopalan d) S Radhakrishnan.
4) Which incident led Gandhiji to withdraw Non-Cooperation movement?
a) kakori episode b) chauri-chaura episode c) jallianwala bagh episode d) muzaffarpur episode.
Click to see – WBSSC Non-Teaching Exam Date Admit Card Download 2016 Clerk Gr D,
5) During the mughal period, which one of the following traders first come to India?
a) Portuguese b) English c) Dutch d) Danish.
6) India wins freedom is the autobiography of
a) Abul Kalam Azad b) Muhammad Ali c) Zakir Hussain d) Syed Ahmed Khan.
7) Depreciation is equal to
a) Gross national product-net national product b) net national product –gross national product c)gross national product –personal income d) personal income -personal taxes
8) Which one of the following is not a method of measurement of national income?
a) Value added method b) income method 3) expenditure method d) Investment method
9) National income estimates in India are prepared by
a) Planning commission b) Reserve bank of India c) Central statistical organization d) Indian statistical institute.
10) Who is the author of the book 'A Foreign Policy Of Indian'?
a) IK gujral b) BG deshmukh c) LK Advani d) AJ Toynbee.
Download Previous Years question paper for WBSSC non-teaching posts:
Candidates must practice last 10 years question paper / old question paper for practice. West Bengal School Service Commission will conduct the written test as per the syllabus and will match with the earlier / old previous years question paper. Download link – Click here.
Download Study Ma
For study materials of non-teaching posts, visit www.jobsandhan.com/study-material.