WBPSC is conducting KPS Interview 2021. We will update the WB Krishi Prayukti Sahayak Result 2016-2021 once the merit list is declared. On 9th April 2021, WBPSC released KPS Part 2 Result on its official website. Link of the WBSSC Krishi Prayukti Sahayak Result 2021 Part 2 (2016-2017) has been given below. Interview for the WBSSC KPS Result 2021 qualified candidates will take pace onwards 23rd April 2021. Interview Schedule is also released. Shortlisted candidates can download their interview Call Letters from 16th April 2021. 4651 candidates have been qualified in the exam. Upto July 2021, the interview will be conducted.
Download KPS Result (Final) – Click here (List of candidates).

Official KPS Cut off Marks:
| | |
| --- | --- |
| Category | Krishi Prayukti Sahayak Final Cut Off Marks |
| General | 95.50 |
| BC (A) | 82.25 |
| OBC (B) | 91.00 |
| SC | 81.50 |
| ST | 64.75 |
| PWD | 50.50 |
| Ex Serviceman | 35.50 |
| SC (ESM) | 18.00 |
WBSSC Krishi Prayukti Sahayak Written Exam Result KPS 2016-18 Part 2 Interview
West Bengal Staff Selection Commission has declared part 1 result, now part 2 result is awaited. Expected date for publishing the WBSSC KPS Result 2021 has not been intimated yet. WBSSC has conducted the Krishi Prayukti Sahayak Written Exam result on 18-12-2016 . The exam merit list for the written test of WBSSC KPS 2016 can be checked online and the merit list can also be downloaded from the link given below. OMR sheets were provided to candidates to answer the objective MCQ type questions.
The WBSSC KPS Result 2021 will be published category wise. Individual marksheet and scorecard can be downloaded also. Each candidate has to provide their roll number / registration no to check their WBSSC KPS Result 2021. Those who will clear the qualifying marks will be eligible for the interview process. A candidate must pass in both the paper I and paper II exam.
WBPSC KPS Result Part 2 Checking Link – Interview Date (Schedule) Call Letter Download
KPS Part 2 Result Link – Click here.

Schedule of Interview for KPS Part 2 Qualified Candidates – Click here.

Corrigendum – Click here.

Download Interview Call Letter – Click here

.
The marks obtained by the candidates may be given separately or in aggregate. Candidates will be able to check their individual score card and marksheet when it will be published by WBSSC for Krishi Prayukti Sahaak Written Exam held on 18th December 2016. Earlier West Bengal SSC has advertised the recruitment of Krishi Prayukti Sahayak for 1204 posts/ vacancies in their official website www.wbssc.gov.in.
Below we have discussed the expected date of publishing of KPS Merit List. Update: Result of KPS has been published on 17-03-2017. Part 2 result will be published very soon. Precis writing paper will be evaluated only for those who have been qualified. Almost 12000 candidates were shortlisted in part 1.
Update:আগের বছর ফলাফল কত ছিল আর এ বছর ফলাফল কত হতে পারে এ সম্পর্কে আমরা এখানে আলোচনা করব ||
Latest Update: ডিপার্টমেন্ট এর ফলাফল প্রস্তুতির পরও এখনো শেষ হয়নি আশা করা যায় মে মাসে ফলাফল প্রকাশ করা হবে |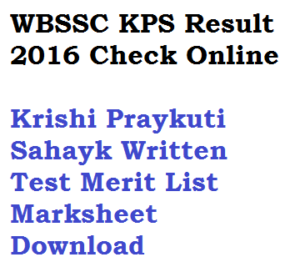 WBSSC Krishi Praykuti Sahayak KPS Part 2 Result:
| | | |
| --- | --- | --- |
| 1 | Written Exam Name | Krishi Prayukti Sahayak 2016 |
| 2 | Authority | WB Staff Selection Commission |
| 3 | Location | West Bengal |
| 4 | KPS Written Exam held on | 18-12-2016 |
| 5 | Result Merit List Status | Part 1 declared |
| 6 | Expected Date of Result | March/ April 2017 |
| 7 | Part 2 Result | RELEASED NOW |
| 8 | Website | www.wbssc.gov.in |
Important Info About KPS Precis Merit List 2016-2017:
WBSSC KPS Result 2021 for the mentioned exam has not been published yet. We have given the link in which it may be published. The written test was held offline at various centers in West Bengal. Merit list will contain the names of successful candidates who have cleared the written exam.
Deserving candidates will get a chance to appear in the farther process of recruitment. List of unsuccessful candidates and rejected candidates will also be declared in the official website in a separate PDF file. Marks will also be published for qualified and non-qualified candidates.
When West Bengal Krishi Prayukti Sahayak Merit List Will Be Published:
WBSSC has not yet intimated about the date of publishing of written WBSSC KPS Result 2021 of West Bengal KPS 2016 . The information will be uploaded to this page once WBSSC publishes latest announcement about KPS recruitment exam on 2017. It is expected that the WBSSC KPS Result 2021 will be declared within next few months.
KPS Part 2 merit list 2016 Download:
Click on the link given here.
Look for WBSSC Krishi Prayukti Sahayak 2016 tab.
Select Exam Result for West Bengal
Enter roll number / application id
Enter date of birth.
Click on submit.
You can also download merit list if published..
Latest News Regarding KPS Result Part 2:
Merit list or panel list will be published by the board very soon. WBSSC KPS Result 2021 for Krishi Prayukti Sahayak (KPS) has not been published yet. We have given here the link on which the Merit List will be published.
Is there any Interview Viva for WBSSC KPS:
Interview is there for the candidates who will qualify the Written test which is of 150 combining the marks of paper 1 and paper 2. paper 1 WBSSC KPS Result 2021 has already been declared. Those who will qualify the paper 2, will be called for document verification followed by interview of 15 marks. Final Merit list will be prepared on the basis of total marks obtained by the candidates in Written Examination (150 marks) and Interview (15 marks).
Forgot Anything:
If you have forgotten the particulars which are required to check your WBSSC KPS Result 2021 online (that is application id, roll number or registration number), you may need to contact WB Staff Selection Commission to get the same and to check whether you have qualified for the written test or not. Part 2 result has not been declared yet.
WBSSC Part 2 Cut Off Marks:
| | |
| --- | --- |
| Category/Sub-category | Marks |
| Unreserved | 15 |
| Backward Classes (Category-A) | 10 |
| Backward Classes (Category-B) | 10 |
| Scheduled Castes | 5 |
| Scheduled Tribes | 5 |
WBSSC KPS Part 2 পরীক্ষার ফল শীঘ্রই প্রকাশিত হবে । এই পরীক্ষার ফল সম্পর্কিত নানা তথ্য আমরা নিয়মিত update করতে থাকব । এই পরীক্ষার ফল সম্পর্কিত তথ্য নিয়মিত পাওয়ার জন্য আপনারা আমাদের সাইটকে bookmark করতে পারেন ।
Download link of individual WBSSC KPS exam result (link) – Click here.
If you want to know more, comment in the comment box.
Thank You Visit Our Website!!