WBGDRB Group D Answer Key Download 2023 Solution Written Test Download Solved Question Paper


West Bengal Group D WBGDRB 6000 Posts Recruitment Exam Written Test was held on 20th May 2023 for which WBGDRB Answer Key Group D 2023 expected solution with model solved paper / omr sheet have been discussed below. Candidates can download set wise solution / answer key for WB Group D Recruitment written test conducted on 20-05-2023. The solved question paper with answer key can also be downloaded here in PDF format. If you have any doubt regarding the answer or solution or mistake in any question, you can let us know through our comments section. MCQ type objective questions came in the written test for WBGDRB 2023 Gr D Exam. The recruitment test was held offline. The official model answer and solution for Set A, Set B, Set C and Set D may be uploaded to the official website. Model OMR sheet may also be available officially very soon. For unofficial WBGDRB Answer Key Group D 2023 and expected solution, read the below post carefully. Earlier recruitment notification regarding the written test was published on the official website which is www.wbgdrb.in.
Latest Update: Phase 1 official answer key has been published. Click on the given link to download answer key.
Click to see – WB Group D Result 2023 Merit List Download Expected Date
WBGDRB Answer Key 2023:
WBGDRB Group D Answer Key Solution Download
1
WBGDRB Written Exam
Held on 20-05-2023.
2
Exam mode
Written test
3
Set Wise Answer Key
Not Published
4
Download Solution / Solved Paper
PDF Format
WBGDRB Group D Solution Set Wise: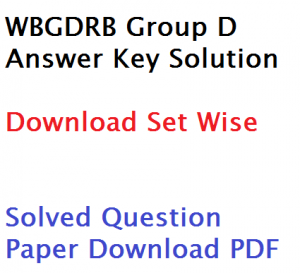 The written test was held across various districts of West Bengal on 20th May 2023. Around 6000 Vacancy is there for recruitment of West Bengal Group D posts. Reporting time for WB GDRB or West Bengal Gr D exam was 12.30 P. Written test started from 2.30 PM and was up to 3.45 PM. Duration of the written test was 75 Minutes. Candidates were not allowed to take their mobile phones and other electronic devices to exam hall. Earlier we have discussed in a post to download admit card for the Candidates who have done their registration successfully during application form fill up. Address and roll number /  registration number / application id was printed on the hall ticket. Candidates were given OMR sheet to answer the questions.

Latest News WBGDRB Group D Answer Key Solution:
If you have any doubt regarding correct WBGDRB Answer Key Group D 2023 or have wrong options in any set, you may contact the WBGDRB board officially. The official solution / model answers have not been published yet. We will provide the link once it is published by the WB Group D Recruitment Board 2023. You can check the unofficial solution here. Earlier the recruitment test was scheduled to be held on 14th May Sunday. Later the exam was postponed and it was held on 20th May 2023 Saturday.
Download solved question paper/ answer key WBGDRB Group D Written exam held on 20/05/2023 – click here.