Eligibility Details for WBCS / WBPS Exam age limit, minimum educational qualification required
WBPSC or West Bengal Public Service Commission decides the minimum education qualification one must have for applying in this post. Though there is no maximum number of attempts in WBCS exam but every candidate should follow the upper age limitation. If you are willing to appear for the WBCS or West Bengal Civil Service Examination EXE ETC. then you must know the eligibility criteria or who can apply in WBCS exam. We have written a detailed guide about the list of eligibilities and educational qualification age limit, language and other important criteria one must have for writing WBCS Exam. This applies to all the A, B, C and D groups including the West Bengal Police Service (WBPS).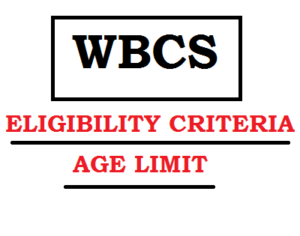 Education Qualification Required for WBCS:
Graduation in any subject. Every candidate should possess the qualification irrespective of criteria. There is no marks limitation for applying to the post. That means there is no such type of things that one candidates should have passed with so and so percentage of marks for applying in WBCS. Those who have done B.tech, BBA, B.Com, BCA or any bachelor degree in any stream are eligible and can become WBCS officer. But they should have obtained the degree from a recognized institution.
Language Criteria:
Candidates must be able to speak, read and write in Bengali. So candidates from other states or region can also apply for the WBPSC's Civil Service Officer post if he knows Bengali. But only Indian Citizen can apply for this post. This criteria does not apply for the Nepali speaking candidates of three Hill Sub divisions of Darjeeling that is Darjeeling, Kurseong and Kalimpong.
Click to see latest vacancy – WBCS 2017 Recruitment Notification Exam Date WBPSC.
Age Limitation:
The official notification for the exam notifies that one should fall in the prescribed age group for applying to the post. Lower limit for Group A, C and D is 21 and upper limit is 32. For Group B or Police Service lower limit is 20. The age restriction criteria is calculated as on 1st January of the year of exam. Category wise age relaxation in years is given below –
For SC ST Candidates of West Bengal – 37 years.
For OBC Candidates of WB – 35 years.
SC ST candidates of other states will be decided as the general category candidates.
This age limit applies to the candidates who are in central or other state govt services.
There has been no mention of age relaxation for Ex-serviceman candidates.
In addition to the above mentioned qualification and eligibility details all the candidates should possess good health and physical condition for being qualified as WBCS officer (except PH candidates).
Number of attempts in WBCS:
a candidate can appear in the WBCS exam as many times as he wants. There is no attempt limitation or maximum number of attempts in the exam. He / she can fill up the form for any number of time within the upper age limit.
Information given here is taken from online portal of WBPSC which is pscwb.org.in. Please see more on Official Website.
What to Study for the exam – WBCS Preli Recommended Books Preparation Tips.