WB Primary TET Notification 2017 Apply Online Latest News Starting Date of Filling up Application Form WBBPE Teachers Eligibility Test Vacancy www.wbbpeonline.in
West Bengal Primary WB TET 2017 will be conducted by WBBPE. WB Teacher Eligibility test notification for primary school teacher application form has not been published yet in 2017. We will provide latest news notification advertisement details as published on the official website. Recently in newspapers, WBTET 2017 that is for current year's primary school teacher's eligibility test news are being circulated. We also have uploaded the news regarding this. As per the news media, very soon West Bengal Board of Primary Education or WBBPE is going to conduct the WB Primary TET for recruitment of Teachers through Written Exam and interview. Kindly read details regarding the WB TET information below. Official website of the West Bengal School Education Department is www.wbsed.gov.in and official portal of WB Primary Education Board is www.wbbpe.org. Vacancy for primary teacher posts in West Bengal is filled up through recruitment on the basis of TET marks, Interview, Academic score etc. Latest Update 1: Intimation regarding WB TET 2017 for Class (I – V) that is for Class 1 to 5 has been published by WBBPE on their official website. Kindly Download the Notification No. 1167/BPE/2017 dated 12/05/2017 from the link given below which is in PDF format. Teacher eligibility test notification is still awaited.
Update on 6th October 2017: Candidates who have at least 50% marks in their Higher Secondary (12th) examination, will be able to appear in the WBBPE TET 2017 exam. Only Trained candidates will be able to apply against this year primary teacher recruitment notification 2017. 
Update (9th October 2017): Notification for WB Primary TET 2017 2018 is going to be released online soon. Keep visiting us, we will publish the notification advertisement details here. 
Update (10th October): TET Notification for around 30000 posts have been finally published. Candidates can submit online application form from 10-10-2017 to 29-10-2017. Download the notification in PDF Format from the link given below. 
Update (17th October 2017): As per the latest notice of WBBPE, the board announced that candidates who have appeared on the final semester of the two years D.El.Ed course and are waiting for the result, are also eligible for WB Primary TET 2017. 

Update (14-11-2017): Notification has been released for the persons pursuing elementary education. Click here to read details. 

Download the Addendum notice from the link given below –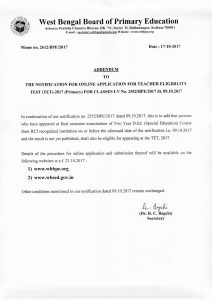 (Pic taken from – www.wbbpe.org)
WB Primary TET Notification 2017 WBBPE:
WB TET Primary Teacher Eligibility Test 2017 Notification including the application form will be notified by the WBBPE board or West Bengal Board of Primary Education very soon. It is expected that the WBBPE TET 2017 Notification / circular regarding primary teacher vacancy will be released in October 9th 2017.
Click to see – WB TET Previous Years Question Paper Download.
Notice Regarding TET 2017 Class I-V:
Notice says that – "in terms of the order of the Department of School Education, Govt. of West Bengal vide its memo No. 287-SE(EE)/10M-6/2009 Pt-I(TET) dated 17-04-2017 read with No. 343- SE/EE/10M-6/2009 Pt-I(TET) dated 12-05-2017" recruitment exam / TET will be conducted for assistant teachers in Primary Schools. The recruitment will be done as per the NCTE guidelines. Candidates who have acquired prescribed academic & professional qualifications specified in the NCTE-Notification dated 23-08-2010 are eligible to apply for WB Primary TET 2017.
Click to see – WB TET 2017 Eligibility Criteria 2017. 

WBTET Latest News 2017:
Below is the excerpt regarding the details of West Bengal Primary TET.
"West Bengal School Education Department (WBSED) has ordered West Bengal Board of Primary Education (WBBPE) for conducting WB Primary TET. As per the guidelines of NCTE, the exam will be conducted. On Wednesday, Chairman of WB Primary Board, Manik Bhattacharya said that the candidates will be able to apply online and offline both and exam will be conducted following the NCTE guidelines. Notification advertisement will be published very soon declaring the exam date of WB TET."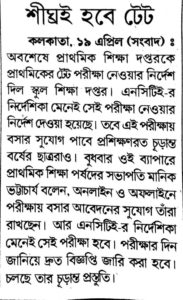 Last Years TET Exam Notification:
Last year WB Teachers Eligibility Test for primary school teachers was conducted in 2014 & 2016. Shortlisted candidates were called for interview in 2016. Result of the interview was released in 2017. Total of 3 merit lists were published in the exam. Bengali and Non-Bengali teachers were recruited throughout the state and vacancy were different in different districts.
WB Primary TET Application Form 2017:
West Bengal Board of Primary Education (WBBPE) WB Primary TET Application Form 2017 can be found in this post. Till now WBBPE has not published the Teacher Eligibility Test Application Form 2017. Very Soon, the application form will be published including the starting date of WB TET application form fill up 2017. Candidates are eagerly waiting for when the WB Primary TET application form 2017 will be published. The teachers eligibility test application form may also be filled up online. Submission of application fee may be done through online or offline via bank challan. The West Bengal Board of Primary Education may also notify in which bank the application form may be sold.
WB Primary TET 2017 Advertisement Notification WBBPE:
Visit the notification which is given as a document / PDF file here. Scroll up and down to read the latest notice regarding the teacher eligibility test recruitment written exam.
WB TET 2017 Form Fill Up Starting Date:
Starting date for WB TET 2017 – 2018 Application form fill up & submission online has not been declared on the official notification yet. Candidates can submit the WB TET application form on the website of West Bengal Board of Primary Education or WBBPE very soon.
When WB TET Notification will be published:
Expected date of this years that is 2017 WBTET will be declared very soon. Till now, it has not been released. Stay connected with our website to know more. We will update you as soon as there is new notification regarding the primary school teacher recruitment notice or Teachers Eligibility Test (TET) notification is out officially.
How to Register & Fill up Online Application Form (Instruction):
The instructions in PDF format has been given below on how to register and submit online application form on www.wbbpeonline.in.
Download TET 2017 Notification from Official website – click here. 
Apply Online on link – Click here. 
Download Instructions on How to Fill up online application form – Click here.