South Indian Bank Previous Years Question Paper Download Solved PDF Probationary Clerk PO PC SIB Model MCQ Sample Question Answers Download Old Set Practice MCQ
South Indian Bank Previous Years Question Paper Solved MCQ Questions Answers Download PDF Model MCQ Questions Answers: South Indian Bank SIB Probationary Officer (PO) Clerk solved model question paper has been given below. The question paper may be downloaded in PDF format. Previous years question paper may also be downloaded for the SIB PO Clerk recruitment. South Indian Bank recruits probationary officer and probationary clerks very often. The solved model question paper for SIB PO Clerk may be useful for preparing the latest recruitment exam 2017. The sample practice set contains question from the syllabus of online test of South Indian Bank PO Clerk Recruitment Exam. SIB PO Clerk Syllabus consists of General Awareness, Reasoning, Quantitative aptitude, English, computer.
South Indian Bank Model Question Paper PO Clerk Download:
Question paper for South Indian Bank (SIB) Probationary Officer Clerk recruitment exam sample test/ practice questions are given below. Answers of the questions are given after each MCQ.
Below is the syllabus of the South Indian Bank Probationary Clerk Online Test.
| | | |
| --- | --- | --- |
| Subject | No of Questions | Marks |
| General/Financial Awareness | 50 | 50 |
| General English | 40 | 40 |
| Reasoning Ability & Computer Aptitude | 50 | 60 |
| Quantitative Aptitude | 50 | 50 |
Model Questions Answers for SIB Probationary Clerk Exam –
Download Sample Paper in PDF format:
Download the solved question paper in PDF format on this link – Click here. 

This paper contains the given sample paper in PDF format with answer keys.
Directions: In the following questions Choose the option which is an improvement upon the italicised part of the sentence. If no important is required, your answer is (d).
General English:
1) All the allegation levelled against him were found to be baseless.
a) levelled for
b) level with
c) level against
d) no improvement
ans: d
2) People are tiring very soon in an activity which they don't like.
a) tried
b) trying
c) tired
d) no improvement
ans: c
General Awareness (Banking):
3) The best means of saving during inflation is to keep:
(a) money
(b) Government Bonds
(c) equity
(d) time deposits with Banks
Ans: a
4) Which amidst the following rural banks has been named after a river?
(a) Prathama Bank
(b) Varada Grameen Bank
(c) Thar Anchalik Grameen Bank
(d) Aravali Kshetriya Grameen Bank
Ans: b
5) A policy on firewalls needs not
a) Include log reports of database
b) Include guidelines for assessment of logs
c) Ensure that it is physically secured
d) Ensured that it is logically secured
e) None of these
ans: d
6) Left justify is the same as
a) Align left
b) Align centre
c) Align right
d) All of the above
e) None of these
ans: a
Quantitative Aptitude:
7) If the cost price of 50 oranges is equal to the selling price of 40 oranges, then the profit per cent is
a) 5
b) 10
c) 20
d) 25
Ans – d
8) The HCF of two numbers is 8. Which one of the following can never be their LCM?
a) 24
b) 48
c) 56
d) 60
Ans – d
9) If Z = 26,NET=39,then NUT is equal to
a)50
b) 53
c) 55
d)56
Ans – c
10) 1,5,9,15,25,37,49
a) 9
b) 15
c) 25
d) 37
Ans – b
South Indian Bank Clerk Previous Paper Download:
Question paper for last years are important for this years recruitment online test. Objective type (multiple choice questions) come in the Probationary Officer (PO) and Clerk recruitment exam in South Indian Bank. 200 MCQ Questions will come in the full test and the online test is required to be completed within 120 minutes that is 2 hours. As the exam was online based / computer Based test, memory based questions may be available from the candidates who have appeared in the exam. You can comment down below the questions that you have remembered. You can download the previous years question paper for South Indian Bank once the SIB recruitment authority uploads it on their official website. Previous Papers are very helpful for preparation of forthcoming recruitment test / online examination.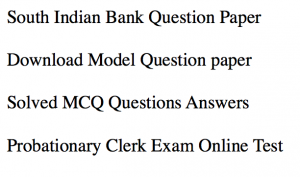 For more previous years question paper, solved MCQ questions answers, last years old question paper, solved model practice sets, visit – www.jobsandhan.com.