Syllabus and Selection process of Probationary Officer (PO) SBI 2022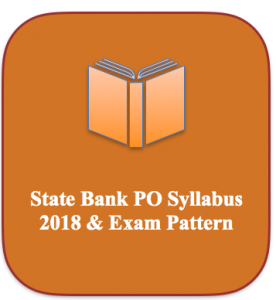 Here we have given detailed procedure and steps involved in the recruitment process of PO in State Bank. Exam pattern of the probationary officer and their recruiting method of SBI has been changed a lot from the earlier process. Please study our detailed guide on the method of recruitment of SBI PO in the below post. We have also given the SBI PO Syllabus 2022 (preliminary, main) written exam.
State Bank of India publishes Probationary Officer vacancy every year. The exam is pan Indian recruitment drive for the manager or JMG scale in State Bank. You can see the latest recruitment opening for this post by visiting SBI PO Recruitment 2018 – 2000 Vacancy.

Selection Method SBI PO
The recruitment process consist of following steps –
Phase I – Preliminary Exam,
Phase II – Mains Exam,
Phase III – Group Discussion and Interview.
SBI PO Study Material MCQ Free Download 1000+ Questions PDF
Preliminary Exam (100 marks) Syllabus 2022
It will be objective type question paper in which MCQ type question will be asked. Candidates have select the write answer. For marking wrong answer marks will be deducted. The duration of the exam will be 1 hour. The test may be conducted online (computer based test).
Following is the exam pattern of Preliminary Exam –
The prelims paper of SBI PO will contain questions from 3 sections. Marks distribution of the sections of the exam paper is given below –
English Language – 30 marks,
Quantitative aptitude – 35 marks,
Reasoning ability – 35 marks.
Total 100 question will come from these 3 sections each of which carry 1 mark.
Mains Exam (250 marks) Syllabus 2022
It will be a 250 marks exam which will be of 2 parts. The marks break up for the main exam is –
200 marks for Part I – Objective Type.
50 marks for Part II – Descriptive Type.
Both the tests will be conducted online. On the same date the both the tests will be held. After completion of objective type test, the descriptive paper will have to be answered.
Syllabus of Mains Exam 2022
Objective Exam –
Total 135 questions will be asked, which will comprise 200 marks paper. The duration of the test is 3 hours.
Reasoning & Computer analysis – 60 marks (45 questions),
Data analysis & interpretation – 60 marks (35 questions),
General / Economy / Banking awareness – 40 marks, (40 questions),
English Language – 40 marks (35 questions).
Descriptive Paper –
The descriptive test will be of 50 marks test. Candidates have to answer in 30 minutes. SBI PO Syllabus 2022 of the descriptive test is –
Letter and Essay Writing in English Language.
The candidates must qualify the exam by securing the cut off marks. The qualifying mark of the descriptive paper will be decided by SBI. Those who have passed the objective test, marks will be evaluated for them only.
Group Discussion (GD) and Personal Interview (50 Marks) Syllabus 2022
The GD and interview will be held for those candidates who will clear the main exam (marks obtained in objective & descriptive test).
Recommended Book
Final Selection
Following is the detailed process on how merit list is published for SBI PO –
Marks of preliminary exam will not be included. The marks obtained in main exam (objective + descriptive test) which is of 250 marks paper will be converted SBI PO Syllabus 2022 to equivalent of 75 marks scale. Marks obtained in GD (out of 50) will be converted to 25 marks scale. Then these two marks will be added to obtain the final marks in the exam for a candidate. The selection of the candidates will be done from the merit list published on the scale of 100 as mentioned earlier.
For more details please log on to – Official Website.