Model Question Previous Years Paper Download for the Senior Teacher Grade II in RPSC
We have provided Free Model Sample Question Paper in PDF format for the posts of RPSC Senior Teacher Grade II Paper I. The mock test paper is available to download from the link given below. The Question paper is on the basis of the previous years question paper. You can download subject wise solved previous years question paper of Senior Teachers (with answers) from the official website of Rajasthan Public Service Commission or RPSC. The model question paper or free sample practice set (PDF) is fully solved that is given with answer key or solution.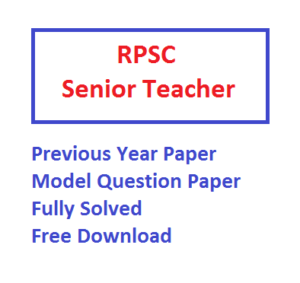 Download RPSC Sr. Teacher Model Question Paper Solved PDF:
1) Goa was captured by the Portuguese in
a) AD 1470 b) AD1510 C) ad 1570 D) ad 1610.
2) Who were the first to gold coin?
a) Indo Greeks b) Shakas c) Parthians d) Kushans.
3) Vande Mataram, the nationalist song, was a part of
a) Durgesh Nandini b) Saraswati Candra c) Grihadaha d) Anand Math.
4) India was invaded by Timur Lang in
a) 1335 b) 1385 c) 1389 d) 1398.
5) Who among the following had repealed the vernacular press Act?
a) Lord Lytton b) Lord Ripon c) Lord Dufferin d) Lord Lansdowne.
6) Smog is likely to occur:
a) Around valleys b) on calm, clear and cool nights c) near lakes d) near the industrial areas.
7) The Nokrek Biosphere Research Reserve is located in
a) Arunachal Pradesh b) Assam c) Sikkim d) Meghalaya.
8) Which of the following is a metamorphic rock?
a) Slate b) Sandstone c) Shale d) Limestone.
9) The minimum land area recommended for forest cover to maintain proper ecological balance in india is
a) 25% b) 33% c) 43% d) 53%.
10) The hottest planet is
a) Mercury b) venus c) Jupiter d) Saturn.
11) Swarn Jayanti Gram Swarozgar Yojana came into being in
a) April 1995 b) April 1997 c) April 1999 d) July 2001.
12) SEBI is a
a) Constitutional b) advisory body c) statutory body d) non-statutory body.
13) Rolling plan was designed for the period
a) 1978-83 b) 1980-85 c) 1985-90 d) 1974-97.
14) During which plan did prices show a decline?
a) First b) third c) fifth d) none.
15) State land reform is under which part of the constitution?
a) 7th schedule b) 8th schedule c) 9th schedule d) 10th schedule.
16) The concurrent list contains
a) 42 subjects b) 47 subjects c) 38 subjects d) 40 subjects.
17) The union list contains
a) 47 subjects b) 97 subjects c) 63 subjects d) 92 subjects.
18) The lok sabha is called in session for least how many times in a year?
a) Twice b) once c) Thrice d) four times.
19) Which of the following did India acquire from France?
a) Yanam b) Mahe c) Karaikal d) all these.
20) The powers of the Election commission are given in which of the following Articles of the constitution?
a) 286 b) 356 c) 324 d) 382.
21) The tropic of cancer does not pass through
a) Odisha b) Tripura c) Chhattisgarh d) Rajasthan.
22) Which of the following plants is referred to as a living fossil?
a) Ephedra b) Cycas c) Ginkgo d) Adiantum
23) Which one of the following is not a mixture?
a) Air b) ,Mercury c) milk d) Cement.
24) Hormone was discovered by
a) Funk b) Starling c) Addison d) Banting.
25) The most advance evolutionary inflorescent is found in
a) Dahlia b) Calotropis c) Salvia d) Yucca.
Download RPSC Sr. Teacher Sample Paper Answers:
1)b 2) a 3) d 4) d 5) b 6) d 7) b 8) a 9) b 10) b 11) c 12) c 13) a 14) a 15) c 16) b 17) b 18) c 19) d 20) c 21) a 22) c 23) b 24) b 25) a.
Download RPSC Senior Teacher Previous years question paper:
This sample paper provides the insights of question paper that may come in the Senior Teacher Paper I Exam. If you want to download the official answer key and solved previous years paper, please download it from the official website of RPSC.
Download link PDF: Click Here.
For more study materials, free mock question, sample papers, log on to www.jobsandhan.com.