Solved Model Question Paper Download Odisha Postal Circle Postman Mailguard Previous Years
Odisha postal circle postman previous years question paper download: Model Sample Question Paper Set for Odisha Postal Circle Postman Mailguard Recruitment written exam is given here. The solved practice question answer paper set can be downloaded in PDF format. The previous years old question paper set for last year with answer key and explanation may also be downloaded from the official website once they upload it. The Odisha Postman Previous Question Paper contains objective question paper from the syllabus of recruitment written exam of Odisha Postman Mail guard written exam. There will be MCQ type questions in Odisha postal circle in 2023 and OMR sheet will be given for answer.
Odisha Postman Books & Study Material: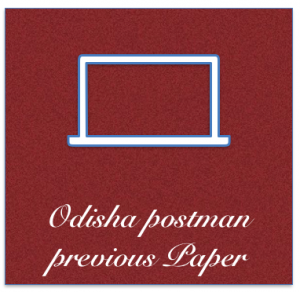 Subject wise study materials / MCQ Questions Answer subject wise have been given below which may be important for Odisha postal circle postman exam preparation. Recommended books should be studied for the written exam.
Odisha Postman Mail Guard Previous Question Papers
Authority of recruitment
Odisha Postal Circle Department
Vacancy Name
Postman & Mail Guard posts
Type of application
Online
Number of posts
163 Posts
Selection Process
Aptitude test
Application Starts from
28-02-2023
Last date of form fill up
31-03-2023
Admit card release date
Not available now
Exam date 2018
Yet to be announced
Location
Odisha
Official Website
odisha.postalcareers.in
Result date
Not released yet
Odisha Postman Previous Paper Download – Solved Model Question Paper PDF
Download the solved model questions answers in PDF format from below link.
Click here to Download PDF.

Odisha postal circle may release the old years question paper in Odia and English language too. The Odisha Postman Previous Question Paper consists of 100 Multiple Choice Questions (MCQ) objective type. 4 answers will be provided.
| | | |
| --- | --- | --- |
| Name of subjects | Number of question | Total Marks |
| General Knowledge | 25 | 25 |
| Mathematics | 25 | 25 |
| Odia Language | 25 | 25 |
| English Language | 25 | 25 |
| Total | 100 Questions | 100 Marks |
Solved Model Question Paper for Odisha Postman Mailguard PDF:
The practice mock question paper is given below for Postal Circle recruitment written test in 2023-
General Knowledge:
1) The first President of Independent India hails from—
a) U.P
b) Andhra Pradesh
c) Bihar
d) Tamil Nadu
ans: c
2) Who is the highest civil servant of the Union Government?
a) Attorney General
b) Cabinet Secretary
c) Home Secretary
d) Principal Secretary to the P.M.
ans: b
3) The leader of the Bardoli Satyagraha (1928) was _
a) Sardar Vallabhbhai Patel
b) Mahatma Gandhi
c) Vitthalbhai J. Patel
d) Mahadev Desai
ans: a
4) Who among the following Gandhi followers was a teacher by profession ?
a) A.N. Sinha
b) Braj Kishore Prasad
c) J.B.Kripalani
d) Rajendra Prasad
ans: c
5) The highest wheat-producing state in India is
a) Haryana
b) Punjab
c) Bihar
d) Uttar Pradesh
ans: d
6) Jhumming is shifting agriculture practiced in _
a) North-eastern India
b) South-western India
c) South-eastern India
d) Northern India
ans: a
English Questions:
7) Freedom is not a______ but our birth right.
a) sin
b) gift
c) farce
d) illusion
ans: b
8) My father keeps all his _____ papers in a lock and key.
a) required
b) necessary
c) useful
d) confidential
ans: d
Mathematics Questions:
9) The area ( in sq cm) of the largest circle that can drawn inside a square of side 28 cm, is
a) 17248
b) 784
c) 8624
d) 616
Ans – d.
Download Previous Years Question Paper for Odisha Postman Mailguard:
Odisha postman mailguard previous years / old question paper may be published by the postal recruitment cell. You need to practice the Odisha Postman Previous Question Paper for the upcoming written test for Odisha Postal Department postman / mail guard written test. For this last 10 years/ 5 years question set with answer key is very important to practice.
Download Previous Years / old question paper – Official website – click here.