Odisha Fireman Question Paper : The Odisha Fireman Question Paper is a crucial component of the recruitment process for aspiring firefighters in the state of Odisha, India. This examination assesses candidates' knowledge, problem-solving abilities, and physical fitness, ensuring that only the most qualified individuals join the fire service. The Odisha Fireman Question Paper typically covers a range of topics, including fire safety protocols, first aid, and general awareness. Success in this examination is a significant milestone for those seeking a career in firefighting and emergency response in Odisha.
Read Here – Odisha Fireman Admit Card 2023 Download Exam Date & Hall Ticket
Odisha Fireman Question Paper Summary
Organization Name
Odisha Directorate General of Fire and Emergency Services, Cuttack
Post Name
Fireman, Fireman Driver
Vacancies
941
Category
Question Paper
Selection Process
Written Examination
Physical Measurement Test/ Physical Ability Test
Driving test (Fireman Driver)
Medical examination
Document Verification
Mode Of written Examination
Offline
Type Of Question
MCQs
Duration Of Examination
120 Minutes
Location
Odisha
Official Website
odishafshgscd.gov.in
Odisha Fireman Previous Year Question Paper Portal
The Odisha Fireman Question Paper Portal is a vital resource for aspiring firefighters. Offering valuable exam materials and insights, it equips candidates with the knowledge and practice needed to excel in their recruitment journey, making their firefighting dreams a reality.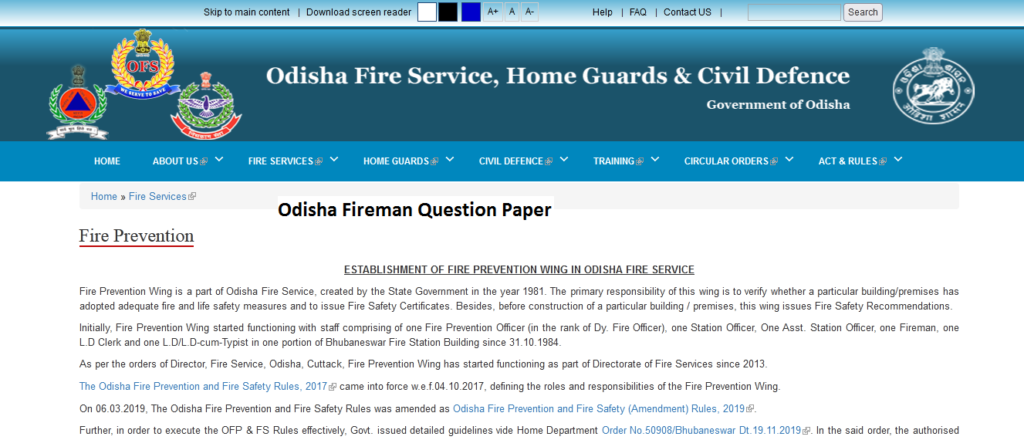 Importance Of Odisha Fireman Question Paper
The Odisha Fireman Old Question Paper holds significant importance as it serves as a crucial tool for assessing the knowledge, skills, and preparedness of individuals aspiring to become firefighters in Odisha. These Odisha Fireman Previous Question Paper help evaluate candidates' understanding of firefighting techniques, safety protocols, and their ability to respond effectively to emergencies. Furthermore, they ensure that firemen are well-equipped to protect lives and property from fires, underscoring the critical role of these Odisha Fireman Question Paper in ensuring the competency and readiness of fire service personnel in Odisha.
Odisha Fireman Driver Syllabus
The Odisha Fireman Question Paper Syllabus encompasses a range of vital topics. It typically includes sections on fire safety, disaster management, first aid, firefighting equipment, and emergency response protocols. Candidates are evaluated on their knowledge of fire prevention, hazard identification, and the ability to effectively handle fire-related emergencies. The Odisha Fireman syllabus ensures that prospective firemen are well-prepared to safeguard lives and property from fire hazards, making it a critical component of their training and assessment.
Odisha Fireman Exam Pattern
Subject
Marks
Computer Fundamentals & IT Skills
Odia Language
Fireman English Language
General Studies
100
Odisha Fireman Driver Exam Pattern
Subject
Marks
Computer fundamental and related IT skills
General Studies
English and Oriya language
Trade Subject
100
Computer fundamental and related IT skills
Basic Components & Storage.
Introduction to Computers.
Computer Peripherals.
Computer Software & Languages.
Introduction to MS DOS & Windows
General Studies
General science and recent advancements in science and technology: Questions will assess the candidate's awareness of developments in the field of science and technology, including everyday observations and experiences.
Current events of national and international significance: Questions will test knowledge of important national and global events and topics of societal relevance in contemporary India.
Indian Polity & Economy: Questions on Indian politics will cover the political system, the Indian Constitution, Panchayati Raj Administration, and the principal features and characteristics of the Indian economy, as well as planning and economic development in India
History of India from ancient times and the Indian National Movement: Emphasis will be on evaluating a general understanding of the social, economic, and political aspects of Indian history. Questions about the Indian National Movement will focus on its nature, nineteenth-century resurgence, the growth of nationalism, the achievement of independence, and the roles played by key figures in the freedom struggle.
Indian and world Geography: The emphasis will be on Indian geography, with questions relating to the physical and economic geography of the country, covering key aspects of Indian agriculture and national resources.
English language
Prepositions
Reading Comprehension
Sentence Rearrangement & Para jumbles
Homophones/Homonyms
Idioms And Phrases
Subject-Verb Agreement
Modals
Sentence Correction Questions
Active And Passive Voice
Conjunctions
Reported Speech
Clauses
Omission
How to write Articles
One Word Substitutions
Confusing Words
Adjectives
Synonyms and Antonyms
Letter Writing Format
Spotting the Error
Cloze Test
List of Prepositions
Poetic Devices
Trade Subject (For Fireman Driver)
Knowledge on vehicles, driving and traffic rules.
Odisha Fireman Previous Paper Link
How To Download Odisha Fireman Driver Question Paper ?
To download the Odisha Fireman Question Paper, follow these simple steps:
Access the Official Website: Start by visiting the official website of the Odisha Fire Service or the relevant government department responsible for firefighter recruitment.
Navigate to the Recruitment Section: Look for a "Recruitment" or "Career" section on the website's homepage.
Find the Fireman Question Paper: Within the recruitment section, locate the specific link or tab related to the Fireman recruitment.
Check for Question Paper: There should be an option to download the Odisha Fireman Question Paper. Click on it.
Select the Paper: Choose the Odisha Fireman Question Paper for your desired year or recruitment cycle.
Download the Question Paper: Click the download button to save the PDF file of the question paper to your device.
Print or Save: You can either print the Odisha Fireman Old Question Paper for offline use or save it on your computer or mobile device for future reference.
Always ensure you download question papers from the official website to ensure their authenticity and accuracy.
FAQs
Where can I find the Odisha Fireman Question Paper?
You can find the Odisha Fireman Question Paper on the official website of the Odisha Fire Service or the relevant government department responsible for firefighter recruitment. They typically provide a dedicated section for recruitment materials.
Is the Odisha Fireman Question Paper available for previous years?
Yes, you can often find question papers from previous years on the official website, which can be valuable for exam preparation and practice.
Are answer keys available along with the question paper?
Answer keys may be provided along with the question paper on the official website to help candidates verify their responses and assess their performance.