MAKAUT Syllabus 2023 Download PDF; UG & PG Courses – 1st, 2nd, 3rd, 4th, 5th, 6th, 7th, 8th Semester @ makautexam.net: Maulana Abul Kalam Azad University of Technology (MAKAUT) earlier West Bengal University of Technology (WBUT) has provided the Semester Examination Syllabus for all the UG, PG Courses on their official website – www.makautwb.ac.in / makautexam.net. Here we are giving you the direct PDF Download Link of the MAKAUT Syllabus 2023 for various courses such as B.Tech, BBA, BCA, MBA, MCA etc.
Also Read – MAKAUT Admit Card 2023.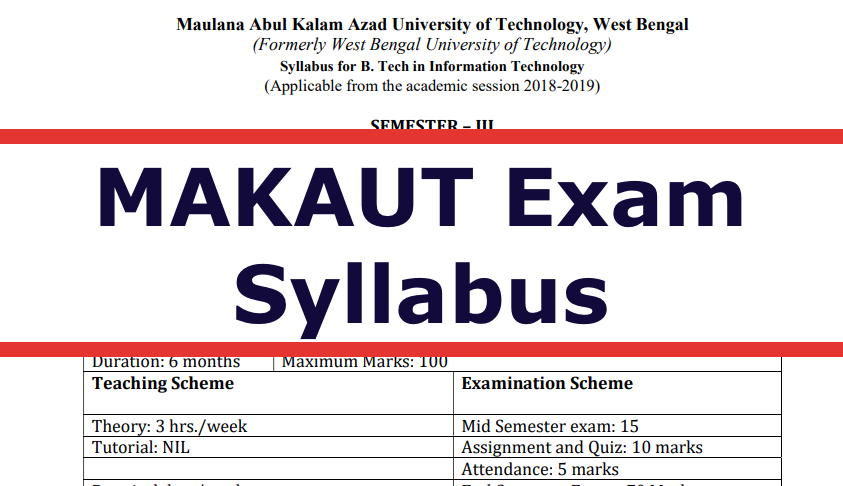 Maulana Abul Kalam Azad University of Technology Exam Syllabus – Summary
| | |
| --- | --- |
| Name of the Institute | Maulana Abul Kalam Azad University of Technology (MAKAUT) |
| Courses | UG, PG |
| Curriculum | BE / B.Tech, BCA, MCA, MBA, BBA etc. |
| Syllabus format | PDF |
| Mode of Exam | Offline (pen & paper based) |
| Official Website | www.makautwb.ac.in & makautexam.net |
| Article Category | Exam Syllabus |
| Type of Exam | Semester |
The MAKAUT syllabus for the year 2023 is designed to help students gain meaningful knowledge and skills in a wide range of fields. The syllabus focuses on providing theoretical as well as practical knowledge. It also helps students to develop their analytical, problem-solving, communication and creative skills. The syllabus covers topics such as mathematics, physics, chemistry, biology, computer science, engineering and more.
B.Tech ECE Syllabus 2023
B.Tech CSE Syllabus 2023
B.Tech IT Syllabus 2023
Other Courses Syllabus:
Steps to Download MAKAUTExam.net Syllabus PDF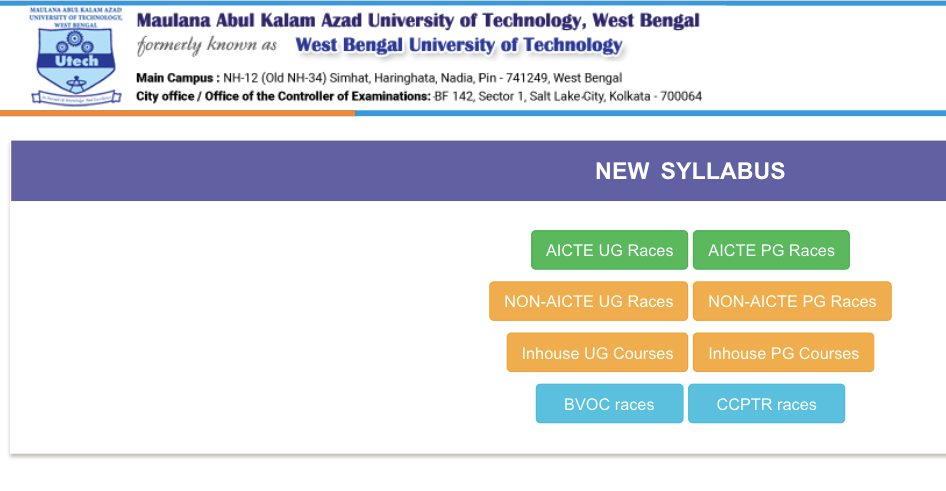 At first, go to the official website of MAKAUT – www.makautwb.ac.in.
Click on 'New MAKAUT Syllabus 2023' tab
Choose the Course Type such as UG or PG etc.
Then, click on any faculty and subject you wish to download the syllabus for
The syllabus of that particular courses will be displayed in PDF format for you to view or download.
Importance of Downloading MAKAUT Semester Syllabus:
Downloading the MAKAUT Syllabus 2023 is important for students as it allows them to stay up-to-date on the latest topics and changes in their respective subjects. It helps them prepare thoroughly and gain a better understanding of what they need to do in order to excel academically. Furthermore, knowing the syllabus upfront can help students plan their studies more effectively and efficiently. It also allows students to identify which topics are important for them to focus on, which will help them become more efficient scholars. Additionally, having the MAKAUT Syllabus 2023 available makes it easier for students to track their progress and measure their academic performance throughout the semester. This helps them stay motivated and strive for better grades.