Model Sample Solved Previous Question Paper CG VYAPAM Chhattisgarh Revenue Patwari Trainee Written Test PDF
Chhattisgarh CG VYAPAM Patwari Recruitment Written Exam will be conducted by Department of Revenue Chhattisgarh PEB in 2016. Model Question Paper with solution / fully solved mock test sample / practice set can be downloaded in PDF format. The questions are objective type that is in MCQ format. The previous years question paper downloaded link is also given. Candidates need to solve the last 10 years set/ old question papers / practice set to prepare for the exam better. The written test may be held online/ offline that will be notified by the CGPEB later. The answer keys / solution / explanation is also given on each questions. The model question paper has 20 objective type sample Multiple Choice Questions. For more details, visit the official website which is cgvyapam.choice.gov.in.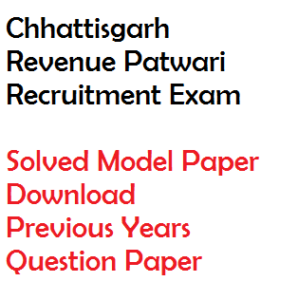 Download Chhattisgarh Revenue Patwari Model Question Paper PDF:
1) Who among the following is known for his work on medicine during the Gupta period?
a) Saumilla
b) Sudraka
c) Shaunaka
d) Susrutha
2) Which of the following ports handled the North Indian trade during the Gupta Period?
a) Tamralipti
b)Broach
c) Kalyan
d) Cambay
3) Which of the following Chalukyan city is known as the city of temples?
a) Pattadakal
b) Badami
c) Aihole
d) Ksnheri
4) Which of the following did not form a part of the donations made to the temple?
a) Money
b) Slaves
c) Livestock
d) Land
5) The Government General of Fort William become the Governor General of India under the Charter Act of _
a) 1781
b) 1973
c) 1813
d) 1833
6) Where are Shevaroy Hills located?
a) Andhra Pradesh
b) Karnataka
c) Kerala
d) Tamil Nadu
7) The Nanda Devi peak is located in
a) Himachal Pradesh
b) Jammu and Kashmir
c) Sikkim
d) Uttarakhand
8) The Alamatti is on the river
a) Godavari
b) Cauveri
c) Krishna
d) Mahanadi
9) Which one of the following ports of India handles the highest tonnage of import cargo?
a) Kolkata
b) Kandla
c) Mumbai
d) Vishakhapatnam
10) Which National Highway connects Delhi and mumbai?
a) NH6
b) NH 8
c) NH 10
d) NH 12
11) IRDA is associated with
a) railways
b) insurance sectors
c) telecommunication
d) banking
12) Which of the following taxes is collected by Panchayat?
a) Sales tax
b) Custom duty
c) Land revenue
d) Tax on local fairs
13) Which is the most industrially advanced state in India?
a) Maharashtra
b) Punjab
c)Gujarat
d) Tamil Nadu
14) The minimum effect of direct taxes is on
a) food price
b) consumer goods
c) capital goods
d) income
15) SIDO IS RELATED TO THE DEVELOPMENT OF
A) Small industry
b) steel industry
c) Soap industry
d) sugar industry
16) Where is the Central Rice Research Institute located?
a) Bengaluru
b) Kanpur
c) Coimbatore
d) Cuttuck
17) Most of the food we consume are
a) fruits
b) roots
c) stem
d) leaves
18) Which one among the following is the natural polymer?
a) Nylon
b) Teflon
c) PVC
d) Cellulose
19) Ozone layer above the surface of Earth provides a shield against
a) X-rays
b) Ultraviolet rays
c) Y-rays
d) infrared rays
20) The first female Speaker of Lok Sabha is—
a) Vijay Laxmi Pandit
b) Sucheta Kripalani
c) Tarkeshwari Sinha
d) Meria Kumar.
Download Answer keys/ Solution / free explanation in PDF:
1) d 2)a 3)c 4)b 5) d 6) d 7) d 8) c 9) d 10) c 11) b 12) d 13) a 14) c 15) a 16) d 17) a 18) d 19) b 20) d.
Download Previous Year Chhattisgarh Patwari Question Paper:
The last years / previous years question paper can be found on the official website of Department of Revenue, Chhattisgarh. Link is given below.
Download Link Previous Years paper (fully solved) – Click here.