CGPSC State Service Exam Syllabus 2017-2018 Download Exam Pattern for Chhattisgarh Public Service Commission SSE Prelims Mains
CGPSC State Service Exam Syllabus 2017-2018 Prelims Mains Pattern SSE Selection Process: Chhattisgarh Public Service Commission offers online application for various posts of Civil Service and others through State Service Examination. We have discussed here Chhattisgarh State Service Exam Syllabus 2017 2018 for Preliminary Exam, Mains Exam, Selection process etc in this post. The last date for submission of application is 7th January 2018. The syllabus for the exams may be downloaded in PDF format from the website of www.psc.cg.gov.in. Please read the exam scheme of the exam carefully for the posts.
CGPSC SSE SELECTION PROCESS:
The candidates have to pass the selection process through which Commission will prepare a category wise merit list from the marks obtained in the selection process.
Phase I – Preliminary Test

Phase II – Mains Examination

Phase III – Interview

Phase IV – Final Merit List
CGPSC State Service Exam Previous Years Question Paper Download 

EXAM PATTERN:
The very first stage for selection is preliminary test which will be of 200 marks. Phase I is objective type. Phase I has two papers in it each will be for 2 hours. The phase I selected candidates are invited for Phase II which called mains exam where candidates have to appear various papers according to commission after phase II shortlisted candidates are only eligible for Phase III.
Marks distribution and exam pattern for the different selection phases have been given below –
Phase I – Preliminary Test
| | |
| --- | --- |
| 1st paper (General studies) | 200 |
| 2nd paper (Aptitude test) | 200 |
Phase II – Mains Examination
There are total 7 papers in the Phase II. All papers will be of 200 marks each and the exam duration is of 3 hours.
Phase III – Interview will be of 150 marks.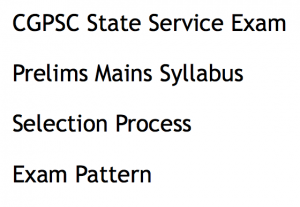 CGPSC SSE Preliminary Exam Syllabus 2017-18:
Detailed syllabus of the Prelims Test (written test) has been given below –
Subject

Syllabus

General studies

Part I – History of India & national movement, geography of India (various), economy, polity & constitution of India,  science & technology, philosophy-art & culture, current affairs and environment

Part II – General Knowledge of Chhattisgarh

Aptitude test

Communication skills, decision making,

General mental ability, math (10th standard), knowledge of Hindi & Chhattisgarhi
Chhattisgarh Civil Service Mains Exam Syllabus:
Paper wise syllabus is given below
Language – Hindi, Sanskrit, English & Chhattisgarhi
Essay – problems of national level & relating to the state of Chandigarh
History, constitution & public administration- (visit the official notification)
science , technology& ENVS – chemistry, physics,
Economic & geography – Indian economics, planning in India, geography & economics of Chhattisgarh, agriculture, forest, industry and natural resources of Chhattisgarh
Mathematics & logical ability
Philosophy & sociology – Indian philosophy & yoga, sociology, tribes or arts & culture of Chhattisgarh
Other Information Regarding CGPSC State Service Exam Syllabus:
There will be some sorts of negative marking applicable for each wrong answer.

The total marks of Phase II & III is 1550.

Phase I is type of screening test.
For more information regarding the Chhattisgarh Public Service Commission State Service Examination (SSE) Syllabus 2018 in PDF (Downloadable format), visit the official website of CGPSC.