Assam PSC Forest Ranger Previous years Question Paper Download Link is available now. Get APSC Forest Ranger Previous Years Question Paper for Last 5 years or 10 years in PDF format. Find out the Assam Public Service Commission Forest Ranger Old Question Paper PDF with answer key which will help you for the upcoming recruitment exam. Use the APSC Forest Ranger Previous Question Paper as practice set and do share your views.
Check here APSC Forest Ranger Admit Card 2023-24.
Latest Update- APSC Forest Ranger Previous Year Question Paper We have provided here. You can download from here if you want. For your convenience, we have provided all the question papers of the previous year here.
Assam PSC Forest Ranger Previous Question Paper PDF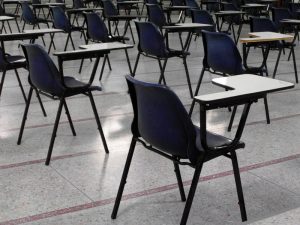 The written test of Assam PSC Forest Ranger Exam will be of 600 Marks. There will be English Preci Writing & Essay Writing, General Knowledge Paper & 2 Papers of optional subjects. The English paper will be in English Language and will consist of Descriptive type question. Other 3 papers will be of objective type in nature. Read the APSC Forest Ranger Previous Years Question Paper Written Exam model Question Paper fully solved in order to get full idea about the pattern of standard of the questions asked in the written exam.
Detailed Syllabus of APSC Forest Ranger Exam & Selection Process.
Download APSC Forest Ranger Old Question Paper with Answer Key PDF
1) Vikrama era started from
a) 57 BC b) 78 AD c) 57 AD d) 78 BC.
2) The all India Muslim League was formed in 1906 at
a) Aligarh b) Dacca c) Lucknow d) Lahore.
3) Kadambari was written by
a) Kalidas b) Kautilya c) Harsha d) Bana.
4) The Rowlatt Act enabled the Government to suspend the Right of
a) Free speech b) Occupation c) Movement d) Habeas Corpus.
5) Who were the first to issue gold coins?
a) Indo Greeks b) Shakas c) Parthians d) Kushans.
6) The india National army came into existence in 1943 in
a) Japan b) Burma c) Singapore d) Malaya.
7) The triratnas were stressed by
a) Buddha b) Mahavira c) ,Manu d) Gaudapada.
8) Who among the following was not associated with the lahore conspiracy case?
a) Bhagat singh b) Surya sen c) Rajguru d) Sukhdev.
9) Who built char minar?
a) Ibrahim Qutb Shah b) Quli Qutb Shah c) Ali Adil Shah d) Ibrahim Adil Shah ii.
10) In which state in india was panchayati Raj first introduced?
a) Uttar pradesh b) Rajasthan c) Andhra Pradesh d) Madhya Pradesh.
11) Who wrote Tughluqnamah?
a) Raskhan b) Amir Khusrau c) Isami d) Malik Mohammad Jaisi.
12) February 21,1915 was fixed As the date for an armed revolt by the Ghadarities in
a) Bengal b) Punjab c) Bihar d) Bombay.
13) India was invaded by Timur Lame in
a) 1335 b) 1385 c) 1389 d) 1398.
14) Which is the most ancient language of indo-European language familly?
a) Latin b) Irani c) Greek d) Sanskrit.
15) Who was the found of the French East india Company?
a) Dumas b) Colbert c) Dupleix d) De La Haye.
16) Which rock shelter in india bears largest number of paintings?
a) Lakhahia b) Adamgarh c) Bhimbetka d) Ghagharia.
17) The first Europeans to came to india were
a) British b) Dutch c) French d) Portuguese.
18) The third Battle of Panipat was faught in the year
a) 1707 b) 1739 c) 1775 d ) 1761.
19) The sepoys revolted openly in 1857 at
a) Meerut b) kanpur c) Berhampur d) Barrackpore.
20) To which order to silsilah of the sufis was sheikh Baha-ud-din Zakariya associated?
a) Qadiri b) Suharavardi c) Chisti d) Naqshbandi.
ANSWERS:
1)a 2) b 3) b 4) d 5) a 6) c 7) b 8) b 9) b 10) b 11) b 12) b 13) d 14) d 15) b 16) c 17) d 18) d 19) a 20) b.
Assam Forest Ranger Model Question Paper Download
Solve the Model Questions Answers for the upcoming Ranger Recruitment Exam of Written Test –
If you have other doubts related to the APSC Forest Department Ranger Recruitment Exam Old Question paper, model Question Paper set, practice mcq Questions answers, fully solved sample paper set, APSC Forest Ranger Previous Years Question Paper PDF set, do comment below. Also, visit the official website www.apsc.nic.in in order to check the latest updates and mock tests for the recruitment written test of the posts.