Solved Model Question Paper Sample Old Previous Exam Questions Download Allahabad High Court Review Officer RO ARO
Allahabad High Court recruits Review Officer RO and Assistant RO (ARO) very often. We have given solved model question paper for RO ARO in Allahabad High Court with answer key / solution. The question paper can be downloaded free in PDF format. Previous year question papers / old exam papers download link has also been given. The question answer is a practice set which contains 20 questions from various general studies subject. The Review Officer (RO ARO) recruitment exam in Allahabad High Court will be of Graduation Level. Computer Knowledge is must for the RO ARO in High Court, Lucknow. For detailed syllabus and other important info visit the official website which is www.allahabadhighcourt.in.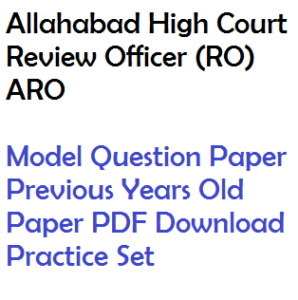 Download Model Sample Question Answer PDF:
1) Which one among the following Indus cities was known for water management?
a) Lothal
b) Mohenjodaro
c) Harappa
d) Dholavira
2) The head of the military department under the recognized central machinery of administration during Akbar's reign was
a) Diwan
b) Mir Bakshi
c) Mir Saman
d) Bakshi
3) The member of Shivaji's Astha Pradhana who looked after foreign affairs was
a) Peshwa
b) Sachiv
c) Pandit Rao
d) Sumant
4) Babar came to India originally from
a) Ferghana
b) Khiva
c) Khorasan
d) Seistan
5) Which one of the following was an emigree communist journal of MN Roy?
a)Kisan Sabha
b) The Worker
c) Vanguard
d) Anushilan
6) The Volta River Project is located in
a) Nigeria
b) Sudan
c) Ghana
d) Republic of Congo
7) Amongst the following Indian State which one has the minimum total forest cover?
a) Sikkim
b) Goa
c) Haryana
d) Kerala
8) The thermal power plant of Bokaro is located in
a) Bihar
b) Chhattisgarh
C) Jharkhand
d) Odisha
9) Which one of the following countries produces the largest amount of crude steel of the world?
a) Japan
b) USA
c) South Korea
d) China
10) Bamboo and pine trees are generally found in which one of the following types of climates?
a) Taiga
b) Tropical monsoon
c) Mediterranean
d) Savanna
11) Which country accepted the policy of Dual Citizenship?
a)India
b) Canada
c) Australia
d) U.S.A.
12) Which of the following is NOT a Union Territory?
a) Goa
b) Lakshadweep
c) Dadar and Nagar Haveli
d) Chandigarh
13) In which year was the State of Jharkhand formed?
a) 1998
b) 1999
c) 2000
d) 2001
14) Among the following States, which one was formed last?
a) Andhra Pradesh
b) Gujarat
c) Karnataka
d) Punjab
15) The upper house of Indian Parliament is known as—
a) The Rajya Sabha
b) The Lok Sabha
c) The National Assembly
d) The Indian Parliament
e) None of these
16) The period of Plan Holiday in India was:
a) 1962-65
b) 1966-69
c) 1969-72
d) 1972-75
17) Raurkela Steel Plant was set up with the assistance from:
a) USSR
b) UK
c) USA
d) West Germany
18) In which of the following years was the Food Corporation of India set up?
a) 1955
b) 1960
c) 1965
d) 1970
19) The number of mole of solute per liter solution is called
a) Molality
b) Normality
c) Molarity
d) Mole fraction
20) To move down a page in a document……….
a) Jump
b) Fly
c) Wriggle
d) Scroll
e) None of these
Answers Key / Explanation Download Free Solution:
1)d 2)b 3) d 4) a 5) c 6) c 7) c 8) c 9) d 10) b 11) d 12) a 13) c 14) c 15) a 16) b 17) d 18) c 19) c 20) d.
Previous Years Old Solved Question Paper Download:
You need to practice the last 10 years RO ARO question paper for scoring more. The last year exam papers may be downloaded from the official online portal when it will be uploaded.
Download Link in PDF format – Click here.
For more study materials,previous years cut off marks- visit www.jobsandhan.com.