UPSMFAC Merit List 2017 Result 2018 Counselling Schedule Training Centre Seat Allocation

www.upsmfac.org
UPSMFAC Counselling Merit List Training Centre Seat Allocation 2017-18 Counselling Schedule will be discussed in this post. Uttar Pradesh State Medical Faculty has different courses under their curriculum like L.T./X-Ray/ Pharmacy/ Radiotherapy/ Paramedical Courses. Recently the official website of UPSMFAC has released some important information regarding Admission for (L.T./X-Ray/ Pharmacy/ Radiotherapy/ Paramedical Courses Of K.G.M.U., Lucknow). Allotment letter has also been published on the portal which is forms.upsmfac.org. In this regard, the official website has informed the candidates that "If Your Rank as per preferences selected by you is not eligible for allotment, you will not receive an allotment letter in your account." – Taken form the official website. Online paramedical courses application form has earlier been released on the official website. Candidates who are interested in the paramedical courses (L.T./X-Ray/ Pharmacy/ Radiotherapy) can apply on the official website of www.upsmfac.org.
UPSMFAC Paramedical Admission 2018:
As we have said earlier that Paramedical Courses Admission Form has already been published by Uttar Pradesh State Medical Faculty. Cost of the application form is Rs 800. Additional Rs. 15 will also be charged. This is taken as the cost of online transaction. There are various method you can pay the application form fee which are – Credit Cards, Debit Cards, Net Banking etc. While filling up the application form you must keep in mind that the size of the Photograph and Signature should be within limit which are prescribed by the UPSMFAC website. Kindly keep the scanned copies of your documents ready with you. These are required while submission of online application form. Photograph & Signature size should be with in 150kb. For other documents scanned copies the maximum size should be 1.5 MB. Formats which are accepted are – png, gif, jpg, jpeg.
UPSMFAC Merit List:
Merit list will be published on the official website link of which we have given here. Merit list will contain the names of successful candidates / shortlisted candidates who have got selected. You can download the UPSMFAC Merit List in PDF format to view which you will need a pdf viewer.
Online Paramedical 2017-18 Selection List / Merit List has already been published. Download the list from the link given below –
Paramedical Selection Merit List 2017-18 – Click here.
UPSMFAC Seat Allotment 2017-18 Allocation:
As per the official website, seat allotment letter will be available to them only who are eligible as per their rank.
Download Allotment letter – Click here. 

Dates of seat allotment / counselling dates will be announced soon.
UPSMFAC Training Centre 2017-18:
Training centre details have been published which can be downloaded from here – Click here.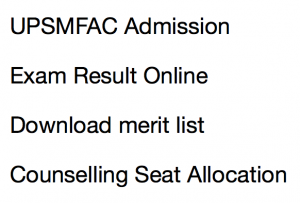 UPSMFAC Counselling Schedule:
Counselling will be conducted as per the rank of the candidates. On the discretion of the Uttar Pradesh State Medical Faculty board paramedical counselling will be held for first round, second round, third round etc. Schedule for the 1st, 2nd, 3rd counselling will be published by the State Medical Board time to time on the official website. For more information regarding UPSMFAC Result / Merit list / counselling schedule / seat allotment / allocation, keep visiting the official website link of which we have provided here.
Seat Allocation Dates:
Dates of Seat Allocation and counselling may be updated here –
First 1st Counselling Schedule
Second 2nd Counselling Schedule
Third 3rd Counselling Date
For other information, exam result, merit list and various other detailed regarding govt jobs / admission, visit our website – www.jobsandhan.com.