Model Sample MCQ Paper for RBI Assistant Preliminary Exam Questions Paper Download PDF
Reserve Bank of India RBI Assistant preliminary exam model solved question paper is given below. The sample or model paper is can also be downloaded in PDF format. The model practice question paper contains Multiple Choice Questions or MCQ. For further preparation you should also download the previous years question paper for last 10 years for practice. The solution or answer keys for the model practice / sample question paper (general awareness or gk) can also be downloaded and given below. For more details, visit the official website which is www.rbi.org.in.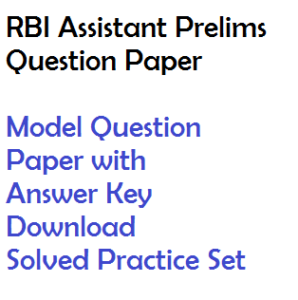 Download Solved Model Question Paper for RBI Assistant Prelims Exam:
1) The site of Harappa is located on the bank of river
a) Saraswati
b) Indus
c) Beas
d) Ravi
2) Which one amongst the following is the oldest dynasty?
a) Pallava Dynasty
b) Chola Dynasty
c) Maurya Dynasty
d) Gupta Dynasty
3) Who among the following took the title of 'Vikramaditya'?
a) Chandragupta
b) Chandragupta II
c) Samudragupta
d) Skandagupta
4) In which of the following years was the All-India Trade Union Congress formed in Bombay?
a) 1918
b) 1919
c) 1920
d) 1921
5) Who among the following abolished the 'Sati system'?
a) Lord Minto
b) Lord Ripon
c) Lord Bentinck
d) Lord Lytton
6) The great Asian river Mekong does not run through
a) China
b) Malaysia
c) Cambodia
d) Laos
7) Which one among the following rivers is the longest?
a) Amazon
b) Amur
c) Congo
d) Lena
8) Which one of the following countries is not a UN member country?
a) Greece
b) Taiwan
c)Portugal
d) Australia
9) Which one of the following is not 'The Great L;ake'?
a) Superior
b) Victoria
c) Huron
d) Erie
10) Which one of the following lakes in India has highest water salinty?
a) Dal
b) Chika
c) Wular
d) Sambhar
11) Who was the Chairman of National Income Committee?
a) PC Mahalanobis
b) VKRV Rao
c) AM Khusro
d) D R Gadgil
12) When was Exim Bank set up?
a) 1982
b) 1986
c) 1984
d) 1980
13) How many Banks are there in public sector at present?
a) 28
b) 27
c) 19
d) 20
14) Durgapur Bhilai and Rourkela plants were set up during which plan?
a) 2nd
b) 3rd
c) 1st
d) 4th
15) Which is the best measure of economic growth of a country?
a) GNP
b) GDP
c) NET revenue
d) None of these
16) ONAR is mostly used by
a) doctor
b) engineers
c) astronauts
d) navigators
17) Which one is not produced by sound waves in air?
a) refraction
b) polarisation
c) diffraction
d) reflection
18) The most abundant metal in the Earth's crust is
a) Si
b) Fe
c) Al
d)Cu
Download General Awareness Model Paper in PDF format –  Download PDF
Download Information Handout and mock paper provided by RBI –  Download Paper
ANSWER key download/ Solution free download PDF:
1)d 2) c 3) b 4) c 5) c 6) b 7) a 8) b 9) b 10) d 11) b 12) a 13) c 14) a 15) a 16) d 17) b 18) c.
Download Previous Year Solved Question Paper for RBI Assistant:
Visit the below link of official website, where the last years paper may be found.
Click to download previous years question paper in PDF format – click here.