IGNOU TEE Exam Date Sheet 2022: The Indira Gandhi National Open University (IGNOU) on 28th December 2022, has released the date sheet for the Term End Examination. According to the new IGNOU TEE Date Sheet 2022 the IGNOU UG/PG Dec TEE will commence from February 8th 2022. However, according the schedule the last examination for the term will be held on 13th March 2022.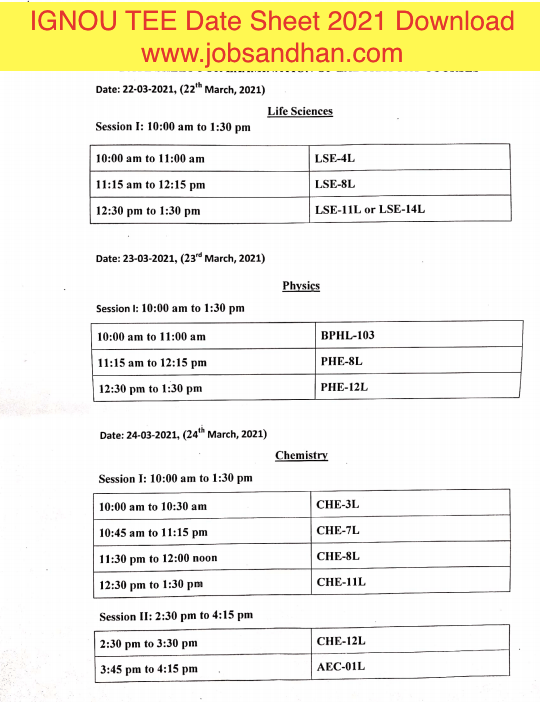 Also Check – IGNOU Exam Time Table 2022.
Candidates willing to appear for the examination can download the IGNOU TEE Date Sheet 2022 from the official website i.e. ignou.ac.in. It has been mentioned by the authorities that those candidates who haven't been able to appear for the IGNOU June TEE exams can appear in February (UG/PG Dec TEE).
Latest Updates:University UG And PG 1St Semester Time Table Is Yet To Be Released.
IGNOU TEE December 2022 Date Sheet – PDF Download link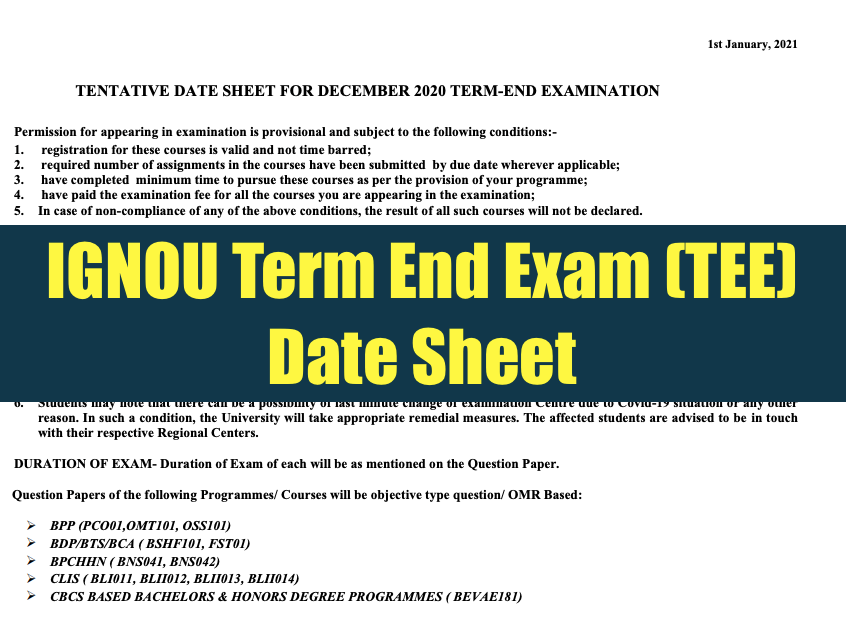 Download Link of December 2022 TEE Exam – Click Here.
IGNOU TEE Exam Date 2022
The eligibility of the candidates to appear for the examination are provisional and is subjected the conditions mentioned below:

Candidates must take notice that the registration for the examinations to be held from February onwards is not time bound.
It is the obligation of the candidates to submit all the assignments by the mentioned due dates.
The candidates should complete the stipulated time period as mentioned in the provision of the course.
They can appear for the examination only after the due fees for the same has been cleared.
If any of the above conditions are not adhered to, respective result of the candidate will be seized to declare.
| | |
| --- | --- |
| ACISE | Click Here |
| ACPDM | Click Here |
| REVISED TENTATIVE DATE SHEET FOR CONDUCT OF DECEMBER 2021 TERM-END EXAMINATION (15.12.2021) (The exact date sheet will be announced later on) | Click here |
Important Date of IGNOU TEE Examination 2022
DATE & DAY
MORNING( 10;00 AM TO 1;00 PM)
EVENING (2;00 PM TO 5;00 PM)
22/07/2022 FRI
MAW001/ DECE01/ BNS041/ BPYC131/ BSOE144/
MTT033/ MMPC014/ MIO005/ BECE002/ BHIC134/
23/07/2022
ECO08/ BCOE108/ MFP04/ DECE02/ BNS042/ MAW002/
CHE06/ BPY012/ MTT031/ BSOC134/ BHDE141/
SAT
BMTE141 / BMTC131/


25/07/2022 MON
ECO09/ MAW003/ DECE03/ MS495/ BESC131
MTT032/ BEGC134/ BHDE143/
26/07/2022
MAW004/ BGDG172/ BEGG172/ BPAG172/ BPCG172 /
BPSE212/ BPAG174/ BEGG174/ BPCG174/
TUE
BPYG172/


27/07/2022
MER004/ TS06/ MTE08/ BECC132/ BEGG171/ BPAG171/
CHE04/ ESO14/ MMPC007/ MIO002/ BPAG173/ BPCG173/ BHDG173/
WED
BPCG171/ BSOG171/ BABG171 / BPYG171/
BSOG173/ BEGG173/
28/07/2022
FST01/ BMTC132/ BPAS186/ BPCS188/ BEGS186/
MMPC013/ MIO004/ BPAC134/ BESC132/
THU
BCOS186/


29/07/2022 FRI
MCO01/ MHD07/ MPSE03/ MSOE03/ MEC007/ MLIE101/ MGPE009/ MFN007/ MSWE010/ MES101/ MES111/ MES131/ MES041/ MAE001/ MWG007/ MWG010/ MTT016/ MJM026/ MS07/ MED007/ MLI007/ MSEI023/ MIP107/ MEVE002/ MEDS005/ BCS051/ MPYE006/ MWR002/ RBC005/ RGGE103/ AED01/ BEG006/ BES017/ BFEE103/ BHC015/ BHME103/ BNS031/ BNS115/ BPOI005/ BPOI105/BWEE004/ DCE05/ CIT002/ MGY001/ MIR012/ MSW031 / MVE004/ BNRI104/ BPVI034/ BRL010/ES344/ BPVI044/ BPVI023/ BHIC131/ BCOC133/ BGYCT133/ BTMC134/ BECC104/ BHIC103/ BPSC103/ BECE146/
MEG07/ MPCE011/ MPCE021/ MPCE031/ MPA007/ MPA017/ MANE002/ MRDE101/ MCFT007/ MSW014/ MDE416/ MTM07/ MTTM07/ MEVE14/ MDV105/ MGSE002/ MMT006/ MSTE002/ MSD017/ MBP007/ MCS22/ RANE102/RPCE105/ AEC01/ BAB102/ / BSW042/ BSWE001/ MEV025/ TS07/ BSMA002/ OSEI044/ BSSI015/BHT006/ ECO07/ BES142 /
BPAC107/ BSOC107/ BANC108/ BBCCT115/ BEGC108/ BHDC108/ BPSC133/ BGYCT137/ BSOE142/
30/07/2022 SAT
MED002/ MPYE015/ MS23/ MS43/ MS53/ MS63/ MS494/ MFP05/ MES046/ MEDSE015/ MHA013/ ACC01/ BWEF002/ BPVI028/ BPVI038/ MDC001/
MCS043/ TS01/ MVP004/ MCS214/ BLIE228/ ECO03/ PHE14/ MNM011/ BTH001/ MER008 / BSM012 / MRW001/ BHDAE182/ BEGAE182/ BPSE146/
01/08/2022 MON
MPSE013 / MSWE003/ MPYE014/ MS22/ MS42/ MS52/ MS62/ MS425/ MES045/ MHA010/ MCO021/ BNS106/ BPY007/ BWEE012/ BESE046/ CHE05/ CNCC01/ BAPI007/ BLI011/ BPSC131/ BGYCT131/ BCOE144/ BGGET141/
MEG16/ MTTM115/MTTM15/MTM15/ MMTE007/ MEDS044/ MCS042/ MCS213/ MCFT006/ APM01/ BBHF/ BHDF101/ BPVI006/ BPVI015/ BLIE226/ BMAF001/ BSKF001/ FAS01/ FBG01/ FEG02/ FGT01/ FKD01/ FML01/ FMT01/ FOR01/ FPB01/ FTG01/ FTM01/ FUD01/ BSM008/ BSOC108/ BANC110/ BEGC109/ BBCCT117/ BHDC109/ BPCC134/ BPSE141/
02/08/2022 TUE
MS26/ MS46/ MS56/ MS66/ MGPE08/ MHA019/ BLII012/ ATR01/ JMC02/MSK006/BWA001/ MDC002/ BPAC131/ BZYCT131/ BGYET141/ BTMG171/ BPAE141/
MCSE003/ MSW010/ MCS220/ CHE10/ BSW122/ BPC002/ BSM010/ MNM012/ BCOC135/ BPCC107/ BPAC108/ BSOC109/ BEGC110/ BHDC110/ BMTC133/
03/08/2022 WED
MPYE016/ MS24/ MS44/ MS54/ MS64/ MED008/ MES047/ MHA014/ BNS107/ BPYE002/ MTE12/ BLII013/ BHMCT103/ BHDC102/ BEGC102/ BBCCT103/ BSOC132/ BGGET142/ BSOE146 /
MCS051/ TS02/ MCS215/ BLIE229/ LSE05/ BPVI007/ BPVI016/BSMA003/ EPS11/BSW124/ BANC133/ BCOC136/ BCHCT135/ BTMC135/ BECC106/ BHIC107/ BPSC109/ BPCC108/
04/08/2022 THU
MGP004/ MS29/ MS422/ MS58/ MS611/ MFP01/ MES048/ MTE06/ MPYE007/MER001/ MSK004/ MDC003/ BLII014/ BANC101/ BECC101/ BHIC101/ BPSC101/ BPCC101/ BEGC101/ BHDC101/ BHIE145/
MCS052/ TS03/ MCS218/ BSW123/ ECO14/ LSE09/ LSE12/ MMPC004/ MNM013/ BSM014 / BECC133/ BCOLA138/ BGGCT133/ BTMC136/ BPAC109/ BSOC110/ BBCS183/
05/08/2022 FRI
MPSE012/MEDSE046/ MSWE007/ MPYE013/ MS21/ MS41/ MS51/ MS61/ MS424/ MFP03/ MEDS011/ MHA009/ MES034/ BFLI001/ BWEE008/ DNHE03/ MME005/ BNRI107/ BPVI037/ CTE04/ CTE05/ BESE066/ CTE104/ CTE105/ BPVI027/ BPHE106/ PHE06/ SSB003/ BPHCT131/ BHIC104/ BPSC104/ BPCC103/ BPAC103/ BSOC103/ BEGC104/ BBYET141/ BPCG176/
MEG15/ MTM14/ MTTM14/ MGSE020/ MMTE006/ MCS041/ MCS212/ MMPC003/ Group-2(EHD02/BHDE108/BEGE102/ /EHI02 / BPAE102/ ERD01/ BRDE101/ MTE02/ BPY003/ BULE002/ BPC004/ )/ BSM013 / BSWE003/ BHY001/ MVP003/ MEVE13/ BSW125/ BLI222/ BHDLA137/ BEGLA137/ BBCCT111/ BSOE148/
How Can I Download ignou.ac.in Date sheet online?
A brief step-wise procedure has been mentioned underneath which will help you to download the Ignou TEE date sheet –
STEP 1: visit the home page of IGNOU: www.ignou.ac.in.
STEP 2: find the "download" section within the home page. In that section find "IGNOU TEE Date Sheet 2022".
STEP 3: you will redirected to a new page where you will find a link. Click on that link.
STEP 4: the IGNOU TEE Date Sheet will appear on the screen in a PDF format and download the same.
Refer to the IGNOU Time Table 2022 for the date and time of examinations.
About IGNOU Term End Examination Date Sheet 2022
Below we have mentioned a few guidelines that has been implemented by the examination authorities.
Proper social distancing norms will be followed and implemented during the examination.
Students will have to strictly maintain such guidelines, as ordered by the government.
Most likely, exam centers will be allotted according to the preference of the examinees. However, chances are that the candidates may not be allotted their choice of exam centers.
The examinations are divided into morning (10 AM to 1 PM) and evening sessions (2 PM to 5 PM).
The exam centers can even be changed few hours prior to the examination. In such cases the respective candidates will be informed about the change.
Candidates need not worry as the exam duration will be clearly mentioned on the question paper.
IGNOU TEE Exam Schedule Facts
Only those candidates, who are eligible according to the guidelines, can appear in the examination.
Students must carry their respective hall ticket and admit card to the examination hall.
Candidates must carry their own belongings. Borrowing of particulars will not be allowed.
For more information related to the IGNOU Exam Date Sheet 2022, keep visiting www.jobsandhan.com.
Good Luck!!