Teacher Transfer Portal Gujarat 2023 જિલ્લા આંતરિક બદલીના હુકમો પોર્ટલ @ www.dpegujarat.in – District Internal Transfer Order List Download PDF: The Teacher Transfer Portal in Gujarat is an online platform designed to facilitate the transfer process for teachers working in government schools across the state. It aims to streamline the transfer system, ensuring transparency and efficiency in the allocation of teachers to different schools.
Update on 17th September 2023 – District Internal Transfer Orders can be downloaded from the portal on Date : 01/07/2023 after 5 PM. જે શિક્ષકો બદલી (બદલી) કરવા ઈચ્છે છે તેઓએ આ વેબસાઈટની મુલાકાત લેવી જોઈએ અને ઓનલાઈન અરજી સબમિટ કરવી જોઈએ. ગુજરાતના પ્રાથમિક શિક્ષણ નિયામક દ્વારા શિક્ષક ટ્રાન્સફર પોર્ટલની રજૂઆત કરવામાં આવી હતી. ઓનલાઈન બદલી કેમ્પ 2023ની સૌથી તાજેતરની માહિતી માટે આખો લેખ વાંચવા માટે કૃપા કરીને નીચે સૂચિબદ્ધ અધિકૃત વેબસાઈટ https://dpegujarat.in ની મુલાકાત લો.
The Gujarat Teacher Transfer Portal promotes a fair and merit-based approach, ensuring equal opportunities for teachers to transfer to desirable locations or schools. It also reduces administrative burdens on education authorities by automating the Teacher Transfer Portal Gujarat process. The portal enhances accountability, allowing teachers to track the status of their transfer requests and ensuring timely communication.
Also Check- WBBPE Primary Teacher Interview Call letter 2023 Download TET Admit Card
Gujarat Teacher Transfer Portal 2023 Overview
| | |
| --- | --- |
| Name of the Organization | Director of Primary Education (DPE) Gujarat |
| Benefits | Application Portal for Transfer of Teachers |
| Beneficiary | Primary Teacher, School Teachers |
| Year | 2023-24 |
| Application mode | Online |
| Article Category | Schemes |
| Result Status | 01/07/2023 after 5 PM |
| Official Website | www.dpegujarat.in |
The portal enables teachers to submit their Gujarat Teacher transfer requests online, indicating their preferred location and school. The system then processes the requests and considers factors such as seniority, vacancies, and subject expertise to determine the Teacher Transfer Portal Gujarat. The entire process, from application submission to transfer order issuance, is conducted electronically, minimizing paperwork and manual intervention.
How To Apply Teacher Transfer Portal Gujarat ?
Teacher Transfer Portal Gujarat is an online platform that enables primary teachers in the state of Gujarat to apply for transfers to different schools. The portal simplifies the transfer process, ensuring transparency and efficiency. Here are the steps to apply for a Gujarat teacher transfer online:
Visit the official website: Start by visiting the official Teacher Transfer Portal Gujarat website that is www.dpegujarat.in.
Registration: Scroll down below and click on the "Teacher Transfer Portal" link as shown below: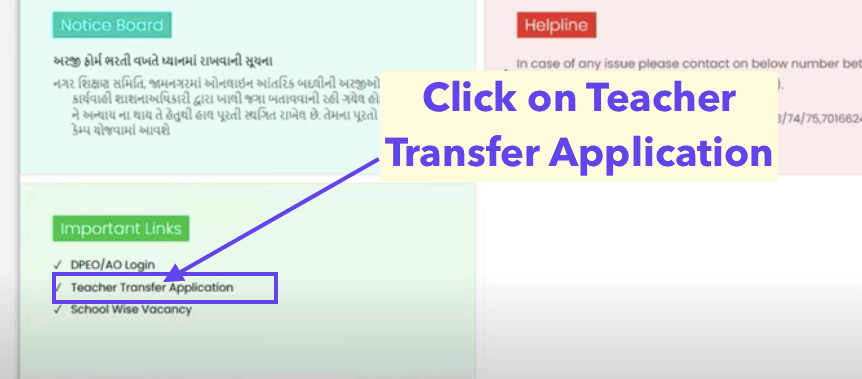 Login: If you are already registered, then you need to log in to the portal using your username and password. You will be directed to the dashboard, which will display various options related to Gujarat teacher transfers.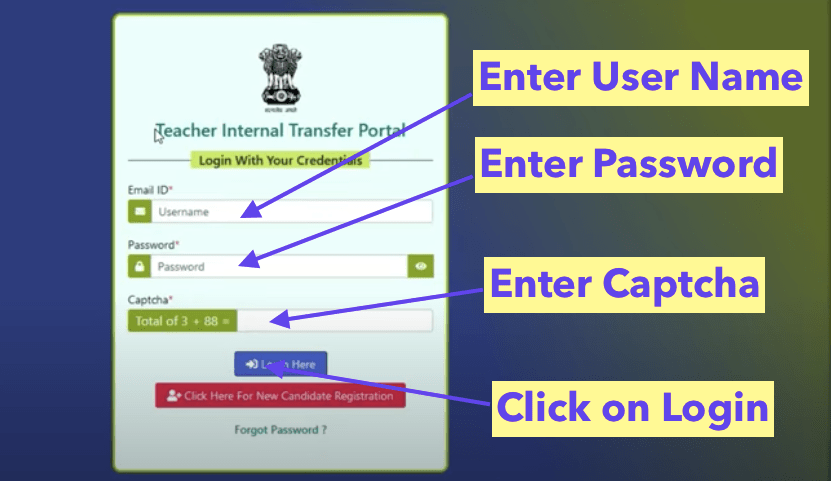 If you are not registered, then click on "Click Here for New Candidate Registration". Here is the teacher internal transfer (Antrik Badli) Camp Registration Portal: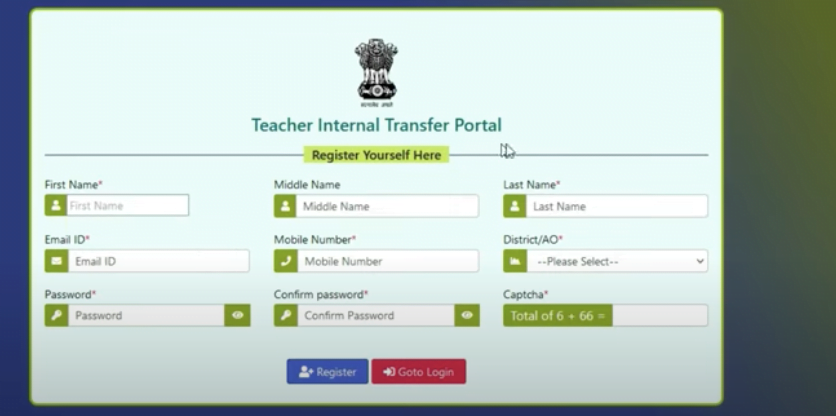 Application form: Click on the "Apply for Transfer" option on the dashboard. Fill in the application form with accurate details such as your current school details, desired transfer location, and reasons for the transfer. Make sure to double-check the information before submitting the form.

Upload documents: The portal requires you to upload certain documents to support your transfer application. These documents may include your educational certificates, experience certificates, identity proof, and address proof. Scan the documents and upload them as per the portal's specifications.
Submit the application: Once you have filled in the form and uploaded the necessary documents, review the application thoroughly. Make any corrections, if required. Finally, submit the application form.
Application fee payment: The portal may require you to pay a nominal application fee for processing your transfer request. Pay the fee using the available payment options on the portal.
Track application status: After submitting your application, you can track its status through the portal. The portal will provide regular updates on the progress of your application.
Important Dates for Gujarat Teacher Transfer
| | |
| --- | --- |
| Internal Teacher Transfer Online Application Form Flil up Revised Date for 1st Phase Camp | 6/06/2023 to 10/06/2023 |
| Application Form Modification Date | 11/06/2023 to 13/06/2023 |
| Verification of Application by Taluka | 14/06/2023 to 17/06/2023 |
| Period for Submitting Objection | 15/06/2023 to 24/06/2023 |
| Scrutiny of Application for Teacher Transfer | 25/06/2023 to 27/06/2023 |
| State Level Verification Date | 28/06/2023 to 29/06/2023 |
| Transfer Order Issuing Date | 30/06/2023 to 01/07/2023 |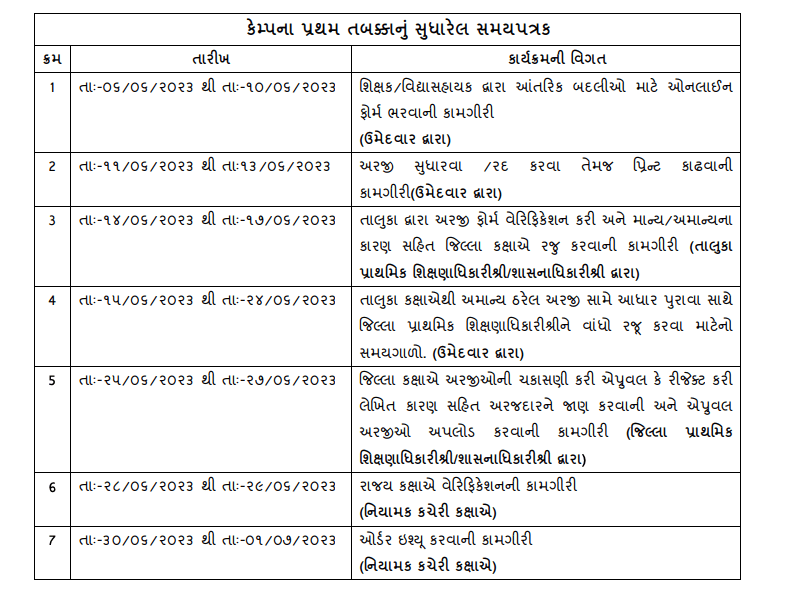 Primary Teacher Transfer Documents Required 2023
Teacher Code
current school DISE Code & Pay Centre DISE Code
School enrollment date
100 Kb Photo & Signature
Cloud seniority proof with school DISE code
Headmaster's present school work certificate
Widow, PH, Couple, and Valmiki Matri Shala Return Proof with School DISE Code
Gujarat Primary Teacher Transfer Rules
Rule No 1 : Teachers must complete a minimum of five years of service before becoming eligible for a transfer.
Rule No 2 : Transfers are done based on mutual consent between the teacher and the receiving school.
Rule No 3 : The transfer process requires the submission of an application form to the District Education Officer.
Rule No 4 : Priority is given to female teachers for transfers.
Rule No 5 : Transfers are also considered for teachers with special needs, medical grounds, or extreme hardship cases.
Rule No 6 : The final decision on transfers is made by the District Education Officer based on available vacancies and administrative requirements.
Teacher Transfer Portal Gujarat Links
FAQs on Gujarat Teacher Transfer
Who is eligible to apply for a transfer through the Teacher Transfer Portal Gujarat?
Primary teachers working in government schools in Gujarat are eligible to apply for transfers.
Are there any specific transfer rules for primary teachers in Gujarat?
Yes, Gujarat has certain transfer rules in place. These rules outline criteria such as minimum service duration, distance between schools, and vacancies in the desired location.
Can I edit my application after submission?
No, once you submit your application, you cannot make any changes to it. Therefore, it is important to review the application before submitting it.
How long does it take for a transfer application to be processed?
The processing time may vary, but typically it takes a few weeks to a couple of months for the transfer application to be processed.
What should I do if there is an error in my application or documents?
If you find an error in your application or documents, you can contact the helpline provided on the portal for assistance. They will guide you on the necessary steps to rectify the error.
Can I cancel my transfer application?
Yes, you can cancel your transfer application before it is processed. However, once the transfer is approved, cancellation may not be possible.
How will I be notified about the approval or rejection of my transfer application?
You will receive a notification on the portal regarding the approval or rejection of your transfer application. You can also check the application status regularly on the portal.
All The best!