BSE Odisha 10th Class Exam Syllabus 2021: The syllabus for BSE Odisha has been made available in the official site of the BSE. The students who will be appearing can also download the class X syllabus from the official site of the BSE. The link to download the syllabus will also be provided in this page. Student scan directly click on the link to download the syllabus. The syllabus is a sum of all the topics that have been covered or learnt during the course of the session. It contains all the topics that the student of a particular class should know. Exam syllabus means that the questions will be framed from those particular topics from which the students will have to prepare.
Also Check – BSE Odisha 10th Exam Time Table 2021 (AVAILABLE NOW).
Download Odisha 10th Syllabus 2021 – Link for Reduced Syllabus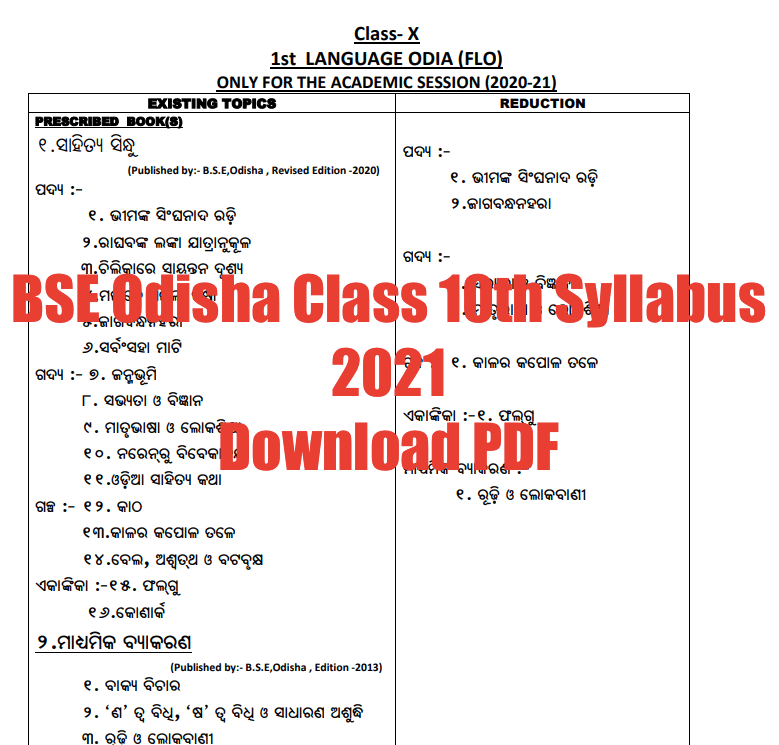 Download Class 10th Reduced Syllabus 2021 – Click Here.
Reduced Syllabus of Vocational Subjects for Class 10th Academic Session 2020-21:
How to download bseodisha.nic.in Class 10th Exam Syllabus?
First the students must visit the official website of the BSE www.bseodisha.nic.in.
After entering the home page of the BSE, the students must search for the option latest news
Click on the option
Search for the link to download the class x syllabus
Click on the link
The syllabus will be displayed 
Click on the download option of the syllabus
Download and save the syllabus for preparation.
The students who will be appearing for the class X board exams of the Odisha board must keep in mind the exam pattern of the class X board examinations. The points given below will help the students to prepare for the upcoming examinations.
The class 10 board examinations will be conducted in two parts
Part 1 will be of objective type and the part two of the examination will be subjective type.
Part 1 will commence from 8:00 am to 9:00 am
Part 2 will commence from 9:00 am to 10:00 am
The part 1 of the exam will consist of objective type questions which has to be answered in an OMR sheet
The part 2 which is the subjective type should be answered in an answer booklet provided by the exam center.
To get regular updates on BSE Odisha 10th Exam Syllabus Change / reduced, keep visiting www.jobsandhan.com.