Daily Current Affairs 2017

Short Notes Month Wise

Download PDF

for Competitive Exams

UPSC SSC Civil Service PSC

–

Updated
Important Daily Current Affairs 2017 & events of National & International Importance are summarised here day wise. Short Notes of daily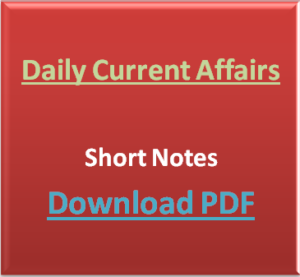 and monthly current affairs will be published in PDF format also. You can download the Current Affairs 2017 short notes for free in PDF format. Important National, International, Sports, States important current events will be listed here in short format which will help you remembering easily. These latest current affairs notes 2017 will be helpful for Competitive exam (Govt Jobs) like SSC, Railway, PSC, State Civil Service, Clerk, UPSC, Bank exams. We update the current affairs section regularly.
Click here for Current Affairs Daily Quiz.
---
18th October 2017 – Current Affairs Notes
---
World's first 'Negative emissions' power plant started operating in Iceland that diminishes more carbon dioxide than it produces.
Kabita Debi- former competitive power lifter and gold medal winner at South Asian Games 2016 has become the first Indian woman to be signed by WWE.
The U.S author George Saunders has won the Man Booker Prize 2017 for his novel , 'Lincoln in the Bardo'. His other literary work include- 'In Persuasion Nation', 'Saunders's Tenth of December' etc.
For the first time a roadmap has been set on 'One Health Approach' to combat animal Tuberculosis (Bovine TB) and its transmission to humans (Zoonotic TB).
In order to give Indo-Russian defence cooperation a major boost, the first ever Tri-Services Joint Exercise, Indra-2017 between Indian and Russian armed forces will be conducted in Russia from 19th to 29th October 2017.
India's first Olympic swimmer Shamsher Khan who represented India in Melbourne Olympics (1956), passed away suffering from prolonged illness.
---
17th October 2017 – Current Affairs Notes
---
16th October 2017 was observed as the World Food Day, promoting worldwide awareness regarding hunger and taking solid action to eradicate the suffering related to hunger and ensure food to all.
The Government of India has started with 'Pradhan Mantri Krishi Sinchai Yojana' in order to create irrigation sources by saving rainwater and come up with a stable solution for drought.
Australian cricketer Josh Dunstan broke the record of veteran cricketer Vivian Richards by smashing a whirlwind triple hundred and scoring almost 87% of his total team score.
To promote eco-friendly travel in the city, Chennai Metro Rail (CMRL) has come up with a free bicycle ride scheme for its customers.
Eminent Carnatic vocalist T.M Krishna has won the 30th Indira Gandhi Award for promoting and preserving National Integration.
Rajasthan Assembly Speaker Kailash Meghwal inaugurated the online system to call attention and motions as well as receive proposals from legislators. It is the first state in India to come up with this online system.
Roger Federer won the Shanghai Masters Tennis Tournament, beating Rafael Nadal. This is Federer's 94th career title.
---
16th October 2017 – Current Affairs Notes
---
The International Day for Rural Women was observed on 15th October 2017 like every year since 2008 to appreciate their work in the field of Food Production and Food Security.
In order to regenerate the emotions attached to puppetry, Kolkata will host 'PUN (Puppets unite Neighbours) International Puppet Festival', starting on 26th October 2017.
The name of Mughal Sarai Station has been changed to Pandit Deendayal Upadhyay Junction by the Govt.
17th October 2017, on the occasion of World Ayurveda day, Prime Minister Modi declared the establishment of the first ever All India Institute of Ayurveda along with the lines of AIIMS.
A new Guinness World Record got created on the second day of the India International Science Festival (IISF) in Chennai when 1049 students joined in the largest Biology class taken by Ms. Lakshmi Prabhu.
Audrey Azoulay- former French Culture Minister was elected as the new Director General of UNESCO.
Princess Reema Bandar Bin Sultan has become the first woman to lead the Saudi Arabia Multi-Sports Federation which covers sporting activities of both men and women.
---
15th October 2017 – Current Affairs Notes
---
International Day for Disaster Reduction was held on 13th October 2017 like every year since 1989 to promote a global culture of risk-awareness and disaster reduction.
M.K.Sanu- the famous critic, biographer and orator was selected for the MATRIBHUMI LITERARY AWARD for his contribution to Malayalam literature.
Esther Staubli of Switzerland is to become the first ever female referee for a match in the FIFA Under-17 World Cup.
The Minister of State for Culture- Dr. Mahesh Dharma inaugurated 'DEEP DHAROHAR' festival by lighting 1000 diyas. He also published a book called 'Living traditions, tribal and folk paintings of India' under the matrix of 'Ek Bharat Shrestha Bharat.'
The External Affairs Ministry of India appointed Gautam Bambawale as India's envoy to China. Previously he was India's High Commissioner of Pakistan.
Satish Chandra- one of India's eminent Historian and author of NCERT's popular history book 'History of Medieval India', passed away on 13th October 2017. His important works include Mughal Empire and its downfall.
The Minister of Communication-Manoj Sinha launched SAMPOORN BIMA GRAM YOJANA which will now cover the professionals apart from the government employees.
---
14th October 2017 – Current Affairs Notes
---
The Indian Air Force has launched a mobile health app named 'MEDWATCH' on its 85th anniversary, which has a loads of features to provide authentic health information to all the IAF personnel on AFCEL network.

This will enable 'Mission Indradhanush of the Govt. of India.
India's first sewage treatment plants under the Hybrid Annuity Mode will be built at Haridwar and Varanasi by Uttarakhand Pey Jal Nigam and Uttar Pradesh Jal Nigam in collaboration with National Mission for Clean Ganga.
India's first rail coach manufacturing company- Bharat Earth Movers Limited (BEML) under the ministry of Defence participated in the International Railway Equipment Exhibition (IREE) 2017 from 11th to 13th of October at Pragati Maidan.

It is the nation's largest international event of the railway sector.
Dharmendra Pradhan-the Minister of Petroleum and Natural Gas declared the formation of internal 'Think-tank', aiming to advise on technology and build a successful gas network in India.
Minister of Food Processing declared that total 42 sanctioned mega food parks will be raised under the SAMPADA scheme of Indian Govt. to increase the processing level.
'Sankalp Seva' bus service has been started at Lucknow in Uttar Pradesh with Yogi Adityanath flagging off 50 buses to connect 6,000 villages.
India got 100th position among 119 countries on Global Hunger Index in 2017, slipping by 3 positions as compared to the 97th rank in 2016.
---
13th October 2017 – Current Affairs Notes
---
The Chief Minister of Maharashtra Devendra Fadnavis launched 'MAHALABHARTHI' web portal (www.mahalabharthi.in ) that will allow people to gather information about the Govt. welfare schemes that they are eligible for.
Padma Shri and Padma Bhushan award winner actor Anupam Kher was appointed as the Chairman of Film and Television Institute of India (FTII) Pune by the Government, replacing Gajendra Chauhan.
As per the report published in the e-book "The India Pharma and Biotech Industry", India is ranked as the second largest global market for Pharmaceuticals and Biotechnological workforce.
Surat Municipal Corporation has become the first civic body in India to carry out a scientific study of Tapi riverbed and its banks to find out potable water.
The committee on Economic Affairs have approved the two new World Bank supported schemes- SANKALP ( skill acquisition and knowledge awareness for livelihood promotion) and STRIVE ( skill strengthening for industrial value enhancement) to boost vocational education and training.
RMV Gurusaidutt- the Bronze medalist at the Commonwealth games, clinched the men's singles title at the Bulgarian International Future Series Badminton Tournament, defeating Md. Ali Kurt of Turkey.
Rajnath Singh inaugurated the new headquarters of National Investigation Agency (NIA) – India's federal anti-terrorism probe agency (set up in 2009) in New Delhi.
---
12th October 2017 – Current Affairs Notes
---
"Jeevamrutham" – Mata Amritanandamayi Math Project has been launched by president Ram Nath Kovind to provide filtration system for cleaning drinking water to 5000 villages in India.
World Mental Health Day got observed on 10th October 2017 like every year to raise awareness regarding mental health related issues. The theme of 2017 world mental health day is 'Mental Health in the workplace'.
Rajasthan became the first state of India to start with skill development programme in higher education in collaboration with IGNOU.
The prestigious 'Lal Bahadur Shastri Award' 2017 has been offered to Dr. Bindeshwar Pathak by President Ram Nath Kovind for excellence in Public Administration, Academics and Management.
Jagdish Mukhi- the former lieutenant governor of Andaman and Nicobar islands, took oath as the new governor of Assam.
October 11 is celebrated as the International day of the girl child since 2012. This year's theme is 'The power of the adolescent girl : vision for 2030'
---
11th October 2017 – Current Affairs Notes
---
American economist cum professor Richard H. Thaler has won the 2017 Nobel Prize in Economics for his contribution to Behavioural Economics.
Rafael Nadal of Spain won the China open Tennis Championship title defeating Nick Kyrgios of Australia.
To provide electricity to the remote areas in Uttarakhand, the State Govt. of Uttarakhand and a charitable trust named Swan Cultural Center and Foundation launched 'SOLAR BRIEFCASE' in Kedarnath Dham.
Jeakson Singh- a 16 year old Manipuri boy created history by scoring India's first goal in the Under-17 FIFA World Cup.
President Ram Nath Kovind inaugurated India Water Week 2017 on October 10, 2017 in New Delhi.
At the World Archery Youth Championship in Rosario the mixed pair of Jenson Ningthajam and Ankita Bhakat bagged the recurve team gold medal. It's India's first world title at the youth championships.
---
10th October 2017 – Current Affairs Notes
---
'Beti Bachao Beti Padhao' week is being celebrated from 9th to 14th October 2017 by the Ministry of Women and Child Development in view of the International Girl Child Day on 11th October 2017.
Eminent journalist, socialist and the president of Odisha Small and Medium Newspaper Organization- Mr. Bismoy Kumar Mohanty breathed his last on 08.10.17.
The government of India is to observe ' Vachan Prerna Divas' on 15th of October this year to mark the birth anniversary of former president Dr. A.P.J Abdul Kalam.
India celebrated the 85th Air Force Day on 8th October 2017 to mark the establishment of Indian Air force in 1932.
October 9th 2017 was celebrated as the World Post day to mark the anniversary of Universal Postal Union in 1874.
Anupama Ramachandran from India bagged the title of World Open Under-16 Snooker Championship at Petersburg in Russia, beating Keerthana Pandian by 3-1.
'Mission Indradhanush' has been launched by Prime Minster Narendra Modi to cover every child below 2yrs of age and every pregnant woman under the routine immunisation program.
---
9th October 2017 – Current Affairs Notes
---
The setting up of India's first ' Marine Police Training Institute' at Dwarka district of Gujrat was announced by Prime Minister Modi.
The first ever test for detecting the Zika virus in donated blood has been approved by the U.S Food and Drug Administration.

This virus is primarily transmitted by Aedes aegypti mosquitoes.
According to the report of the Tiger Conservation Authority, Madhya Pradesh-the 'tiger state' of India has lost 17 tigers this year.

This state has total 6 tiger reserve forests- Kanha, Panna, Bandhavgarh, Pench, Satpura and Sanjay.
Initiatives are being taken by Bangalore International Airport Limited to make Kempegowda International Airport as India's first smart airport to have complete Aadhaar enabled entry and biometric boarding system.
'Cross of the order of merit' or ' Federal Cross merit'- the highest civilian honour of Germany given for achievements in the economic, social, political or intellectual spheres, has been bestowed upon Rajesh Nath – the Managing Director of VDMA, India.
On 6th October 2017, the 22nd meeting of Good and Services Tax (GST) Council was held in New Delhi, where Finance Minister Arun Jaitley acted as the chairman.
---
8th October 2017 – Current Affairs Notes
---
International Campaign to Abolish Nuclear Weapons (ICAN) got Nobel Peace prize of 2017 for its long campaign to get rid of atomic bomb.
The much awaited FIFA Under-17 World cup tournament started from 07.10.17.

This is the first FIFA tournament hosted by India.
Under the' Ek Bharat, Shrestha Bharat' programme, a MoU was signed by Uttar Pradesh, Arunachal Pradesh and Meghalaya to enhance cultural relationship between these 3 states.
The first ever ASEAN-India Music festival in collaboration with the Ministry of Culture and Seher, is being celebrated (6th October to 8th October) at Purana Quila in Delhi to mark the 25th anniversary of ASEAN-India Dialogue relation.
The ' Rashtriya Sanskriti Mahotsav 2017' will be held in India's first world heritage city i.e Ahmedabad, Gujrat from 7th to 9th October 2017.
J.P.Singh- the follower of Prime Minister Narendra Modi announced the building of a temple in honour of PM Modi in Meerut, Uttar Pradesh.

The temple will have a 100ft statue of Modi in it.
The 14th India-European Union Summit 2017 was held in New Delhi to boost the overall ties between India and the 28-nation bloc.
---
7th October 2017 – Current Affairs Notes
---
Ganga Prasad- former member of the legislative council in Bihar has been appointed as the 17th Governor of Meghalaya.
British Writer Kazno Ishiguro won the 2017 Nobel prize in Literature.

Few of his famous works include 'Never let me go', 'The Buried Giant', 'The remains of the day' etc.
Mr. Banwarilal Purohit took his oath as the Governor of Tamil Nadu.

He acted as the Governor of Assam previously.
Recent survey has revealed that the highest number of Clouded Leopards of Southeast Asia can be found in Mizoram's Dampa Tiger Reserve.
In Order to explore the possibility of using geopatial technology to put a stop to illegal trade of natural resources, ISRO is about to set up a research centre in Guwahati.

It is also going to carry out survey of the depth of Brahmaputra.
For the conservation of the Himalayan ecosystem, the centre has launched the 'SECURE' Himalayas project.

It will protect the snow leopards, other endangered species and their habitats.
The London based organisation 'RAW in WAR' will posthumously confer the 'Anna Politkovskaya Award' to the late activist cum journalist Gauri Lankesh.

She'll be the 1st Indian to receive this honour.
---
6th October 2017 – Current Affairs Notes
---
World Space week is being observed worldwide from 4th to 10th October 2017 to mark two big events, first on October 4, 1957 launching of Sputnik 1 and the second on October 10, 1967 the signing of The Outer Space Treaty.
The One Planet Academy- first environment education portal got launched by WWF-India in partnership with Capgemini for students and teachers in India.
A Turtle Sanctuary along with river bio diversity park at Sangram in Allahabad is built under Namami Gange Programme for the protection of rich aquatic biodiversity of river Ganga from escalating anthropogenic pressures.
The 8th conference of the Association of SAARC speakers and Parliamentarians lead by Sumitra Mahajan is being held in Colombo.
CRPF constable cum Rohtak player Puja Kadian created history by becoming first Indian Wushu player to win a gold medal in the World Championships in Kazan, Russia.
The only literary festival named after an individual-

 

the 6th Khuswant Singh Literary festival will be held at Kasauli in Himachal Pradesh from October 6th to 8th 2017.
In the annual Indian Rich List 2017 of Forbes Magazine, Mukesh Ambani topped for the 10th consecutive years with a net worth of USD 38 billion.
---
5th October 2017 – Current Affairs Notes
---
The 2017 Nobel Prize for Chemistry is won by the Swiss researcher Jacqueo Dubochet and two Americans Richard Henderson, Joachim Frank for developing cryo-electron microscopy which will improve the imaging of biomolecules.
The 'Freedom of Oxford' honour given to Myanmar leader Anug San Suu Kyi by the city of Oxford in 1997 for her long struggle for democracy in Myanmar, has been withdrawn in protest of her inadequate response to the terrible plight of the Rohingya Muslims in the country.
Satyapal Malik- former lawmaker and BJP's National Vice-president took oath as the Governor of Bihar.
Dr. Soumya Swaminathan- a Pediatrician and director general of Indian Council of Medical Research has been appointed the Deputy Director General for Programme (DDP) of World Health Organisation.
Claire Polosak will become the first woman to make her umpiring debut in the first class Men's domestic one-day cricket match

 

(JLT Cup) between New South Wales and Cricket Australia XI.
Rajnish Kumar has been appointed as the next chairman of State Bank of India after term end of Arundhati Bhattacharya.
---
4th October 2017 – Current Affairs Notes
---
Prajapati Trivedi-the fellow and professor of Indian School of Business has become the 1st Indian to be elected as Fellow to National Academy of Public Administration (NAPA) in US.

It is considered to be the highest International recognition in the field of Public Administration.
Rangana Herath of Sri Lanka became the 1st left arm spinner and 14th bowler of World Cricket to bag 400 nos. of wickets in Test Cricket.
India announced to launch a tiger count with the help of neighbouring country Nepal to check and reserve the remaining number of tigers.
A 5-member commission headed by Delhi High Court's former chief justice G.Roshini has been appointed by President Kovind to examine sub-categorisation of OBC.

It is to see that the neediest section of OBC STU get benefits of reservation.
According to reports India is the fastest growing oil market in Asia, surpassing China with fuel consumption rising 6% in 2018.
For the 1st time, recognising the concern to the impacts of climate change on wildlife, a 12 members committee chaired by J.C.Kala has been appointed in the 3rd National Wildlife Action Plan for Wild life conservation.
Bhopal is set to become the first state capital to start with an exclusive toilet for the transgender community.

This restroom will be located in

Mangalwada

and have 3 signs on display – Male, Female and Transgender.
---
3rd October 2017 – Current Affairs Notes
---
U.S born 3 scientists-Jeffrey Hall, Michael Roshbash and Michael Young won the 2017 Nobel prize for Physiology or Medicine.

They discovered the Molecular mechanisms controlling over our biological clocks.
On the event of 148th birth anniversary of Mahatma Gandhi, a 1.8mt tall bronze statue of Bapu was unveiled at Rajghat by vice president M.Venkaiya Naidu.
The union cabinet minister approved bilateral MoU between India and Afghanistan on Technical Cooperation on Police Training and Development for the period of 5 yrs.
Shirdi International Airport was inaugurated in the famous temple-town by President Ram Nath Kovind.
India gets its first consignment of 1.6 million barrels of Crude oil from the United States on Monday. I

t is a step towards mitigating risks and geographical disruptions in the supply of energy.
The Ministry of Justice and Empowerment launched DIVYANG SARATHI mobile application for easy dissemination of information to 'Divyangjans'.